WFP Executive Director Ends Trip Strengthening Partnerships In India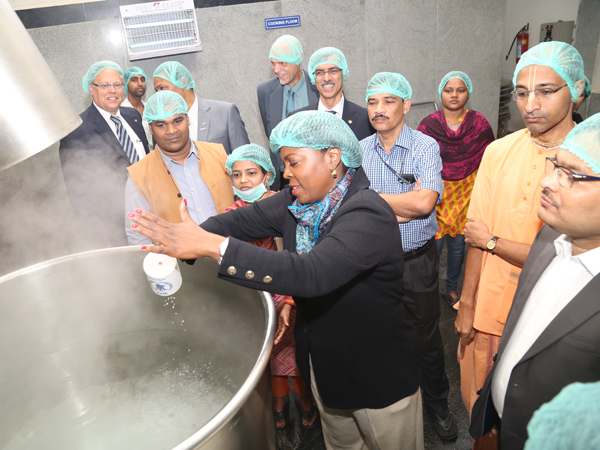 NEW DELHI/BHUBANESWAR – United Nations World Food Programme (WFP) Executive Director Ertharin Cousin today concluded a three-day visit to India where she met senior government officials and private-sector leaders in New Delhi.
Cousin also visited Odisha where WFP is collaborating with the state government to address food and nutrition security issues.
WFP in India supports the central and state governments in the effective and efficient implementation of the National Food Security Act and in enhancing nutrition security. WFP also provides technical support and capacity building to the government's food-based social safety nets, including the Targeted Public Distribution System (TPDS), Mid-Day Meal programme and Integrated Child Development Services.  
"The work done in India is critical to achieving Zero Hunger globally by 2030. WFP supports the government with its global expertise and innovative solutions to boost food and nutrition security," Cousin said after meeting the Vice Chairman of the National Institution for Transforming India Aayog, Minister of State for Agriculture, Cabinet Secretary and the Secretary Ministry of External Affairs.
Cousin signed a letter of intent with the Minister of Consumer Affairs, Food and Public Distribution which will bring together several ministries with the WFP to finalize a proposal for establishing a Centre of Excellence on Food and Nutrition Security in India.
During her visit, Cousin also met with business leaders to further partnerships between the business community and WFP to address the issues of malnutrition and food insecurity in India. She advocated for the role of the private sector in achieving the UN Sustainable Development Goals through their expertise and funding.
In Odisha, Cousin met the Chief Minister, Minister of Food Supplies and Consumer Welfare, Skills Development and Technical Education, Minister of School and Mass Education and Industries, Chief Secretary, as well as senior officials from the Government of Odisha.
Cousin inaugurated WFP's rice-fortification initiative at a central kitchen operated by the Akshaya Patra Foundation in Odisha. Rice enriched with iron is served to school children under the government's Mid-Day Meal programme. The iron fortification decreases the prevalence of anaemia among children.  
Cousin also visited a Fair-Price Shop, equipped with a biometric-enabled point-of-sales device designed to authenticate beneficiaries under India's TPDS. In Fair-Price Shops, subsidized grain is sold as part of India's TPDS, which aims to provide around 800 million people with subsidized monthly household rations each year.
WFP will continue to support the government in transforming the TPDS and enriching the nutritional content of the Mid-Day Meal programme through evidence-based pilot projects, the scale-up of innovative best practices in nutrition, and empowering beneficiaries of the government's food-based social security schemes.
#                              #                                 #
WFP is the world's largest humanitarian agency fighting hunger worldwide, delivering food assistance in emergencies and working with communities to improve nutrition and build resilience. Each year, WFP assists some 80 million people in around 80 countries.
Follow us on Twitter @wfp_media   
For more information please contact (email address: firstname.lastname@wfp.org):
Jane Howard, WFP/Rome, Tel. +39 06 65132321, Mob. +39 346 7600521
Isheeta Sumra, WFP / New Delhi, Tel. +91 11 46554061, Mob. + 91 9810085646