WFP Executive Director Meets Syrian Refugees In Jordan As New Arrivals Surge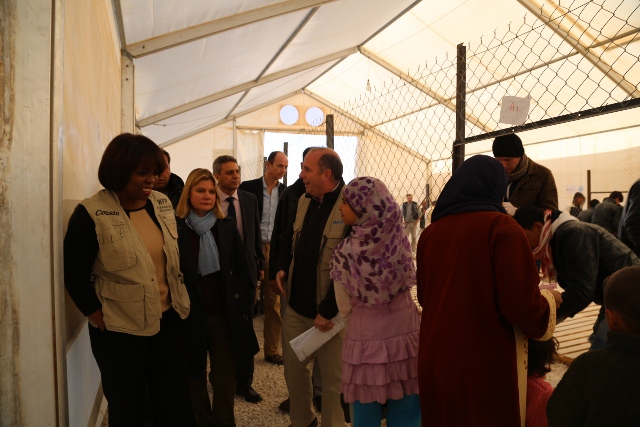 AMMAN – The Executive Director of the UN World Food Programme (WFP), Ertharin Cousin, returned to the Middle East region today to visit Zaatari refugee camp amid concerns of an influx of Syrian refugees crossing the border to Jordan.
This is the second time that Cousin has visited the refugee camps in Jordan in less than three months. Cousin accompanied British Secretary of State for International Development Justine Greening in the visit to the camp at Zaatari.
During the visit, Cousin met with refugees who crossed the border overnight. "We are significantly increasing the number of meals we provide to people as they cross, but the scale of human suffering is growing, and neighbouring countries like Jordan are exhausting their resources to deal with the crisis," said Cousin.
 
More than 30,000 Syrians have arrived at Zaatari camp since the beginning of the year, and thousands more cross the border every night. WFP provides ready-to-eat food to Syrians arriving at the camp and, once they have settled in, supplies them with food rations to cook in communal kitchens. The camp is a temporary home to around 65,000 people.
 
Elsewhere in Jordan, WFP provides food vouchers to Syrian refugees living with host communities. Vouchers are used when food is available in the market but people do not have enough money to buy it. As people spend in local shops, they also boost the local economy.
 
The UN food agency is fully mobilised to meet the needs of the new arrivals, stocking up on 100,000 meals in anticipation of increased numbers over the new few days. WFP has also increased its daily bread delivery to over 15.5 metric tons a day, with additional bakeries on standby to increase delivery if the need arises.
 
But the rise in the number of refugees is straining resources. "WFP appreciates donor support that has enabled our rapid scale up but a crisis of this magnitude requires a full global response," said Cousin. "We have sufficient supplies of food in stock in Jordan to cover the needs of around 100,000 Syrian refugees for a month, but we need urgent funding to continue providing assistance after that," said Cousin.
 
WFP needs US$132 million to continue its Regional Refugee Operation in Jordan, Lebanon, Iraq, Turkey and Egypt until June 2013.  The overall budget for the five-country operation is $200 million.  So far the UN food agency is able to feed over 250,000 refugees in the neighbouring countries thanks to contributions from the US, UK, Canada, European Commission, Japan, among other donors.
 
More than 600,000 Syrians have registered, or are awaiting registration, with the office of the United Nations High Commissioner for Refugees (UNHCR), in neighbouring countries. Needs assessments in these countries showed that food was a top priority and WFP is scaling up to provide food assistance to as many as 750,000 people by mid-year.