WFP Executive Director Raises Alarm About Assistance Cuts For Syrian Refugees In Jordan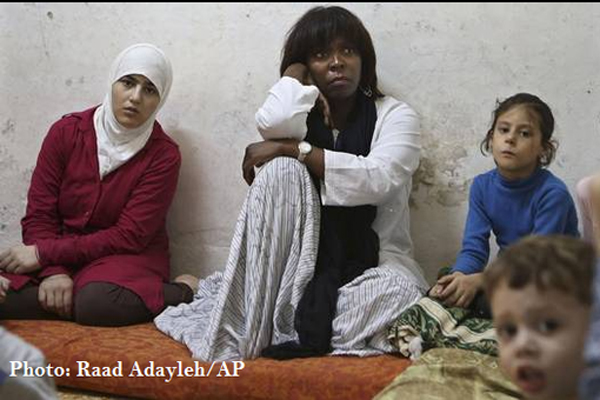 AMMAN - Concerned by the deteriorating conditions of Syrian refugees in Jordan, the Executive Director of the UN World Food Programme (WFP), Ertharin Cousin, has concluded a visit to the Kingdom, during which she met Syrian families and heard the hopes and fears of young people.
"I met Khaldiyeh, a single mother of eight who is struggling to feed her children and says she could be evicted at any moment because the little money she has, she spends on food for her family," said Cousin. "I also met a group of boys who have big dreams that they will not be able fulfil unless they can go to back to school. Now they are working to help feed their families."
The visit comes at a time when WFP has reduced the level of assistance it provides to nearly half a million Syrian refugees living outside of camps in Jordan, due to a severe lack of funding.  
The cuts in the value of voucher assistance, combined with reductions in support from other humanitarian agencies, have had a negative impact on the food security of the majority of refugees. Many have taken drastic measures such as taking their children out of school to send them to work and incurring debilitating levels of debt.  "We are calling upon the donor community to recognize the suffering of our Syrian brothers and sisters and to continue to give generously so we can support desperate families until they can go home," said Cousin. "We need those who have given to give more, and those who haven't given to invest in our work and in the future of Syria."
During the visit, Cousin visited a Syrian refugee family living in the Hashemi Al-Shemali district of Amman, where they told her how difficult it has become to cope with such limited resources. She also met with a group of Syrian and Jordanian young people at a Save the Children youth centre, where she had a chance to listen to them discuss their hopes and aspirations as well as the obstacles they face on a daily basis.
Cousin voiced her appreciation for Jordan's generosity in hosting Syrian refugees and she recognized the national initiatives that aim to encourage social cohesion among local and refugee communities. She emphasized the importance of bolstering international support to Jordan so that the Kingdom can continue to play a crucial humanitarian role.
WFP needs US$45 million to continue providing this vital food assistance to over half a million Syrian refugees living in Jordan until the end of the year.
Through its electronic voucher programme, WFP supports over half a million Syrian refugees in Jordan.  In this way WFP has injected over US$396 million (JOD 280 million) into the local economy and created over 400 jobs in the food retail sector.
WFP also aims to support 160,000 vulnerable Jordanians through cash and food assistance as well as 340,000 school children through a school-feeding programme in Jordan's most impoverished areas.
#                              #                                 #
WFP is the world's largest humanitarian agency fighting hunger worldwide, delivering food in emergencies and working with communities to build resilience. Each year, WFP assists some 80 million people in around 80 countries.
Follow us on Twitter @wfp_media and @wfp_mena
For more information please contact:
Shada Moghraby, WFP/Amman, Mob. +962797280924
Dina El-Kassaby, WFP/Cairo, Mob. +2010 15218882
Jane Howard, WFP/Rome, Tel. +39 06 65132321, Mob. +39 346 7600521
Gregory Barrow, WFP/London, Tel.  +44 20 72409001, Mob.  +44 7968 008474
Bettina Luescher, WFP/Geneva, Tel. +41 22 917 8564, Mob. + 41-79-842-8057
Gerald Bourke, WFP/New York, Tel. +1-646-5566909, Mob.  +1-646 525 9982