WFP To Expand Assistance In South Sudan As New Analysis Shows Worsening Food Security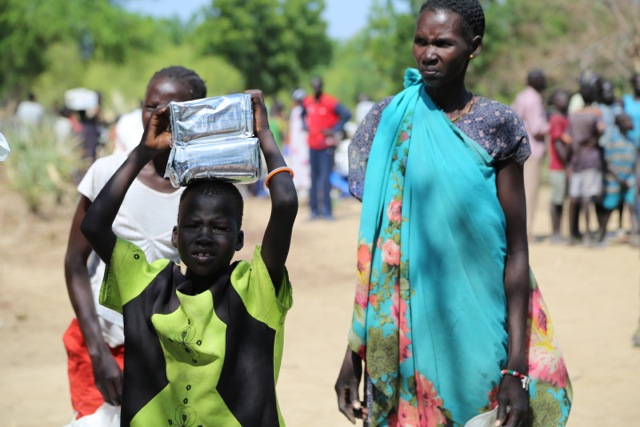 JUBA – Based on a new analysis that the conflict in South Sudan is pushing the country toward a hunger catastrophe, the United Nations World Food Programme (WFP) plans to expand its emergency programmes to reach 3.2 million people this year with urgently needed food assistance.
The provisional results of the latest Integrated Food Security Phase Classification (IPC) analysis find that food insecurity is deepening to alarming levels in areas isolated by conflict, particularly in several counties of Unity State, where up to three quarters of the population currently face severe hunger. 
According to the analysis, famine is not predicted anywhere in South Sudan in the next three months, but it will become a serious risk in some areas later in the year unless adequate humanitarian assistance can be delivered.
"A hunger catastrophe can still be avoided, but humanitarian agencies must be allowed to reach tens of thousands of people in need before it's too late," said Mike Sackett, WFP's Country Director ad interim. "It is absolutely critical to stop fighting and other obstacles that prevent life-saving aid deliveries."
The IPC analysis was conducted by food security and humanitarian assessment specialists from a number of aid and development agencies including the UN Food and Agriculture Organization, WFP and Save the Children, along with technical experts from the South Sudanese government.  
The IPC analysis confirms worrying predictions made by food security teams in January and that some 3.7 million people – nearly a third of the population – are now in critical need of humanitarian assistance.  The situation is most dire in the three conflict-affected states of Jonglei, Unity and Upper Nile.  
"WFP and our humanitarian partners are doing everything we can to get urgently needed food into the worst-affected areas to help communities stave off the threat of disaster," Sackett said. "WFP has been able to provide food assistance to more than 700,000 people affected by the conflict in 125 locations so far, but insecurity continues to prevent or limit our access to some areas where tens of thousands of people are in desperate need."
Especially as conflict prevents people from planting and harvesting crops, WFP needs significantly more donor support to continue providing food assistance to at least 3.2 million people through the end of the year. The agency currently has a funding shortfall of US$261 million and is revising its funding requirements to assist the growing number of people affected by the conflict. 
WFP is using airlifts and airdrops in remote, hard-to-reach areas because of severe challenges including looting and continued fighting. Where possible, WFP uses trucks and boats to reach affected areas, though access is limited by insecurity. Mobile distribution teams take advantage of any window of opportunity to distribute food in communities isolated by conflict. 
#                              #                                 #
WFP is the world's largest humanitarian agency fighting hunger worldwide. On average, WFP reaches more than 90 million people with food assistance in 80 countries each year.
Follow us on Twitter @wfp_media and @wfp_africa
For more information please contact (email address: firstname.lastname@wfp.org):
George Fominyen, WFP/Juba, Mob. +211 922 465 247
Challiss McDonough, WFP/Nairobi, Tel.  +254 20 762 2179, Mob. +254 707 722 104
Peter Smerdon, WFP/Rome, Tel. +39 066513 Mob. +39 3428784107
Elisabeth Byrs, WFP/Geneva, Tel. +41 22 917 8564, Mob. +41 79 473 4570
Gregory Barrow, WFP/London, Tel.  +44 20 72409001, Mob.  +44 7968 008474
Steve Taravella, WFP/Washington, Tel. +1 202 653 1149, Mob. +1 202 770 5993