WFP Food Provided To Majority Of New Arrivals In Cox's Bazar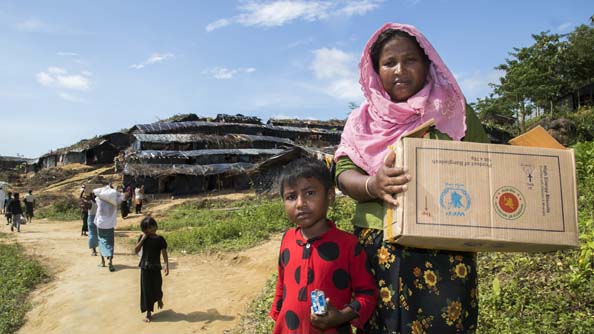 DHAKA – The United Nations World Food Programme (WFP) is responding to the humanitarian crisis in Bangladesh by providing food to people arriving in Cox's Bazar following an outbreak of violence in Myanmar's northern Rakhine State.
92,000 families – nearly 460,000 people – have been enrolled to receive 25kg of rice per household every two weeks for the next six months, and have received rice at least once already.**
More than 200,000 people have received high-energy biscuits as an emergency measure.  This is a one-off package of 2-3 days' worth of fortified cookies, which are often provided in situations where no cooking facilities are available.
WFP is especially concerned about the health of women and children arriving hungry and malnourished after days on the move, and living in rudimentary shelters. WFP is providing SuperCereal Plus– a fortified wheat-soya blend used to make a nutritious porridge – to families with young children, pregnant women and breastfeeding mothers. Nearly 60,000 women and children have received SuperCereal Plus to date.
As people continue crossing into Bangladesh, WFP and its partners are working to sign up new arrivals for distributions. Going forward, WFP will also distribute pulses and fortified vegetable oil to everyone receiving rice.
WFP needs US$72.7 million to fund a response that will address the needs of 1.09 million people for the next six months. The planning figure includes up to 700,000 new arrivals, 75,000 people who arrived before August, 34,000 registered refugees and 200,000 people in the host communities).
WFP has so far received US$3.2 million from Denmark, US$2 million from Australia, US$650,000 from Norway, US$ 530,000 from Italy and US$1.9 million through the UN's Central Emergency Response Fund (CERF). Canada has pledged a contribution of USD$ 1.1 million and other donors have also expressed the intention to support the operation.
Latest figures from the International Organization of Migration put the estimated number of new arrivals since 25 August at 436,000.
Photos of WFP's operations in Cox's Bazar are available here. Photos should be credited as follows: WFP/Saikat Mojumder
**An earlier version of this release did not make it clear that the 25kg ration is per household, not per person**
 
#                              #                                 #
WFP is the world's largest humanitarian agency fighting hunger worldwide, delivering food assistance in emergencies and working with communities to improve nutrition and build resilience. Each year, WFP assists some 80 million people in around 80 countries.
Follow us on Twitter @wfp_media and @wfp_asia
For more information please contact (email address: firstname.lastname@wfp.org):
Maherin Ahmed, WFP/Bangladesh, Mob. +880-1755-64-2160
Silke Buhr, WFP/Bangladesh. Mob. ++880-1755-64-2150
Jane Howard, WFP/Rome, Tel. +39 06 65132321, Mob. +39 346 7600521
Bettina Luescher, WFP/Geneva, Tel. +41 22 917 8564, Mob. + 41-79-842-8057
Steve Taravella, WFP/New York, Tel. +1-646-556-6909, Mob. +1-202-770-5993
Francis Mwanza, WFP/London, Tel. +44 20 3857 7411, Mob. +44 7968008474