WFP Food Reaches More People In Syria In July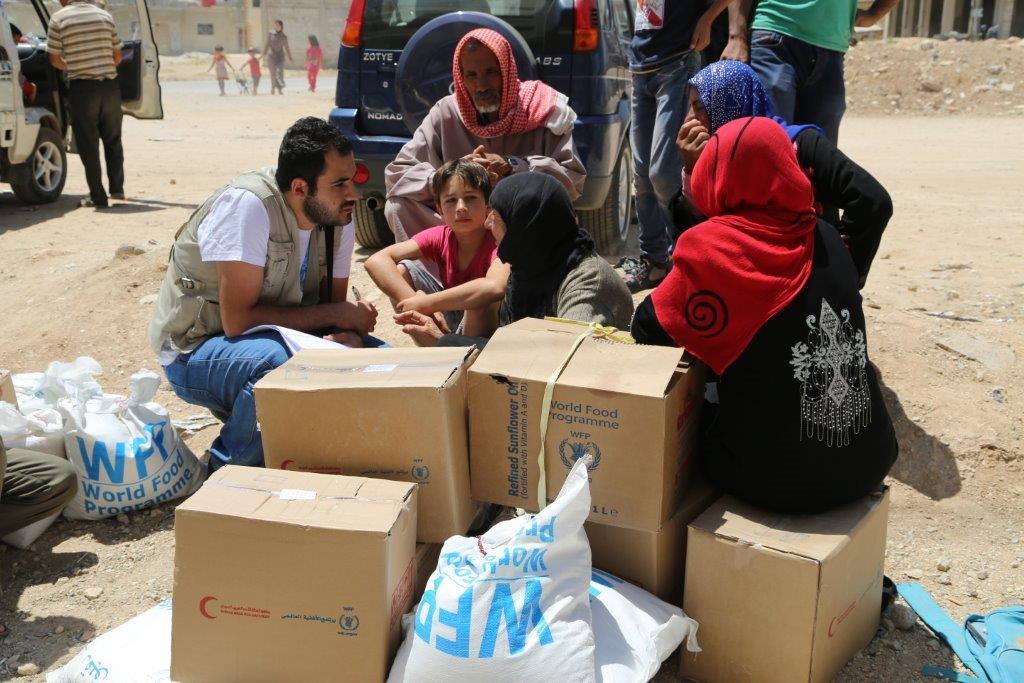 DAMASCUS – The United Nations World Food Programme (WFP) has made significant progress over the last few weeks in reaching more people affected by the violence in Syria – many of them in besieged and difficult-to-reach areas -- due to improved access through cross-line and cross-border food deliveries.
In July, WFP food assistance reached a total of 3.7 million people in Syria, an increase on the number of people reached in June (3.4 million). More than 300,000 people in besieged and hard-to-reach areas received WFP food through cross-line convoys in July – double the number of people reached using cross-line convoys in June.
Security challenges continue to hinder WFP's ability to deliver food, however, and the organisation remained over half a million short of its goal of reaching 4.25 million people. Fighting along access routes blocked all deliveries to Ar-Raqqa governorate.
• WFP reached 10,000 civilians trapped in rural areas of Dar'a through cross-line deliveries. The majority had not been assisted since the beginning of the crisis. On 2 August, distributions were completed by the Syrian Arab Red Crescent (SARC) teams in the opposition-held villages of Al-Yadoudah, Tal Shihab and Zaizoun.
• In July, WFP made a breakthrough crossing frontlines to reach 30,000 civilians in Moadamiyeh in rural Damascus for the first time in two years, bringing food rations containing rice, lentils, oil, pasta, bulgur, canned foods, flour, beans, salt and sugar. Until then, in spite of efforts to negotiate access, all humanitarian deliveries to Moadamiyeh had been blocked since October 2012. WFP staff delivering the food reported dire conditions of people severely affected by prolonged hunger.
• Also in July, WFP trucks entered Deir-ez-Zor governorate, delivering food assistance for over 76,000 people in both urban and rural areas, thanks to extensive access negotiations and advocacy by WFP and its partners. The governorate was last reached by WFP in May before fighting cut all access routes. Some 250,000 civilians have fled from eastern Deir-ez-Zor into neighbouring governorates in the northeast, including Al-Hassakeh.
• An ongoing airlift of 23 WFP-chartered flights is flying food rations from Damascus to Qamishli airport in Al-Hassakeh governorate, where newly displaced families continue to arrive. This is bringing critically needed food for 50,000 of the most vulnerable displaced people in contested and opposition-held areas of the governorate including Tal Hamis, Al-Shadaddeh, Markada, Ras Al Ain and Arisha.
• On July 24, WFP joined a cross-border convoy of food trucks for the first time across the Bab Al-Salam border crossing from Turkey to Syria with assistance for people cut off in areas of Rural Idleb. More convoys are planned across the Jordanian and Turkish borders in the coming days.
• Elsewhere in Rural Idleb, WFP successfully delivered food rations to nearly 14,500 people living in 74 camps for displaced people in Qah, Atmah and Dana in July.
• WFP has begun providing food vouchers to pregnant women and nursing mothers in Homs and Lattakia. Using WFP vouchers, 730 mothers can now purchase fresh food, including eggs, dairy, fruits and vegetables, providing improved nutritional intake for themselves and their babies.
• WFP needs to raise US$35 million dollars every week to meet the food needs of families affected by the conflict in Syria and refugees currently residing in neighbouring countries.
#                              #                                 #
WFP is the world's largest humanitarian agency fighting hunger worldwide, delivering food in emergencies and working with communities to build resilience. In 2013, WFP assisted more than 80 million people in 75 countries.
Follow us on Twitter @wfp_media
For more information please contact (email address: firstname.lastname@wfp.org):
Abeer Etefa, WFP/Cairo, Mob. +20 1066634352. Tel. +202 2528 1730 ext. 2600
Dina El Kassaby, WFP/Amman, Mob. +962 7 9867 4638
Laure Chadraoui, WFP/Dubai, Mob. +963 795915230
Emilia Casella, WFP/Rome, Tel. +39 06 6513 3854, Mob. +39 347 9450634
Gregory Barrow, WFP/London, Tel.  +44 20 72409001, Mob.  +44 7968 008474
Elisabeth Byrs, WFP/Geneva, Tel. +41 22 917 8564, Mob. +41 79 473 4570
Steve Taravella, WFP/Washington DC, Tel. + 1 202 653 1149, Mob. +1 202 770 5993