WFP Head Confirms Commitment To Food Security For All Afghans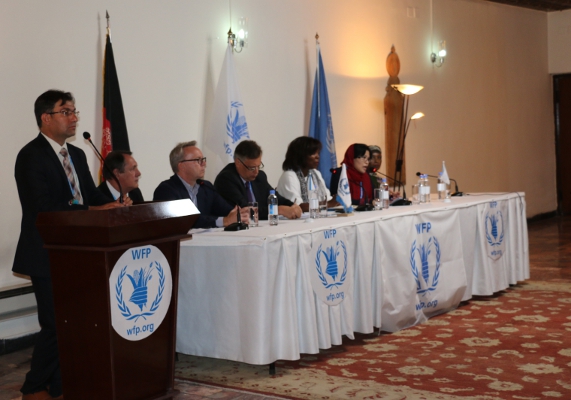 KABUL – The Executive Director of the World Food Programme (WFP), Ertharin Cousin, wrapped up a four-day visit to Kabul today, declaring the organization's commitment to continue working for the food and nutrition security of all Afghans.
"Afghanistan faces many challenges, including meeting the emergency food assistance needs of those recently uprooted. WFP works to ensure all Afghans have access to sufficient, nutritious food," said Cousin.  
"Our team will continue working in partnership with the government, other UN agencies and NGOs, to improve food security and nutrition for millions of Afghan people".
She said that while WFP had reached almost 2 million of the most food insecure Afghans with food and cash assistance since January 2016, the organization needed US$50 million in donor funding to reach a further 1.6 million people by the end of the year, and to preposition food so WFP operations are not interrupted during the coming winter.
Cousin met the Afghan President, the CEO and other senior government officials, as well as WFP staff and partners. She also visited WFP-supported projects in Kabul, including one of Afghanistan's first female-run organic farms and a mill producing wheat flour fortified with vitamins and minerals.
During her visit to the Pilawary Farm, Cousin underlined the importance of partnership – with government, with other organizations, with local NGOs and with local communities –to achieve food security and sustainable development.  
"It's only when you bring all of the parties together to achieve that outcome that it moves beyond being just an intervention, into something that actually builds sustainable, durable results," said Cousin.
In her meetings with senior officials, Cousin outlined WFP's objectives in Afghanistan. In addition to providing food or cash assistance for the most vulnerable, these include working with the government to advocate for food security and nutrition at the national level, investing in food security and nutrition preparedness for shocks, and promoting procurement from smallholder farmers, local fortified food commodities and nutrition enhancement.
A recent assessment by WFP and partners found that 40 percent of Afghans (11.3 million people) are food insecure. Chronic malnutrition, also known as stunting, affects more than 40 percent of children under five.
 
#                              #                                 #
WFP is the world's largest humanitarian agency fighting hunger worldwide.  Each year WFP feeds more than 80 million people in more than 80 countries.
WFP has been working in Afghanistan since 1963 with the aim of helping Afghans build a hunger-free future for themselves and their country. WFP food is distributed on the basis of need, without regard for ethnicity, religion or political affiliation.
WFP Afghanistan operates a feedback hotline number and welcomes comments, complaints and feedback regarding the distribution of WFP food assistance. Please call: 0790-555-544
Follow us on Twitter @wfp_media 
For more information please contact (email address: firstname.lastname@wfp.org):
Silke Buhr, WFP/Bangkok, Tel. +66 (0)2 659 8616, Mob. +66 817 019 208
Jeanne Spillane, WFP/Bangkok, Mob. +66 614 123 254
Jane Howard, WFP/Rome, Tel. +39 06 65132321, Mob. +39 346 7600521
Bettina Luescher, WFP/Geneva, Tel. +41 22 917 8564, Mob. + 41 79 842 8057
Gregory Barrow, WFP/London, Tel.  +44 20 72409001, Mob.  +44 7968 008474
Gerald Bourke, WFP/New York, Tel. +1 646 5566909, Mob.  +1 646 525 9982
Steve Taravella, WFP/Washington DC, Tel. +1 202 6531149, Mob. +1 202 7705993