WFP Head Ertharin Cousin Deplores Attack On Humanitarian Convoy In Syria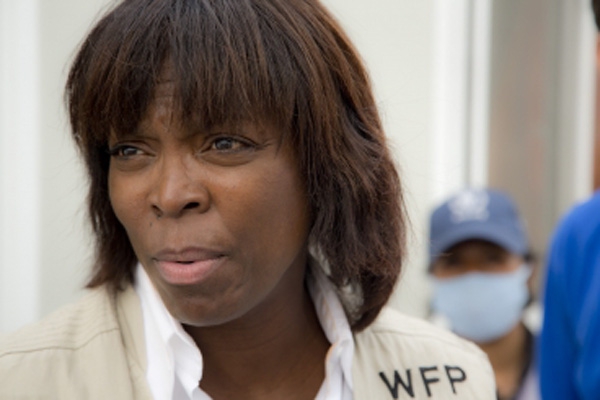 Statement from Ertharin Cousin, Executive Director of the UN World Food Programme
NEW YORK – I am horrified by the attack on Monday against a joint United Nations-Syrian Arab Red Crescent (SARC) humanitarian convoy and a SARC warehouse in Urum al-Kubra (Big Orem), northwest of the city of Aleppo and the resulting casualties.
We mourn this senseless loss of life. Our condolences go to the families of all those who died. Our hearts and prayers are with the families and loved ones of those courageous SARC humanitarian workers and the drivers carrying humanitarian supplies to families, cut off from all basic supplies. 
This assault on the humanitarian relief effort in Syria however will not discourage WFP from continuing to perform our life-saving service to all people in need across the country. 
I urge all parties to this hideous conflict to respect international law and our common humanitarian principles and provide unconditional, unimpeded, sustained and safe access to the millions of civilians in need across Syria, no matter where they are or who they are.
Our thoughts are with SARC, the International Committee of the Red Cross and the International Federation of Red Cross and Red Crescent Societies, now in mourning.
#                              #                                 #
WFP is the world's largest humanitarian agency fighting hunger worldwide, delivering food assistance in emergencies and working with communities to improve nutrition and build resilience. Each year, WFP assists some 80 million people in around 80 countries.
Follow us on Twitter @wfp_media and @wfp_mena
For more information please contact (email address: firstname.lastname@wfp.org):
Abeer Etefa, WFP/Cairo, Mob. +2 01066634352
Marwa Awad, WFP/Damascus, Mob. +963 958882900
Jane Howard, WFP/Rome, Tel. +39 06 65132321, Mob. +39 346 7600521
Gregory Barrow, WFP/London, Tel.  +44 20 72409001, Mob.  +44 7968 008474
Bettina Luescher, WFP/Geneva, Tel. +41 22 917 8564, Mob. + 41-79-842-8057
Gerald Bourke, WFP/New York, Tel. +1-646-5566909, Mob.  +1-646 525 9982