WFP Introduces Iris Scan Technology To Provide Food Assistance To Syrian Refugees In Zaatari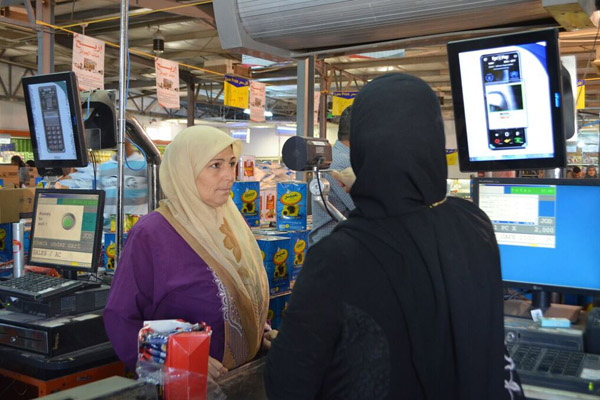 AMMAN – The World Food Programme (WFP) in partnership with the United Nations High Commissioner for Refugees (UNHCR) has introduced an innovative iris scan payment system in Jordan's Zaatari refugee camp, allowing 76,000 Syrian refugees to purchase food from camp supermarkets using a scan of their eye instead of cash, vouchers or e-cards.
The cutting-edge technology was launched in Jordan's King Abdullah Park refugee camp in February this year, when for the first time in the history of humanitarian assistance, a WFP beneficiary received food assistance in the blink of an eye. The system was expanded to Azraq refugee camp in eastern Jordan in April.
"The iris scan payment system has been extremely successful, and we are thrilled that WFP and its partners are now able to serve Syrian refugees living in Jordan's largest camp through this innovative system," said WFP Country Director in Jordan Mageed Yahia. "Iris scan technology has reshaped the shopping experience for Syrian refugees in Jordan, making it easier and more secure for them, while also enhancing accountability."
For Zaatari resident Hana Heraaki, the true value of this system lies in its convenience. "Now I don't have to worry if I forgot my card at home or if I misplaced it. Whenever I'm near the shop, I can just walk in and get whatever food that's missing from home," she said.
WFP's system relies on UNHCR biometric registration data of refugees. The system is powered by IrisGuard, the company that developed the iris scan platform, Jordan Ahli Bank and its counterpart Middle East Payment Services.  
Once a shopper has their iris scanned, the system automatically communicates with UNHCR's registration database to confirm the identity of the refugee, checks the account balance with Jordan Ahli Bank and Middle East Payment Services and then confirms the purchase and prints out a receipt – all within seconds.
The introduction of the iris scan payment system in Jordan's Syrian refugee camps represents WFP's commitment to employing innovative tools and approaches in the fight against hunger. WFP seeks to expand the use of the technology to refugees living in communities outside of camps.
Through the iris scan and electronic voucher programme, WFP supports more than half a million Syrian refugees in Jordan. WFP is also providing assistance to almost 140,000 vulnerable Jordanians through food rations and cash for work and cash for training programmes.
Photos: https://www.hightail.com/download/cUJYbUpYT2J3NUpqQTlVag
#                              #                                 #
WFP is the world's largest humanitarian agency fighting hunger worldwide, delivering food assistance in emergencies and working with communities to improve nutrition and build resilience. Each year, WFP assists some 80 million people in around 80 countries.
Follow us on Twitter @wfp_media and @wfp_mena
For more information please contact (email address: firstname.lastname@wfp.org):
Shada Moghraby, WFP/Amman, Mob. +962 79728 0924
Abeer Etefa, WFP/Cairo, Mob. +2010 66634352
Dina El-Kassaby, WFP/Cairo, Mob. +2010 15218882
Frances Kennedy, WFP/Rome, Tel. +39 06 65133725, Mob. +39 346 7600806
Bettina Luescher, WFP/Geneva, Tel. +41 22 917 8564, Mob. + 41-79-842-8057
Gerald Bourke, WFP/New York, Tel. +1-646-5566909, Mob.  +1-646 525 9982
Steve Taravella, WFP/Washington DC, Tel. +1 202 653 1149, Mob. +1 202 770 5993