WFP Launches New Emergency Operation In Yemen To Feed Millions On Brink Of Famine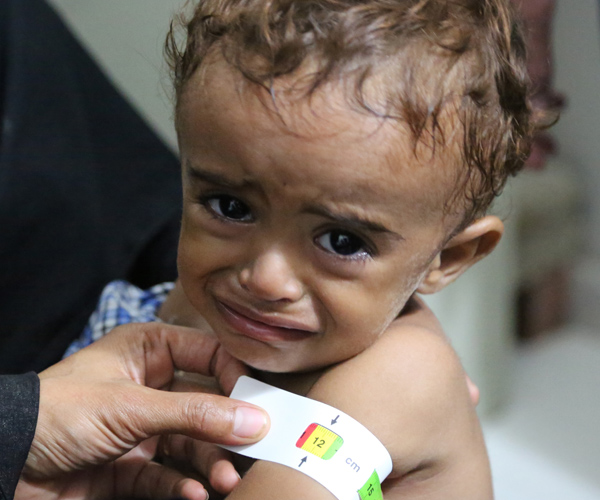 SANA'A – The United Nations World Food Programme (WFP) announced today that it is scaling up its emergency food operations in Yemen to provide food assistance to up to 9 million people who urgently need food assistance in one of the world's worst hunger crises.
The new emergency operation will cost up to US$1.2 billion over a one-year period and should allow WFP to gradually scale up assistance to feed all severely food insecure people in Yemen every month. The success of this operation hinges on immediate sufficient resources from donors.
"The situation is getting close to a breaking point in Yemen with unprecedented levels of hunger and food insecurity. Millions of people can no longer survive without urgent food assistance," said Stephen Anderson, WFP Representative and Country Director in Yemen. "We are in a race against time to save lives and prevent a full-scale famine unfolding in the country, but we urgently need resources to do this."
With the new plan, WFP aims to provide vital food assistance to nearly seven million people classified as severely food insecure, in addition to nutrition support to prevent or treat malnutrition among 2.2 million children. WFP will also assist breastfeeding and pregnant mothers with specialized nutritious foods.
During April and May and until WFP can secure the funds that it needs, WFP will prioritize 6.7 million people for urgent food assistance. Some 2.5 million of them – particularly those in governorates hardest-hit by food insecurity and at risk of slipping into a famine – will receive a package of assistance aimed at averting famine.
This will include a full food ration, which will cover 100 percent of the food needs of every member of a family for a month, in addition to nutrition support for malnourished children and women. This is the first time that WFP has been able to provide a full food basket in more than a year.
A second priority group of 4.2 million people will receive a reduced food ration, which comprises 60 percent of the full food basket.
"We have to secure urgent resources to meet the needs of all 6.8 million people who are severely food insecure in Yemen as well as the millions of malnourished children and women. Until we are able to do this, we have to spread out the help to ensure that we are helping the people who are at the most immediate risk of starvation," added Anderson.
WFP prioritizes its assistance in consultation with humanitarian partners targeting people in highest priority governorates and districts, which are already showing signs of famine-like conditions – especially in Taiz, Hodeidah, Lahj, Abyan and Sa'ada.
These districts have prevalence of severe hunger and the Global Acute Malnutrition rates, among children under 5, are well above the World Health Organization critical threshold of 15 percent. These areas are at risk of deteriorating into famine conditions if they do not receive adequate assistance.
According to the latest Integrated Food Security Phase Classification (IPC) analysis released by the United Nations and humanitarian partners in March, food assistance has prevented some areas in Yemen from sinking deeper into hunger.
Conflict and civil insecurity are the main drivers of food insecurity, with devastating effects on families' incomes and the nutrition situation. The number of people requiring food assistance in the country increased from 14 million to 17 million people in the second half of 2016.
Despite considerable access and security challenges, WFP in February provided food assistance to a record number of nearly 5.3 million people in 17 governorates but at reduced levels. At the same time, WFP assisted more than 9,000 refugees from the Horn of Africa in Kharaz camp, northwest of the city of Aden.  
#                              #                                 #
WFP is the world's largest humanitarian agency fighting hunger worldwide, delivering food assistance in emergencies and working with communities to improve nutrition and build resilience. Each year, WFP assists some 80 million people in 80 countries.
Follow us on Twitter @wfp_media, @wfp_MENA
For more information please contact (email address: firstname.lastname@wfp.org):
Abeer Etefa, WFP/Cairo, Tel. +2010 66634352
Reem Nada, WFP/Cairo, Tel. +2010 66634522
Dana Sacchetti, WFP/Rome, Tel. +39 349 980 0442