WFP launches its first Country Programme to support food security in Cuba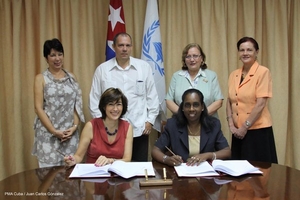 LA HABANA. – This morning, the United Nations World Food Programme (WFP) and the Cuban Government signed the Action Plan that marks the beginning of the first WFP Country Programme, to be implemented between 2015 and 2018. The document was signed by the Deputy Minister of Foreign Trade and Investment, Ileana Núñez, and WFP Representative in Cuba, Laura Melo.
"This is a historic programme for WFP in Cuba," affirmed Laura Melo. "We are very committed to supporting the Government of Cuba in updating their economic model. With this programme, WFP can provide a significant contribution to strengthen the country's food security and nutrition, which are key priorities in this process," she added. 
For her part, Ileana Núñez thanked WFP for its work in Cuba, which dates back several decades. The Deputy Minister highlighted that the programme is aligned with the Cuban national priorities, in particular with the Economic and Social Policy Guidelines in regards to food security. "The proposed actions will strengthen the food-based social programmes for pre-schools and primary schools, care centers for the elderly, maternity homes, and community-based family support systems; as well as bean production and the prevention of risks related to drought and hurricanes," she said.
The new Country Programme comprises three strategic areas: i) support food security and nutrition-related to social protection programmes; ii) strengthen links between social protection systems and agricultural value chains; and iii) strengthen community resilience, disaster risk management and climate change adaptation capacities at the local level.
More than 908,000 Cubans will benefit from the implementation of the programme, including pregnant and nursing women, children under the age of 5, farmers, and adults over the age of 65. With a budget of over USD 16.8 million, the programme will focus on the five eastern provinces, Pinar del Rio and Matanzas. The Country Programme is the first of its kind after 5 decades of WFP operations in Cuba. Its outreach redefines the agency's role in responding to the country's current priorities, promoting the food security and nutrition of the most vulnerable groups in the country, in close collaboration with the government at the national and local level.
WFP is the world's largest humanitarian agency fighting hunger worldwide, providing food assistance in emergencies and working with communities to strengthen nutrition and increase resilience.
Each year, WFP reaches more than 80 million people in 75 countries.