WFP Partners With Timor-Leste Medical Supply Agency To Bring Specialised Nutritious Food To Women And Children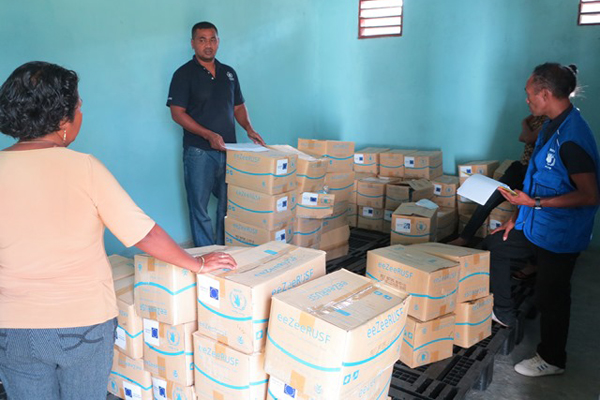 DILI – The United Nations World Food Programme (WFP) is working with Timor-Leste's Medical and Pharmaceutical Supply Agency (SAMES) to ensure that mothers and children get specialized nutritious food in a timely and efficient manner.
In a one-day workshop being held today, staff from WFP and the Dili Municipal Health Services will bring together their expertise in supply chain management. The partners are working together to pilot new technology for the online tracking of medical and nutrition supplies as they are delivered from central supply centres to local-level health posts. The online tracking system will replace a paper-based system, which made it difficult for health facilities to track the movement of supplies in real time.
"We are really pleased to receive this support from WFP as it will help ensure that products, including nutritious food, will reach the clinics and health posts, and that together all partners can ensure communities receive the treatment they need on time," said Dr Maria Odete Belo, President of SAMES.
"We're confident this partnership will help staff within SAMES and health facilities build the skills needed to better manage medical supply chains – which will help get food to malnourished children more quickly and efficiently," said Stephen Kearney, Country Director for WFP in Timor-Leste.
SAMES has already been delivering special nutritious food to health facilities across Dili under the Ministry of Health's Mother and Child Health and Nutrition Programme, which is funded by KOICA and the European Union.  
WFP provides a locally-produced supplementary food called Timor Vita for pregnant women and nursing mothers, as well as nutrient-dense specialized food for children under five.  SAMES has delivered nutritional food to 7,716 pregnant women and 5,215 young children since December 2015.
#                              #                                 #
WFP is the world's largest humanitarian agency fighting hunger worldwide, delivering food assistance in emergencies and working with communities to improve nutrition and build resilience. Each year, WFP assists some 80 million people in around 80 countries.
Follow us on Twitter @WFP_Asia
For more information please contact:
Marianne Kearney, WFP/Dili, Tel 7700 6263, email: Marianne.kearney@wfp.org