WFP Steps Up Emergency Assistance And Logistical Support In Fight Against Ebola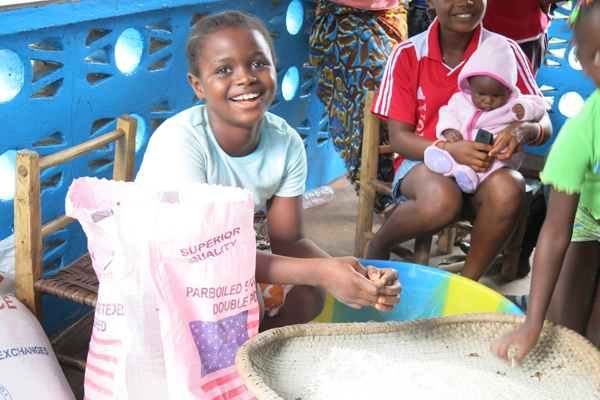 DAKAR – The United Nations World Food programme (WFP) is stepping up assistance to people impacted by Ebola in the three most-affected countries – Guinea, Liberia and Sierra Leone – and increasing logistical support to the whole humanitarian community fighting the spread of the virus.
WFP has launched a regional emergency operation to reach 1.3 million people in health centres and quarantine areas. WFP provides food and logistical assistance alongside national governments, the World Health Organization (WHO) and others partners to support the treatment of Ebola patients and mitigate the risk of the virus moving into new areas.
"We are multiplying our efforts to bring food assistance to all people in need and to provide logistical support to sister agencies and non-governmental organizations working  to contain the virus and meet the basic needs of affected people," said Denise Brown, WFP Regional Director for West Africa.
"Containing the virus requires a comprehensive care package including food assistance," she said.
WFP is deploying a total of 50 additional staff across the three most affected countries.
The UN Humanitarian Air Service (UNHAS), which is managed by WFP, has deployed a 19-seat aircraft shuttling since 16 August between Conakry, Freetown and Monrovia to allow vital access for humanitarian personnel and the delivery of live-saving cargo. An UNHAS helicopter, stationed in Monrovia, will fly to affected areas in the next few days.
WFP also manages UN Humanitarian Response Depots (UNHRD) that store emergency supplies. The UNHRDs in Dubai and Accra have dispatched 30 metric tons worth US$340,000 of protective gear, including gloves, masks and health kits in the region for WHO, the Japan International Cooperation Agency and WFP.
WFP urgently needs US$70 million for a regional emergency operation through November. UNHAS flights at a total cost of US$7.3 million through 13 October are only 38 percent funded. WFP is also launching a logistics operation at a cost of US$7.5 million.   
Guinea
•    WFP began food distributions because of Ebola four months ago and has reached around 40,000 people. (Biffa, Fria, Télémélé, N'Zerekore, Macenta and Guekedou)
•    Preparations are being made to gradually increase distributions to 464,000 people over a period of three months.
Sierra Leone
•    WFP is reaching Ebola patients in health centres and affected households in the epicentres of Kenema and Kailahun as well as houses that are under quarantine in 12 out of 13 districts in Sierra Leone.
•    So far, WFP has supplied food to more than 16,000 people in quarantine in Kenema, Bombali, Port Loko, Kailahun, Kono, Moyamba and Western district. WFP will also provide food to barriers teams and nurses.
•    WFP is setting up new warehouses in Makeni, Port Loko, Moyamba, Kono, Bonthe, Kailahun and western district.
•    Up to 400,000 people in Sierra Leone are targeted under the regional response for the next 3 months.
Liberia
Between 1 July and the end of August, WFP delivered food to some 43,700 people at Ebola case management centres and in quarantined communities:
•    The distributions have covered nine of Liberia's 15 counties, including the West Point slum community in the capital Monrovia and the Ebola epicentre of Foya District in Liberia's northern Lofa County.
•    WFP has delivered more than 71 metric tons of food to the government's County Health Teams in eight counties (Bomi, Bong, Cape Mount, Grand Bassa, Lofa, Margibi, Nimba and Rivercess) for distribution to some 4,600 people in holding and isolation centres.
•    WFP has delivered food for quarantined communities in nine counties (Bomi, Bong, Cape Mount, Grand Bassa, Lofa, Margibi, Montserrado, Nimba, Rivercess) for about 39,000 affected persons, including 13,500 in West Point and Dolo's Town.
•    The distributions in West Point and the Dolo's Town area are continuing, and should cover approximately 57,000 people when completed.
•    WFP is negotiating with the Ministry of Agriculture for the use of Agricultural Business Centre stores in all affected districts. These would enable WFP to preposition food and shorten its response time.
Download high quality photographic material about WFP's response here: https://www.yousendit.com/download/ZUcyWUhwQk4zMWxEZU1UQw or contact Rein Skullerud (rein.skullerud@wfp.org) for more details.
#                              #                                 #
WFP is the world's largest humanitarian agency fighting hunger worldwide, delivering food in emergencies and working with communities to build resilience. In 2013, WFP assisted more than 80 million people in 75 countries.
Follow us on Twitter @wfp_media and @wfp_mena
For more information please contact (email address: firstname.lastname@wfp.org):
Fabienne Pompey, WFP/Dakar, Mob. +221 77 637 59 64
Frances Kennedy, WFP/Liberia  Mob. +231 776500242, Italy Mob. +39 346 7600806
Jane Howard, WFP/Rome, Tel. +39 06 65132321, Mob. +39 346 7600521
Elisabeth Byrs, WFP/Geneva, Tel. +41 22 917 8564, Mob. +41 79 473 4570  
Gregory Barrow, WFP/London, Tel.  +44 20 72409001, Mob.  +44 7968 008474
Bettina Luescher, WFP/New York, Tel. +1-646-5566909, Mob.  +1 646 8241112
Steve Taravella, WFP/Washington DC, Tel. +1 202 653 1149, Mob. +1 202 770 5993