WFP Welcomes Japan's Support For Nepal Earthquake Survivors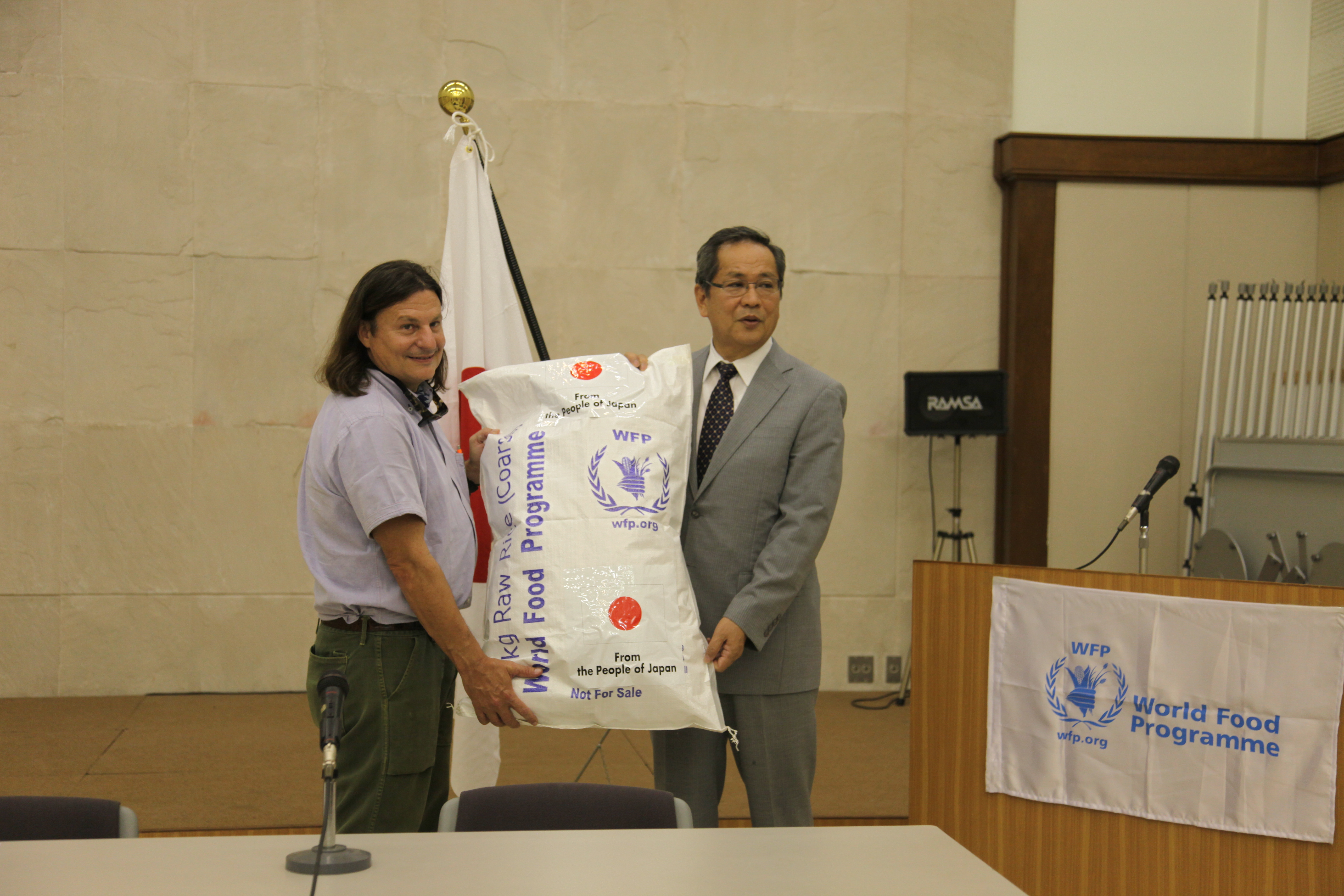 KATHMANDU – The United Nations World Food Programme (WFP) today welcomed a contribution of US$3 million from the Government of Japan to support its emergency response in Nepal, including the provision of essential logistics services for the entire humanitarian community.
Japan's contribution is part of its US$14 million assistance package to the people affected by the recent earthquakes in Nepal.
"The challenge we are facing is reaching out to the people in dire need of assistance. WFP is our reliable partner to extend the assistance to the most vulnerable people in Nepal. This is a very crucial time to boost the delivering capacity to those in need before the rainy season," said the Ambassador of Japan, Masashi Ogawa, at the handover ceremony.
US$1.5 million of the contribution will go towards WFP's emergency food assistance operation, and will assist more than 130,000 earthquake survivors in Sindhupalchok and the other hardest hit districts.
"Japan's contribution is critical right now. We're racing against the clock to beat the monsoon season and these very timely funds will enable us to provide emergency food relief to families affected by the devastating earthquake. As the UN system's lead logistics and emergency communications agency, the support will also go towards essential logistical services for the humanitarian community to operate in the most remote areas in Nepal," said Richard Ragan, WFP's Emergency Coordinator for Nepal.
The remainder of the Japanese funds - US$ 1.5 million – will be used to purchase trucks to move food and relief items, and to support the WFP-managed UN Humanitarian Air Service (UNHAS) which provides passenger and air cargo services for relief organizations. Humanitarian agencies rely on UNHAS to deliver their life-saving assistance in the most inaccessible mountainous areas.
WFP aims to reach 1.9 million people with food assistance before the start of the monsoon. The emergency response is severely underfunded and will continue to rely heavily on costly air operations to reach people in need.
#                              #                                 #
WFP is the world's largest humanitarian agency fighting hunger worldwide, delivering food assistance in emergencies and working with communities to improve nutrition and build resilience. Each year, WFP assists some 80 million people in around 75 countries.
Follow us on Twitter @wfp_media & @wfp_asia
For more information please contact:
Jin Iwata, WFP Nepal: mobile: +977 9802039683; Email: jin.iwata@wfp.org