WFP Youth Ambassador Jessica Watson Visits Syrian Refugees In Lebanon And Jordan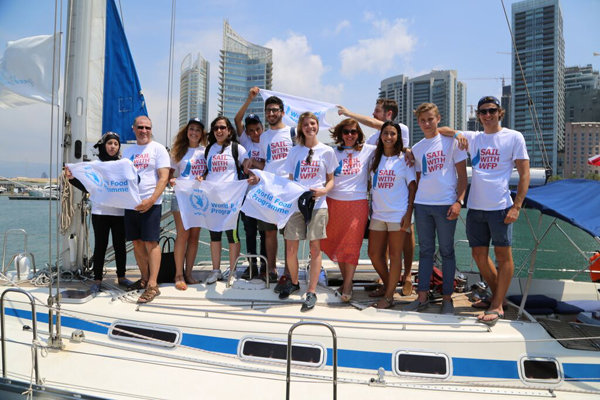 AMMAN – The United Nations World Food Programme's (WFP) Youth Ambassador Jessica Watson has visited Syrian refugees in Lebanon and Jordan where she witnessed their remarkable strength in facing arduous daily challenges resulting from the conflict in Syria.
In Lebanon, Watson set sail with five Syrian and Lebanese youths from the capital Beirut to a port to the north. Her symbolic "Sail with WFP" initiative aimed to highlight the daunting journeys made by so many young people from their homes in Syria to Lebanon, Jordan and beyond.
"I experienced one of the most incredible trips of my career. Young people in the region are having to bear an unimaginable weight on their shoulders at a time when they should be pursuing their hopes and dreams," Watson said. "I hope that this trip will help raise awareness among my peers back home and abroad about the struggle of the Syrian people."
Watson, an Australian, is the youngest person to sail solo and unassisted around the world.
In Jordan, Watson spent a day in Azraq refugee camp with Manal, a single mother from Syria, and her eight children. She listened to their stories, joined the family on a grocery trip to the camp's only supermarket – where refugees buy food with WFP's electronic food cards. She earned how to make kabsa, a traditional Syrian rice dish, and visited a Save the Children International youth centre in Amman and met young people from both Syria and Jordan.
Her trip came at a critical time when vulnerable Syrian refugee families are struggling to survive with reduced rations that WFP was forced to introduce early this year due to lack of funding. WFP is funded entirely by contributions from governments, companies and private individuals.
Its regional refugee operation is 81 percent underfunded and needs US$138 million to keep helping desperate refugees in Jordan, Lebanon, Egypt, Turkey and Iraq through September.
Watson, who was born in Queensland, Australia, was voted Young Australian of the Year in 2011 after circumnavigating the globe alone at age 16. Shortly afterwards, she was appointed as a WFP Youth Representative in the global fight against hunger.
#               #                 #
WFP is the world's largest humanitarian agency fighting hunger worldwide, delivering food in emergencies and working with communities to build resilience. In 2013, WFP assisted more than 80 million people in 75 countries.
Follow us on Twitter @wfp_media & @wfp_mena
For photos:
https://www.dropbox.com/sh/wetls0txvlnh0rj/AADYD60l4SuQa81pP0JWOZ9ja?dl…
For more information please contact:
Dina El-Kassaby, WFP/Cairo, Tel. +2010 15218882
Joelle Eid, WFP/Amman, Mob. +962 79727 9403