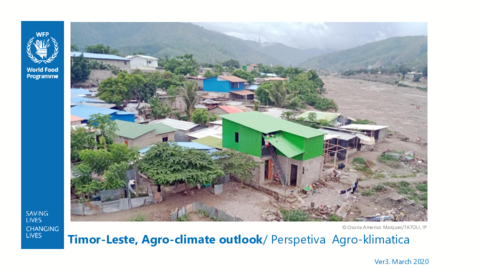 WFP endeavors to contribute to a profound understanding of the impacts of climate change to food security with an aim of informing relevant action and enhancing the ability of governments and communities to prepare for or adapt to the adverse effects of climate change.
This third edition of the agro-climate outlook in Timor-Leste contains outputs from satellite data and the below are the key messages here in: 
Despite having received low rainfall for most of the year in 2019, the country has received increasing rain with variations in accumulation over the different dekads in January and February 2020.
Compared to preceding years, the current rainy season had a slow onset. Examining the delay in the planting season would thus be crucial as impacts thereof may culminate in harvest loss.
According to the forecast from IRI-Columbia University, Timor-Leste will not experience unusually dry or wet conditions except for Oecussi which is predicted to experience slightly increased conditions of dryness.