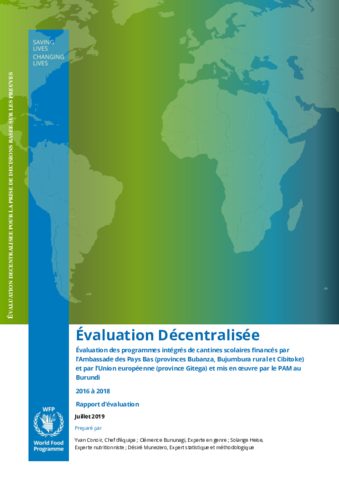 The decentralized evaluation was commissioned by the WFP Burundi Country Office and covers the integrated school canteen programmes financed by the Embassy of the Netherlands (provinces Bubanza, Bujumbura Rural and Cibitoke) and by the European Union (Gitega Province) and implemented by the WFP office in Burundi (2016-2018).
The main objectives of the evaluation were to assess and report on the performance and results of the two programmes evaluated to help WFP present high-quality and credible evidence to the two donors (accountability). In addition, the purpose of the evaluation was to determine the reasons why certain results occurred (or not) to draw lessons and derive good practices (learning).
The evaluation was designed to assess the programmes against the following evaluation criteria: relevance, effectiveness, efficiency, impact and sustainability. The evaluation team used a mix of quantitative and qualitative methods, insuring triangulation of data. The evaluation covered the period 2016-2018.
Key recommendations from the evaluation included:
WFP should require every new school associated with the programme to invest in basic infrastructures (latrines, water, etc.).
The formulation of every projects should be supported by a basic gender analysis
The government of Burundi and WFP partners in Burundi should seek to consolidate and sustain the development of school gardens and kitchen gardens.
_________________________________________________________________________________________________________________________________________________
L'évaluation décentralisée a été commissionnée par le PAM au Burundi et elle couvre les programmes intégrés de cantines scolaires financés par l'Ambassade des Pays Bas (provinces Bubanza, Bujumbura rural et Cibitoke) et par l'Union européenne (province Gitega) et mis en œuvre par le PAM au Burundi (2016 à 2018).
Cette évaluation sommative avait pour objectif de mesurer les progrès et de rendre compte de la performance des deux programmes évalués pour permettre au PAM de présenter aux deux donateurs des éléments de preuve crédible et de qualité (redevabilité). En outre, l'objectif de l'évaluation était de déterminer les raisons pour lesquelles certains résultats sont survenus ou non et d'en tirer des enseignements (apprentissage).
L'évaluation qui couvre la période 2016-2018 mesure les critères de pertinence, efficacité, efficience, impact et durabilité. Afin de répondre aux questions d'évaluation, l'évaluation a eu recours a plusieurs méthodes de collecte de données, quantitatives et qualitatives. Ces méthodes complémentaires ont permis une triangulation optimale des données.
Parmi les principales recommandations, nous pouvons noter que : 
Le PAM doit exiger que chaque nouvelle école associée au programme investisse dans des infrastructures minimales de base (latrines, eau, etc.).
L'élaboration de tous les projets devrait être précédée d'une analyse genre de base.
Le gouvernement burundais et les partenaires du PAM au Burundi doivent chercher à consolider et pérenniser le développement des jardins scolaires et kitchen gardens.