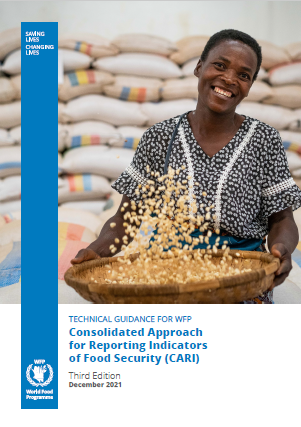 The CARI is a harmonized WFP method used to analyse primary data from a single households food security survey, and to classify individual households according to their level of food security. It can also be used to carry out vulnerability profiling of households and to identify targeting criteria for WFP programming.  
The new edition of the CARI guidance (2021) comes with a revised methodology that aims to overcome theoretical and operational challenges identified during the past nine years of implementation. The new CARI methodology introduces the reduced Coping Strategies Index (rCSI) in the CARI classification under the CARI Current Status domain. It recommends the use of the Economic Capacity to meet Essential Needs (ECMN) indicator - whenever available - instead of the Food Expenditure Share (FES) under the CARI Coping Capacity domain. The guidance also provides a methodology for the classification of food security at area level and introduces a standard mapping to report on CARI findings.  
Several useful resources, such as data collection modules, and syntaxes for food security indicators, are available through the VAM Resource Centre. 
For more information, please contact the Needs Assessments and Targeting Unit in HQ at Global.ResearchAssessmentMonitoring@wfp.org.