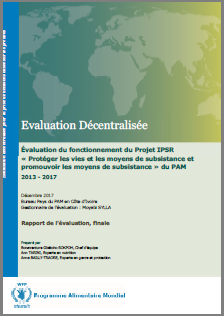 The decentralized evaluation has been commissioned by the WFP Côte d'Ivoire Country Office and covers the Protracted Relief and Recovery Operation (PRRO) 200464 "Saving lives and livelihoods, promoting transition" (April 2013 – December 2017).
It was intended for both accountability and learning, and focused on assessing the relevance, coherence, coverage, effectiveness, efficiency, impact and sustainability of the operation.
The evaluation, which makes a number of recommendations for the future, was managed by IRAM, with fieldwork taking place in June-July 2017.