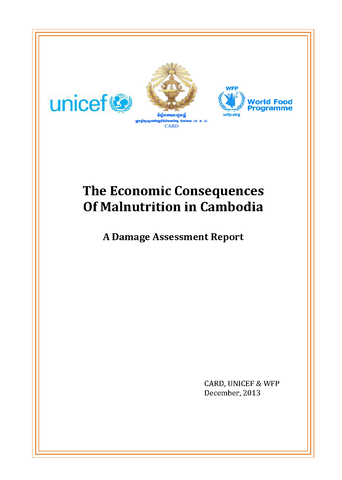 Malnutrition in Cambodia: the hidden problem that costs up to US$400 million annually.
There are currently 5 million undernourished Cambodian citizens. A study released in December 2013 by the Council for Agricultural and Rural Development (CARD), WFP and UNICEF reveals that malnutrition costs between US$250 million and US$400 million annually or 1.5% to 2.5% of Cambodia's total annual Gross Domestic Product (GDP).
"The Economic Consequences of Malnutrition in Cambodia: A Damage Assessment Report" finds that:
Most of the projected economic burden is associated with chronic malnutrition (stunting) and micronutrient deficiencies.
Malnutrition among mothers and young children may contribute to approximately 30% of child mortality in Cambodia (60,000 deaths) over the next decade.
Poor breastfeeding practices as well as vitamin A and zinc deficiencies cause up to 2.5 million annual cases of childhood diarrhea and respiratory infections with a significant cost to the health care system and individual families.
More than 60% of children with anemia or with less than normal height or weight suffer from deficits in mental and physical development and perform poorly in school. The resulting lower productivity and income deficit could impact the economy by up to US$180 million per year.
More than 3.3 million working age adults suffering from anemia and chronic weakness could impact labor output by an estimated US$138 million.