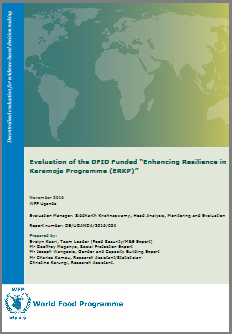 The decentralized evaluation has been commissioned by the WFP Uganda Country Office and covers the DFID supported 'Enhancing Resilience in Karamoja Programme' (EKPR) in Uganda.
It was intended for both accountability and learning and focuses on assessing: i) the relevance, effectiveness, efficiency, impact and sustainability of the ERKP Programme); ii) its results; and iii) the factors explaining the results.
The evaluations assessed the following activities: a) seasonal employment opportunities for the targeted moderately food insecure households with labour capacity; b) rehabilitated land for productive use; c) enhanced livelihood opportunities, reduced disaster risk, enhanced ability of communities to adapt to climate change and d) improved local capacity for the implementation of pro-poor public works programmes to contribute to disaster risk reduction and climate change adaptation.
The evaluation, which makes a number of recommendations for the future, was managed and conducted by a consultancy firm, with fieldwork taking place in July 2016.