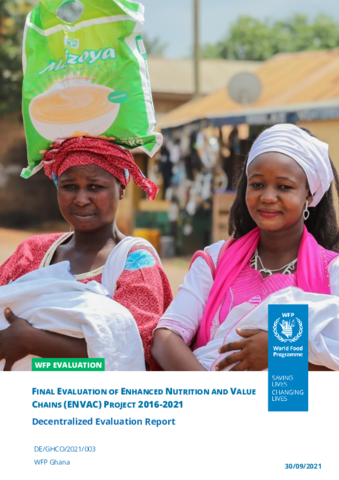 This decentralised evaluation was commissioned by WFP Ghana Country Office, it covers all activities implemented within the framework of the Enhanced Nutrition and Value Chains Project (ENVAC) implemented between March 2016 to June 2021.
The evaluation was carried out between April and September 2021. The evaluation was designed according to the following international criteria: relevance, effectiveness, efficiency, impact and sustainability.
Overarching evaluation questions included:
To what extent were the ENVAC activities appropriate to beneficiaries needs, aligned with stakeholders' policies and priorities and addressed the specific challenges and constraints faced by women farmers?
How effective and efficacious was the ENVAC project and its activities?
How well are resources used, were activities cost efficient?
What difference is the intervention making?
To what extent will the benefits of ENVAC last after the end of the project?
Overarching findings include the following:
In a context of funding reductions, ENVAC offers a new perspective on the type of actions that can be envisaged and it provides lessons for WFP to better support Ghana on its development trajectory.
The ENVAC strategy of developing the capacities of local private industries to process produce (CNFs Complementary Nutritious Food) was pertinent and could contribute to a sustainable increase in access to SuperCereal and SuperCereal+ for nutrition interventions at local, national, and regional level.
Support for Small-Holder-Farmers and Farmers Organisations to develop production and sales of raw materials for CNF production was relevant but was insufficiently focused on the areas and conditions that could make a difference and lead to increased volumes of quality raw materials produced and sold
ENVAC's CNF food chain approach is likely to exclude vulnerable Small Holders and especially female from WFP programs supporting farmers. ENVAC had no impact on the food security of Small Holder Farmers because the project was not designed to target the most vulnerable Farmers (including women), nor to answer their specific needs.
Key recommendations from the evaluation are:
R1: WFP's next CSP for Ghana should include a CNFs value chain approach based on the lessons learnt from ENVAC and it should be tailored to the Ghana Beyond Aid context.
R2: WFP should help to improve FSQ management systems at all stages of the CNF production chain.
R3: Pursue partnerships with the two private actors to facilitate a sustainable supply of locally produced quality CNFs, through both commercial markets and CBT.
R4: Strengthen partnerships with development actors and MOFA to develop and upscale the Value Chain approach to intensify market linkages between Small-Holder-Farmers and industrial processors.
R5: Strengthen and formalise the innovative strategy that combines nutrition assistance, promotion of good feeding practices, and market access for local CNFs.
R6: Develop specific interventions to support vulnerable Small-Holder-Farmers male and female in line with the Global Food Security Strategy adopted in Ghana.
R7: Ensure implementation and monitoring of on-going ENVAC activities.
R8: Strengthen CO capacity with the skills required for future activities.