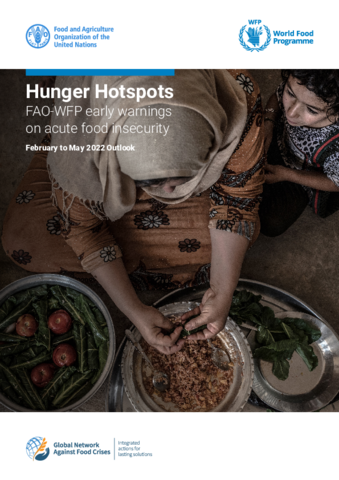 Acute food insecurity is likely to deteriorate further in 20 countries or situations – hunger hotspots - during the outlook period of February to May 2022.
For the outlook period from February to May 2022, FAO and WFP are issuing an early warning for urgent humanitarian action in 20 countries and situations – called "hunger hotspots" – where parts of the population are likely to face a significant deterioration of acute food insecurity in the coming months that will put their lives and livelihoods at risk.
Targeted humanitarian action is urgently needed to save lives and livelihoods in the 20 hotspots. Moreover, in four of these, Ethiopia, Nigeria, South Sudan and Yemen, humanitarian actions are critical to preventing starvation and death. The report provides country-specific recommendations on priorities for emergency response and anticipatory action to address existing humanitarian needs and ensure short-term protective interventions before new needs materialize.