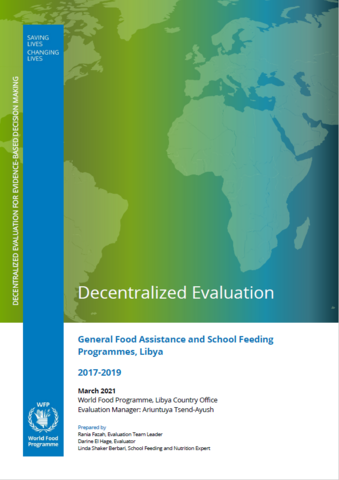 Findings and recommendations to inform new policies and country strategic plans
This decentralized evaluation was commissioned by the WFP Libya Country Office and covers the General Food Assistance and School Feeding Programmes between 2017 and 2019.
This Evaluation serves the dual and mutually reinforcing objectives of accountability and learning to enhance programme design, implementation, and development. The Evaluation gauged the experience and opinions of the affected communities to assess the level of accountability of the General Food Assistance and School Feeding Programme to the affected communities. The Evaluation assessed activities against the following Evaluation criteria: relevance, coherence, effectiveness, adequacy, and efficiency, reach and access, and sustainability. The Evaluation questions examined Programme targeting, distribution, coordination with national and local stakeholders as well as partners and other United Nations agencies. The Evaluation also examined gender mainstreaming efforts, reflecting upon how partners, local crises committees, and the municipalities addressed gender in targeting, selection and distribution, women's mobility, access to transportation, and communication.
According to this evaluation, the main findings are:
General Food Assistance played a fundamental relief role during early days of forced displacement and initial COVID-19 lockdown.
General Food Assistance efforts are aligned with international strategies given the agency's participation in United Nations Country Teams and Inter-Agency groups.
WFP addressed conflict sensitivity around security arrangements, humanitarian principles, and targeting practices.
WFP ensured Accountability to Affected Populations
General Food Assistance remains relevant in the foreseeable future
School Feeding Programme is relevant, appropriate, inclusive of Libyan students, and scalable
The findings and conclusions of this Evaluation led to the Evaluation Team making the following recommendations, classified according to programme as Strategic and Operational.
Strategic Recommendations: 1. Improve coordination with stakeholders; 2. Conduct a capacity assessment and system analysis of protection net; 3. Consider other food assistance modalities; 4. Build synergies between programme activities; 5. Mainstream conflict sensitivity into the logic framework
Operational Recommendations: 1. Strengthen coordination with municipalities and MOSA; 2. Diversify use of communication methodologies; 3. Automate registration & data collection systems; 4. Mainstream Gender and Women's Empowerment considerations; 5. Minimum standardization in targeting/modalities; 6. Engage parents and children in discussions on meal modalities and diversity; 7. Integrate nutrition education in school curriculum; 8. Coordinate with partners providing support to schools.