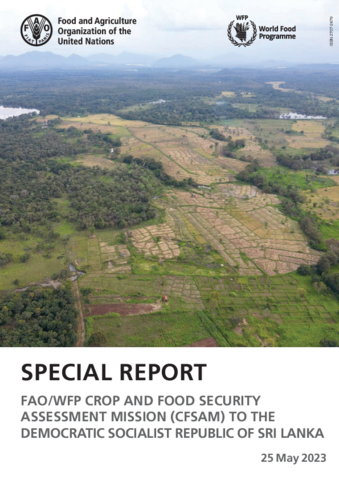 Food security in Sri Lanka is improving across all provinces, according to the Crop and Food Security Assessment Mission (CFSAM) report jointly carried out in February/March 2023 by the Food and Agriculture Organization of the United Nations (FAO) and the United Nations World Food Programme (WFP). The report estimates 3.9 million people or 17 percent of the population is in moderate acute food insecurity which is nearly a 40 percent decrease from June/July last year. Nearly 10,000 people are severely acute food-insecure, down from 66,000 people last year.


The improvement in food security stems from better food consumption, which could be attributed to reduced food prices and improved incomes among farming communities during the harvesting period when the mission was carried out.
Despite this positive trend, food insecurity remains high in certain districts, especially Kilinochchi, Nuwara Eliya, Mannar, Batticaloa, Vavuniya, and Jaffna. The highest level of acute food insecurity was found within the tea plantation communities in the Estate sector and among daily wage labourers and households who rely on social assistance programmes, such as Samurdhi, as their main source of income.
Production of cereal, including rice and maize, across the two main cropping seasons in 2022/23 is forecast at 4.1 million tonnes, 14 percent below the past five-year average, mainly due to poor plant nutrition caused by an inadequate supply of fertilizer and unaffordability of essential material inputs. However, essential fertilizers distributed to smallholder farmers by the Government, facilitated by funds received from multilateral and bilateral donor agencies, have significantly impacted production, marking an improvement in the yield with productivity in the recently harvested 2022/23 "Maha" season, 12 percent higher than the 2022 "Yala" season.