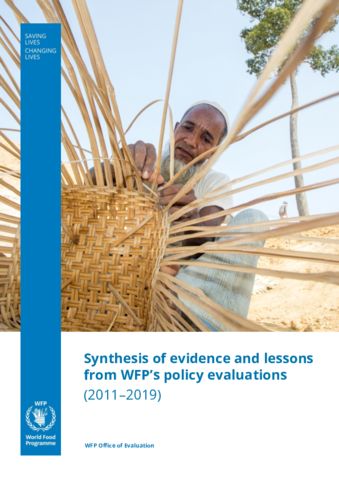 Syntheses are issued to respond to a growing interest in and demand for succinct and actionable analysis drawing from completed evaluations. This synthesis comprises all the nine policy evaluations conducted between 2011 and 2019.


The objectives were to:
identify common themes and systemic issues relating to policy formulation and implementation;
analyze factors that have supported and constrained effective policy-making and implementation;
reflect on how effectively WFP has responded to and used policy evaluations to improve results;
assess to what extent WFP has applied the learning generated through policy evaluations.
| Document | File |
| --- | --- |
| Evaluation brief | |
| Evaluation synthesis (Executive Board version) | |
| Synthèse | |
| Síntesis | |
| Evaluation synthesis (Arabic) | |
| Management response | |
| Réponse de la direction | |
| Respuesta de la dirección | |
| Management response (Arabic) | |
| Terms of reference | |