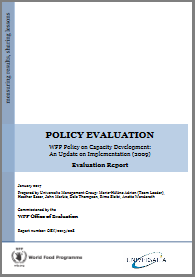 This evaluation assessed the policy's quality, results achieved and the factors influencing this achievement from 2009–2015.
WFP is supporting capacity development processes in a wide range of geographic and thematic contexts. However, WFP's capacity development work, both in terms of funding and continuity of engagement, has been constrained by the agency's emergency focus and short-term operational horizon. These findings echo those made in many previous policy, strategic and operations evaluations. If WFP is to achieve the vision laid out in the Strategic Plan 2017-2021, its commitment to addressing capacity strengthening must be sincere, systematic and sustained.
The evaluation recommended that a temporary, multi-stakeholder management transition team be struck to address this; that Country Offices be provided with relevant, concrete and practical tools and guidance on capacity strengthening; that WFP enhance its internal capacity to support work in this area; and heightening the monitoring and evaluation of, as well as reporting on, WFP's capacity strengthening work.