Afghanistan: How WFP cash assistance empowers women
World Food Programme supports women in urban and rural communities affected by the COVID-19 pandemic
, World Food Programme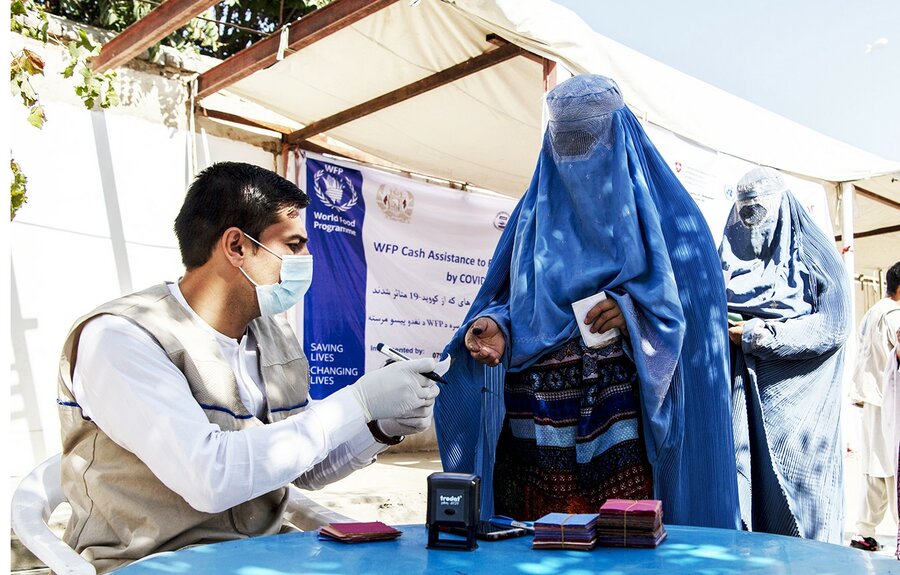 "Once these 30 apple and apricot trees are grown, I will have enough fruits for my children to eat," says Sang-e Mah, a mother of five. "Then I'll sell what's remaining in the market. With the money I make, I can buy other things for my family."
The 38-year-old's life has been a constant struggle since her husband died last year.
In Afghanistan, men are usually the primary earners. While in urban areas there are more employment opportunities, women like Sang-e Mah, in the remote district of Ishkashim, in the north-eastern province of Badakhshan, often stay at home, working around the house and taking care of children.
Sang-e Mah did not know how to cultivate land as her husband, who worked their small plot, did. In any case, where would she get the money to buy seeds or equipment. So, because of the challenges she faced, Sang-e Mah went for a WFP-supported project.
Growing veg
As a participant, she was taught how to plant fruit trees, given vegetable seeds to cultivate in her own garden, along with equipment and advice.
While its resilience-building programmes help vegetables grow in people's gardens, WFP also supports families like Sang-e Mah's with monthly food rations for periods of six months.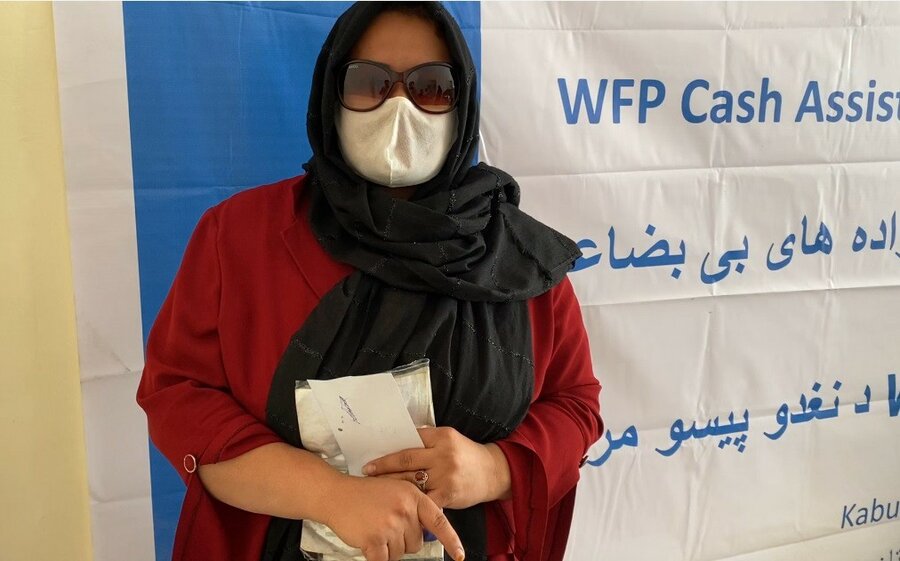 Sang-e Mah recalls the day she received her first food ration from WFP in May. "Today I am very happy," she says. "I can feed my children and don't need to worry about their stomachs being half-empty."
Bi Bi Alam, a 60-year-old widow in Arghandab district of southern Kandahar province, has already reaped the benefits of a garden that she recently created with support from WFP.
She is one of the 200 women in her district participating in WFP's kitchen gardening 'asset creation' project. Like Sang-e Mah she has received seeds, equipment, and support on how to grow her kitchen gardens.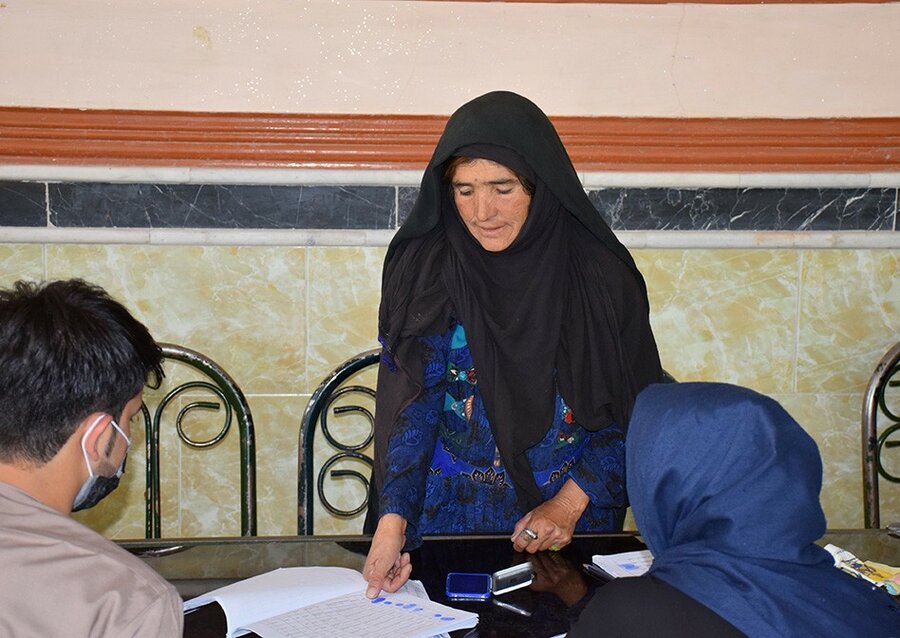 Bi Bi Alam now sells up to US$150 worth of vegetables each month. "Besides the vegetables this garden produces for my family to eat, the money I earn by selling the remaining vegetables in the market has helped me improve our lives a lot," says Bi Bi Alam.
Kitchen gardens and fruit orchards — owned and managed by women — are two key components of WFP's 'asset creation' projects, especially in areas where food insecurity is high and there are few employment opportunities for women. Through such projects, rural women are empowered with the skills to cultivate their own vegetables or fruits, improving food security for their families and gaining financial independence in the process.
Border closures
In urban areas, households are particularly vulnerable to the economic impact of the COVID-19 pandemic — people tend to work in the informal sector as day-labourers or domestic workers. Their food situation is worsening with high food prices and disruption of the food-supply chain due to lockdowns and border closures.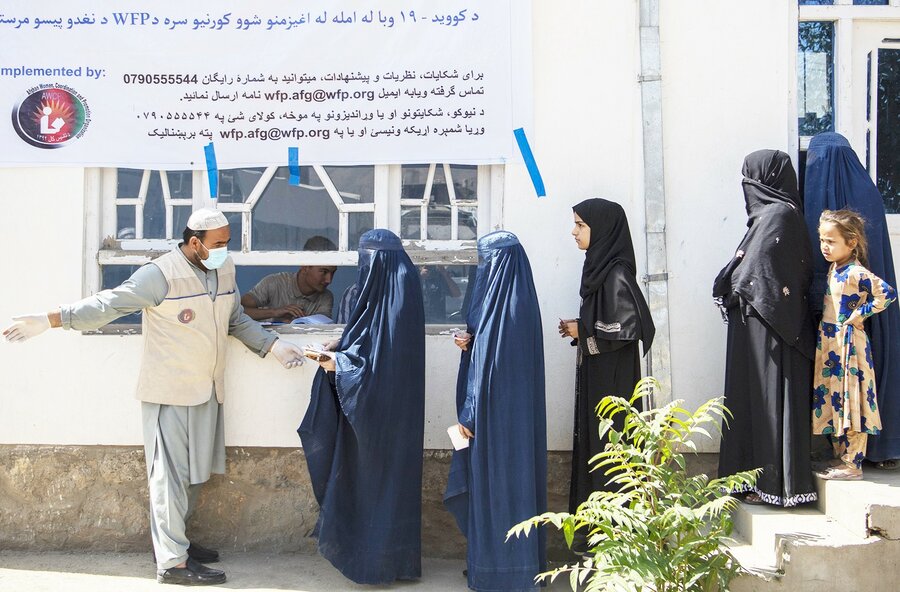 Among them is Lida, who lives with her son and daughter in Kabul. The 35-year old's husband left for Iran four years ago. Before the pandemic, Lida used to work as a domestic worker but as the virus started to spread, she lost her job.
"Because of the virus, people are not keen to let me work in their houses," she says. "They are afraid that people may bring the virus to their homes."
Lida received US$80 (6,000 Afghanis) from WFP to help her get through this challenging time.
"This assistance is very important — even 1,000 is a lot for us at this time. It can take my family through some time and until then I hope everything is back to normal and I can resume my work."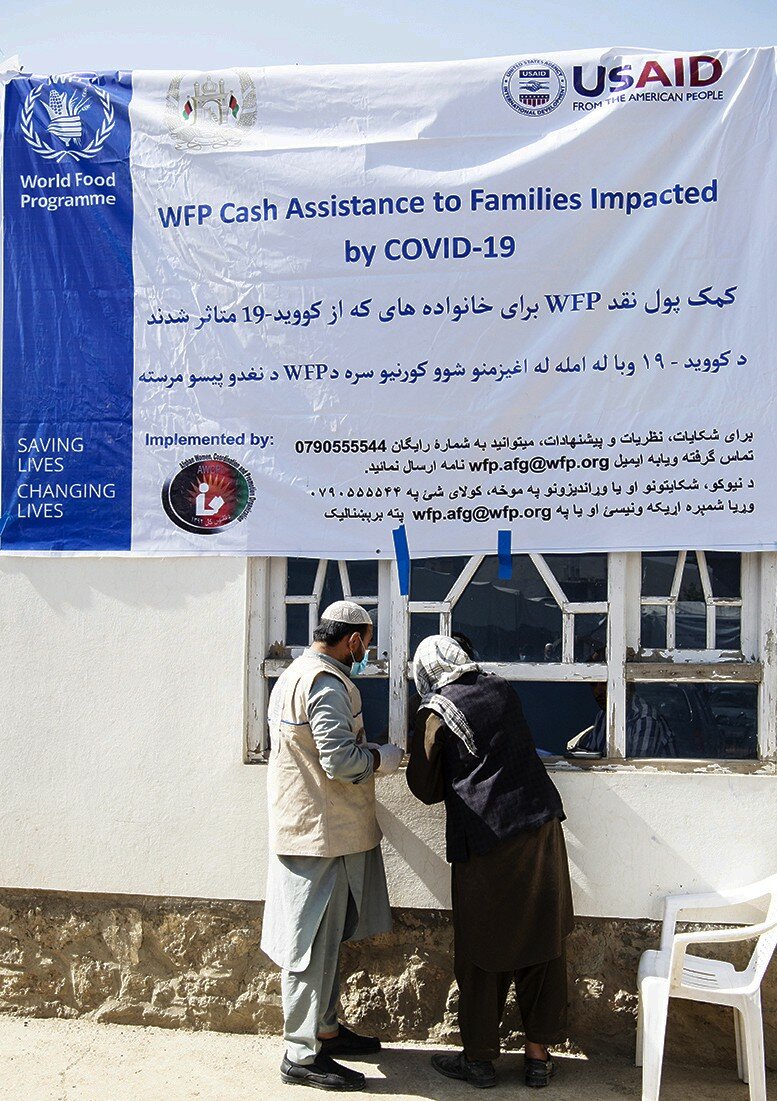 WFP recently started cash distributions to almost 100,000 families in Kabul and Herat, the two epicentres of COVID-19 in Afghanistan. By the end of the year, WFP hopes to reach 10 million people with food assistance, an increase of 3 million on the pre-pandemic target.
Khumari, a widowed mother of seven, lives in an informal displaced persons' settlement in Herat. The 50-year-old was forced to leave her home in the city's Bala Murghab district two years ago due to drought and ongoing conflict.
Before the pandemic, Khumari was able to work in people's houses and support her family. But after the first COVID-19 case was reported in February, Herat went into lockdown.
"Without work, I can't make any money and without money, we can't buy food to eat," she says. "I started borrowing money from neighbours and relatives to buy food for my kids. I still owe people lots of money that need to be paid by one day."
In a desperate attempt to provide for the family, her oldest son, 18, left home for Iran to look for work, despite the risk of COVID-19 infection there. The U$80 she's received from WFP provides her family with some relief. "I will call my son in Iran and tell him about this just to make him not too worried about us being hungry," says Khumari. "When he left there was nothing to eat at home."