DRC and South Sudan: Pope Francis to cast spotlight on conflict, hunger
Papal visit comes as WFP and other humanitarian actors face growing demands and shrinking funds to reach millions facing severe food insecurity.
, Shelley Thakral and Gemma Snowdon
Dorati Ndagisa's loss is achingly familiar in northeastern Democratic Republic of the Congo (DRC), where fighting has uprooted millions of people, feeding Africa's biggest hunger crisis.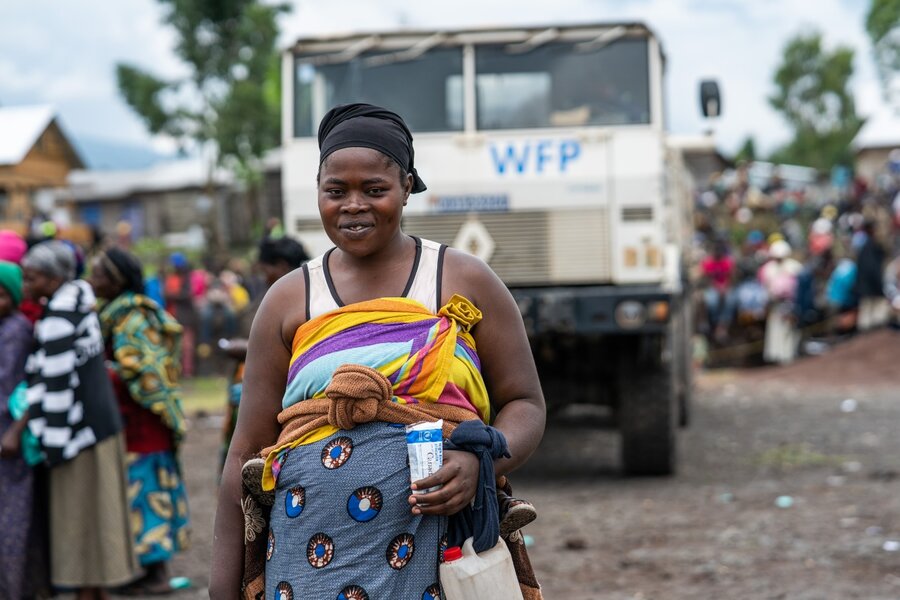 Chased by armed groups from her farm in DRC's troubled eastern Nord Kivu province, she and her five children are now destitute. They piece together an existence, with support from the World Food Programme (WFP) and other humanitarian groups, in the sprawling, makeshift Kanyaruchinya displacement camp, outside the provincial capital of Goma. 
"Before, I was a farmer and I had a stable life," says Dorati, who once grew beans and potatoes in the village of Rugari, some 35 km away. "Since the war I have nothing, and I don't know how to feed my three children." 
The devastating fallout of conflict, and the importance of building peace, are likely to be key themes for Pope Francis when he visits DRC and South Sudan next week. His five-day visit (January 31-February 5) — three in Kinshasa and two in South Sudan's capital of Juba — sheds a rare spotlight on two of the world's most fragile countries, where unrest has helped drive hunger to alarming and sometimes catastrophic levels.
In both capitals, the pope is expected to meet with conflict-displaced people. 
"Think of all those, especially children, who go hungry, while huge amounts of food daily go to waste and resources are being spent on weapons," Francis said in his Christmas Day urbi et orbi ("to the city and the world") message, describing how the war in Ukraine had put "whole peoples at risk of famine."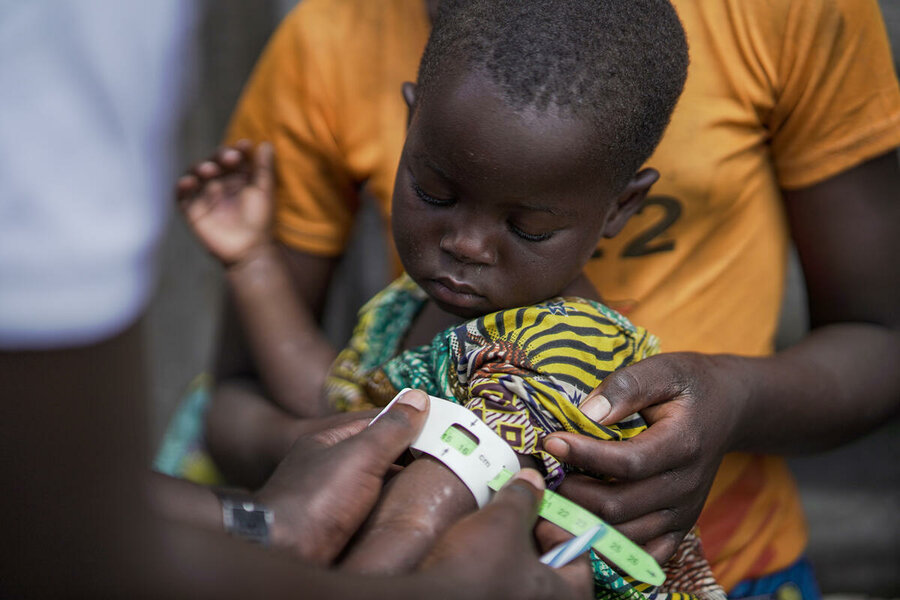 Addressing the link between conflict and hunger is also central to WFP's work in DRC and South Sudan, where we are sometimes the only backstop against catastrophic food insecurity—and where we have rolled out peace- and resilience-building activities aimed to bring warring communities together. 
But as needs in both countries grow, WFP faces multi-million dollar funding shortfalls, forcing us to reduce our support to even the hungriest people. 
A spotlight on 'forgotten' crises
DRC Country Director and Representative Peter Musoko hopes the Pope's visit will help shed light on the plight of millions of people who continue to face hunger.
"I have seen firsthand that this country has so much potential to produce food for its people and give jobs to youth," Musoko says. "But with an ongoing emergency and limited resources, we are appealing to the international community for US$627.3 million in 2023.''
In DRC, where more than 26 million people face severe hunger, WFP reached 5.4 million of the most vulnerable with food and nutritional assistance in 2022, focusing especially on conflict-hit women and children.
Many, like Dorati, are in the country's northeast, where clashes have forced more than half-a-million people from their homes in recent months. 

"We have a lot of hunger but we are helpless in this situation," says Dorati, who is grateful for WFP's food assistance that includes high energy biscuits, pulses, salt, oil and flour.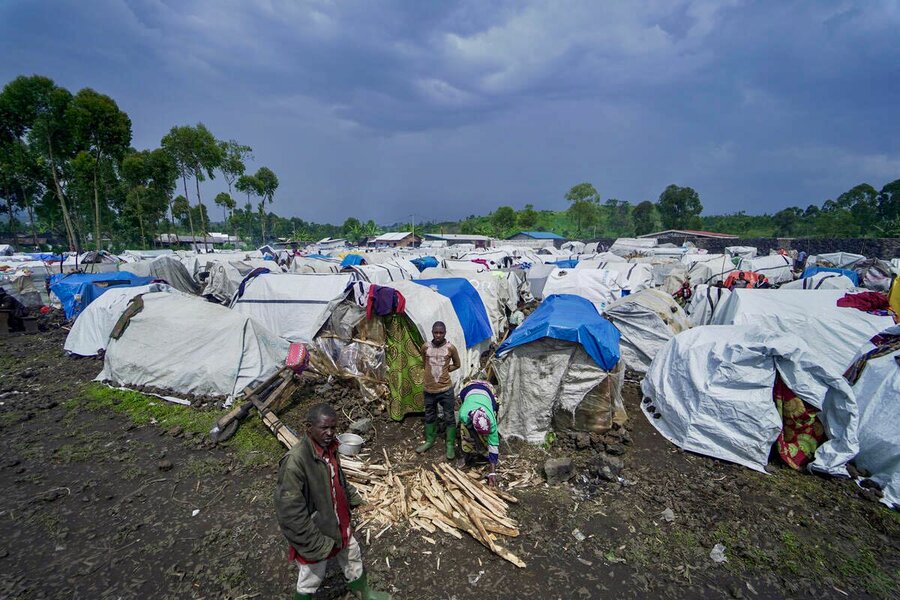 Pope Francis is expected to hear many stories like Dorati's when he meets conflict survivors in Kinshasa, where banners and signs are already up to welcome him. He will also deliver an open-air mass at Kinshasa's Ndolo airport that is expected to draw a million or more Congolese. 
"I expect his visit to bring us strength," says Kinshasa university student Calixte Muluvia, eager for the Pope to bring serenity and hope to his people amid hard times. 
"It would be good if he can tell the world about the humanitarian situation many families are facing in the East," she adds.
South Sudan: 'left with nothing'
In South Sudan,  the Pope's next stop, hundreds of thousands of families are reeling from escalating fighting and four consecutive years of flooding. The country is on the frontlines of the climate crisis. 
Today, nearly two-thirds of South Sudan's 12 million people are grappling with hunger, with 43,000 facing famine-like conditions.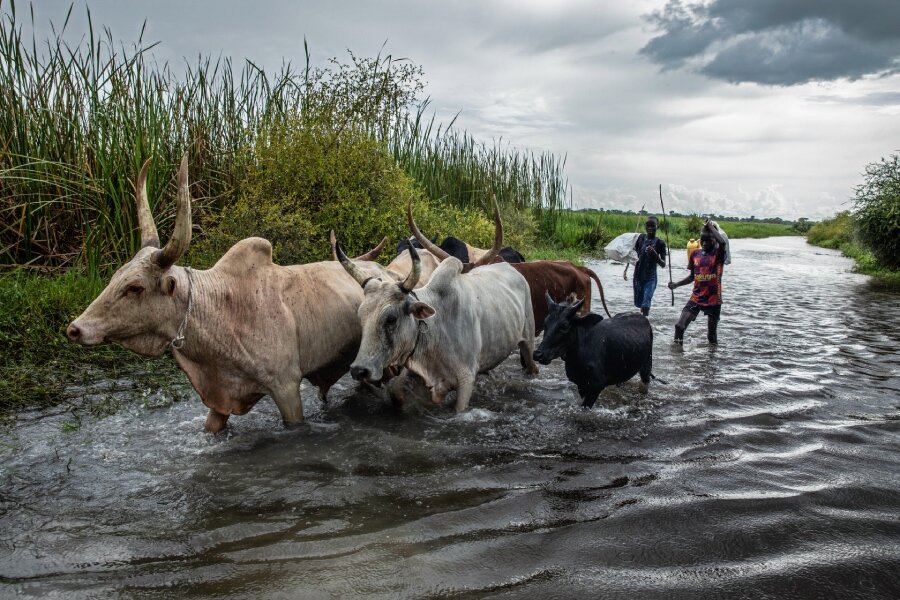 WFP reached 5.6 million of them last year, working with communities to provide humanitarian assistance and improve food security. Yet with multiple countries hit by the spiraling global food crisis, funds are in short supply — and we have been forced to scale back support to even South Sudan's hungriest. 
"Conflict and food insecurity are closely linked and we hope the Pope's visit puts some much-needed momentum behind the peace process in South Sudan," says Mary-Ellen McGroarty, WFP Country Director for South Sudan. "Needs continue to outpace resources and peace is a critical prerequisite to preventing famine, building future food security, and unlocking the full potential of South Sudan." 
The Pope's visit is hugely significant for many in this majority-Catholic country, where the Church has been a powerful and active force in building peace and reconciliation in conflict-torn regions. 
That includes in Leer County, in central South Sudan, where large-scale violence last year uprooted thousands of families. Many sought WFP food assistance in camps for the displaced.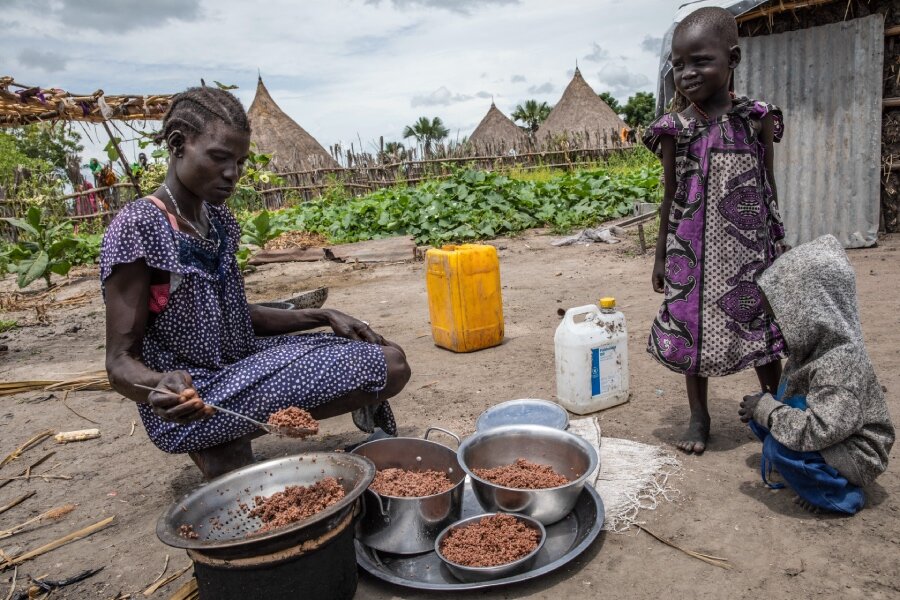 "It started with the fighting. We were chased up to the rivers and our cattle were taken," says 28-year-old Leer County native Theresa Nyaluide, a mother of 10, who found temporary shelter in a village called Thonyor. "People were left with nothing." 
Along with delivering essential food and nutritional assistance, WFP helps to improve livelihood and long-term food security opportunities for conflict- and climate-affected communities. Through activities that build collective farming assets — such as flood-protective dykes and shallow ponds—we also help to promote social cohesion and prevent clashes between pastoralists and landowners over water and land.
But with humanitarian costs mounting sharply and funds in short supply, some South Sudanese worry about their fate if WFP's assistance dries up.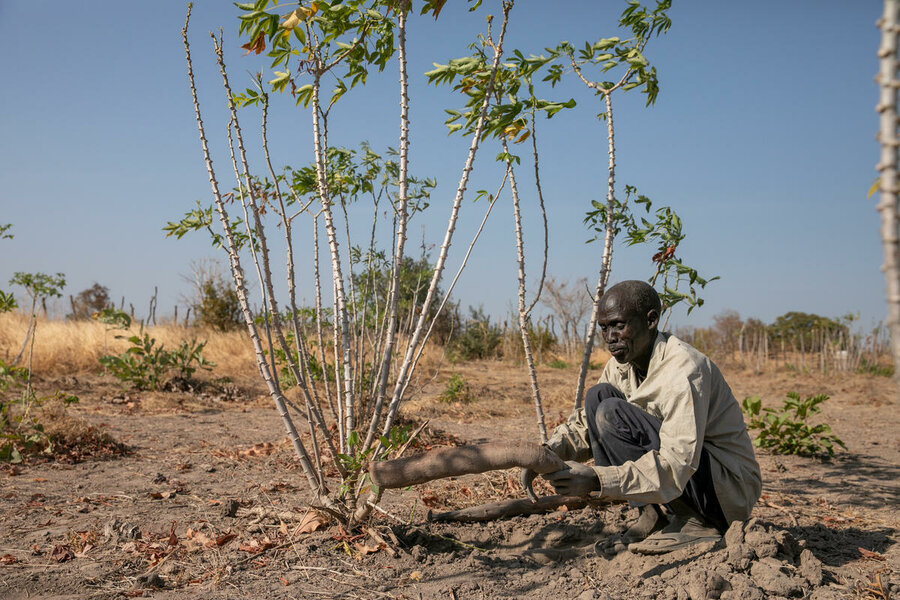 Already food rations for Theresa and her family, for example — pulses, cereal, oil and salt— have been reduced for lack of funds, despite famine-like conditions in parts of Leer County. 
"We just look to the World Food Programme to help us," says Theresa. "We can and will live because of it." 
Members of Theresa's community are traveling to Juba, some 400 kilometers away, for a chance to see the Pope. They plan to join in masses — and pray for better futures. 
Over the next six months of 2023 alone, WFP needs an initial US$98.6 million to reach a planned 7.2 million people in DRC, and US$530 million to reach 5.7 million people in South Sudan with vital food and nutritional assistance — and to help build communities free from hunger and the ravages of conflict.
Now is the
time to act
WFP relies entirely on voluntary contributions, so every donation counts.
Donate today