World Environment Day: 3 things you should know about WFP, sustainability and ending hunger
Why the World Food Programme changes lives — and lightbulbs

, By Anthony Priolo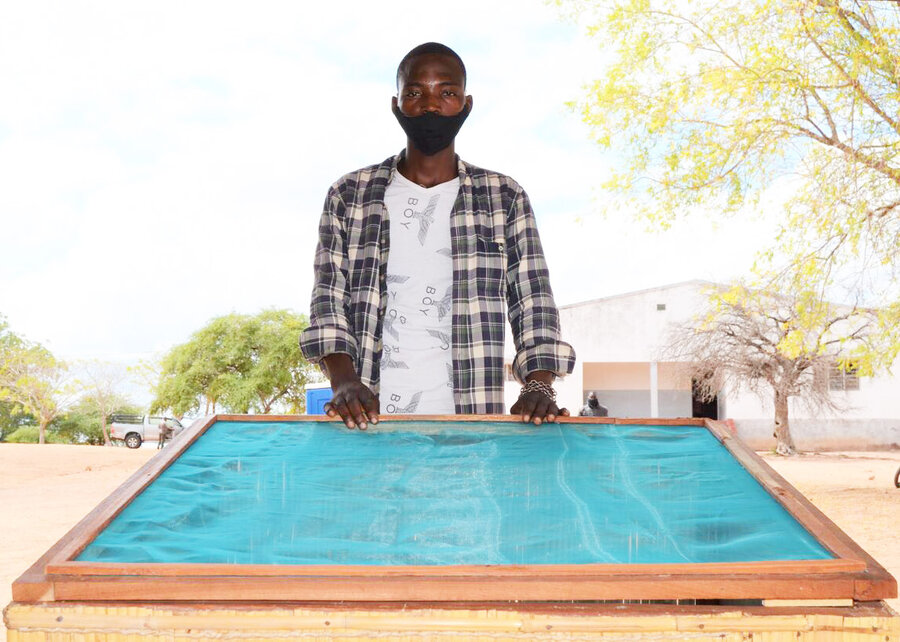 Lightbulbs? Hold on, something's off, I hear you say. That's not the World Food Programme tagline you've heard before. What do lightbulbs have to do with the organization's mission of ushering the world to end hunger by achieving peace?
Well, WFP Sustainability — that's what. 
Eradicating hunger, working to avert famine:that's  WFP's mission. It's what we do. But did you know that we ensure our global operations have a minimal impact on local environments and ecosystems? We focus on everything from reducing our greenhouse gas emissions, reimagining our waste and making sure our offices and operations use the most energy efficient systems and equipment (oh yeah, and of course LED lightbulbs too). 
Fact: By 2050, a 20 percent increase in hunger and malnutrition could occur as a result of climate change. 
That's why life-saving solutions today, can't be allowed to have a life-threatening impact on tomorrow. 
And what better reason to shine a bright — LED energy-efficient, of course — spotlight on our sustainability work than World Environment Day. Here are three things WFP is doing to promote sustainability…
1. Our operations are growing, but we're reducing our greenhouse gas emissions! 
We've reduced our vehicle emissions by 2 percent and our building or facilities emissions by 5 percent despite the fact that our operational budget doubled, and our workforce has grown by nearly one third. 
(The UN system has committed to reducing greenhouse gas emissions, to 45 percent below 2010 levels by 2030, in line with calls by climate scientists to keep temperature increases below 1.5C).
WFP has a systematic approach and prioritizes energy efficiency (using the best lights, equipment, insulation, shading and upgrading these elements when we're not); energy management (having meters, timers, sensors, and old-fashioned good habits to minimize our energy use); and then, of course, sustainable energy supply (installing solar panels, using biogas and identifying innovative energy supply systems).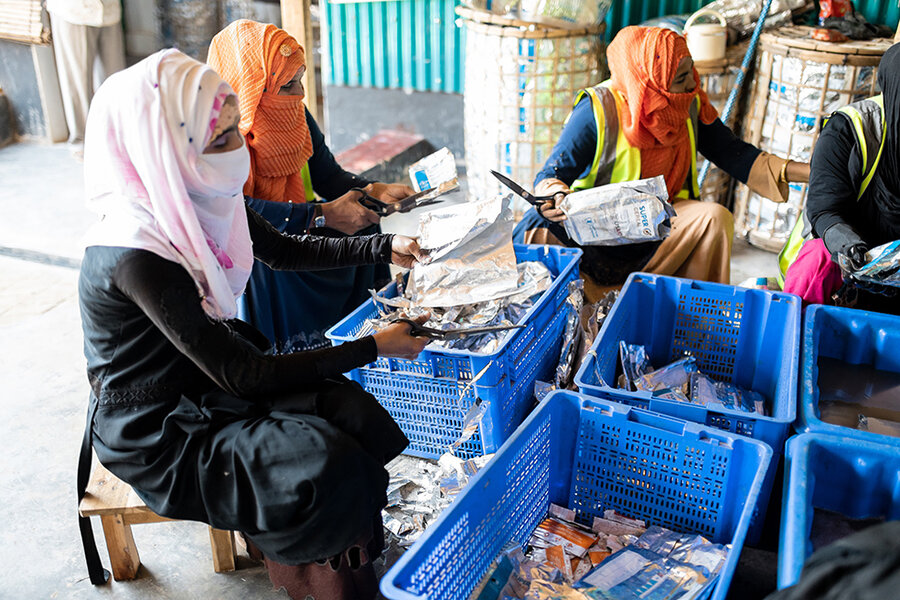 2. We reimagine waste (weird as it sounds)
Did you know that just 0.3 percent of global aid is spent on waste management? Developing nations across the world are increasingly challenged by what to do with used packaging — especially plastics — as well as furniture, equipment, construction materials and even food, at the end of its useful life.
Together with local communities, we've reimagined key waste streams from our operations to reduce, reuse and recycle, inspired by 'circular economy' solutions that take the pressure off our planet to provide enough new resources for all.
You've probably seen those plastic pallets that sit at the bottom of heavy shipments or materials. No? OK, here's a picture of one: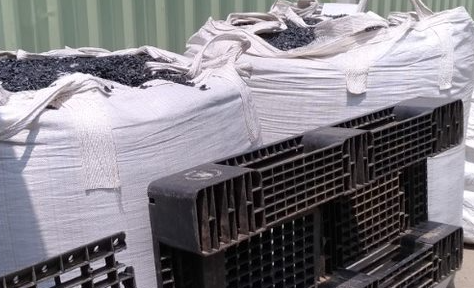 In Ethiopia, broken plastic pallets from WFP shipments and warehouses — that were once disposed of— are now recycled and repurposed into beverage crates that are now reused by the Ethiopian beverage industry. 
Over in Kenya, WFP's surplus food bags (the polypropylene ones) are shredded down, transformed and rewoven into new multi-coloured bags. So far, 135 tons of surplus bags have been recycled into more than a million new bags. These are then utilized in local markets by local vendors to store and sell fruits, vegetables and other foods. 
The main objectives are to minimize waste, foster a culture of sustainable procurement and identify and tap into innovative recycling projects and ensure the materials we use are renewable or recyclable. Beyond that, we're invested in working with local communities and companies that we can collaborate with to foster greener local economies. 
3. We grow plants without water (well, almost) 
True, it's difficult to grow anything without good old H20. But hydroponics technology allows even farmers in drought-stricken locations to reverse their fortunes. The soilless cultivation technique enables plant growth all year round. It uses up to 90 percent less water and 75 percent less space than traditional agriculture, while growing crops 100 percent faster.
Take the 'Dry Corridor', for example — a vast stretch of Central America where drought linked to the El Niño climate phenomenon is pushing more and more people into food insecurity. Farmers are unable to grow  crops and this makes accessing food difficult for millions of people. 
Read about the WFP-backed greenhouse  project yielding chillis, cucumbers and tomatoes. 
Working with the Government of Zambia, WFP's set up 23 greenhouses in schools across the country to pilot hydroponics. Each greenhouse shields around 2,000 plants which produce an estimated 1,300kg of vegetables per month. Training's been provided to more than 400 teachers, parents and students at the schools.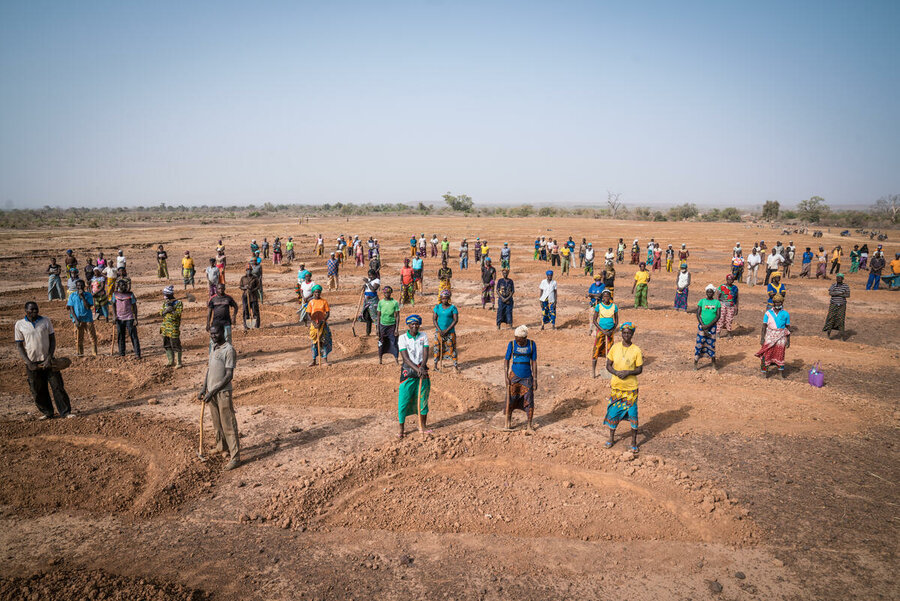 It's YOUR turn…
In a big organization, it's easy to wonder whether just one person can make a difference. But we can and you can too! 
These are just some of the most visible ways WFP is working to reduce the environmental impact of our operations. Other changes are harder to see: from switching to unbleached cardboard for our food packaging, and increasingly buying sustainably sourced cooking oils, to WFP offices making the shift to recycled paper, adopting electronic documents so we print less in the first place and finding innovative approaches to waste management. 
Now is the
time to act
WFP relies entirely on voluntary contributions, so every donation counts.
Donate today