The incredible power of ordinary things
Pop-up shops in five European cities provide an immersive experience of what shopping is like for refugees in Turkey — and how the European Union and World Food Programme are helping
, Simona Beltrami
It is a crisp October morning in Milan, Italy — people quicken their pace rushing to work, children run to school and cars buzz past on the cobbled pavement. Opening the door of the 'Incredible Ordinary' temporary shop is a bit like walking through Alice's looking glass: one step and you find yourself in a different world. You are in a supermarket, but not one you recognize. The products on the shelves are both familiar and unfamiliar at the same time.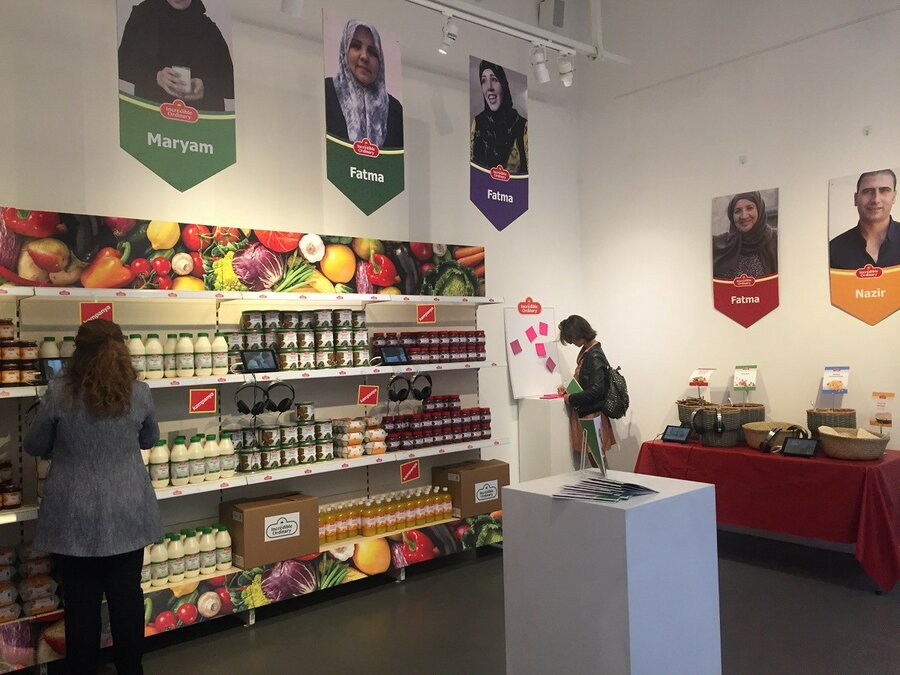 There are bottles of milk, cartons of eggs, jars of chocolate spread, fresh bread, household items, dolls — but they are not quite the same you are used to throwing into your shopping cart. Actually, you could not buy these things if you wanted: you are not here to shop, you are here to look, listen and learn — hopefully to understand and empathize.
The labels tell you you are in Turkey now. In shops like this, 1.4 million refugees — the most vulnerable among the 4 million living in the country — can buy the things they need most thanks to a special debit card, provided by the World Food Programme (WFP) and the Turkish Red Crescent, with the support of the Turkish Government. The funding is from the European Union (EU). Every month, the card is recharged with 120 Turkish Lira — approximately EUR 16 — per family member and can be used in shops or to withdraw cash at ATMs.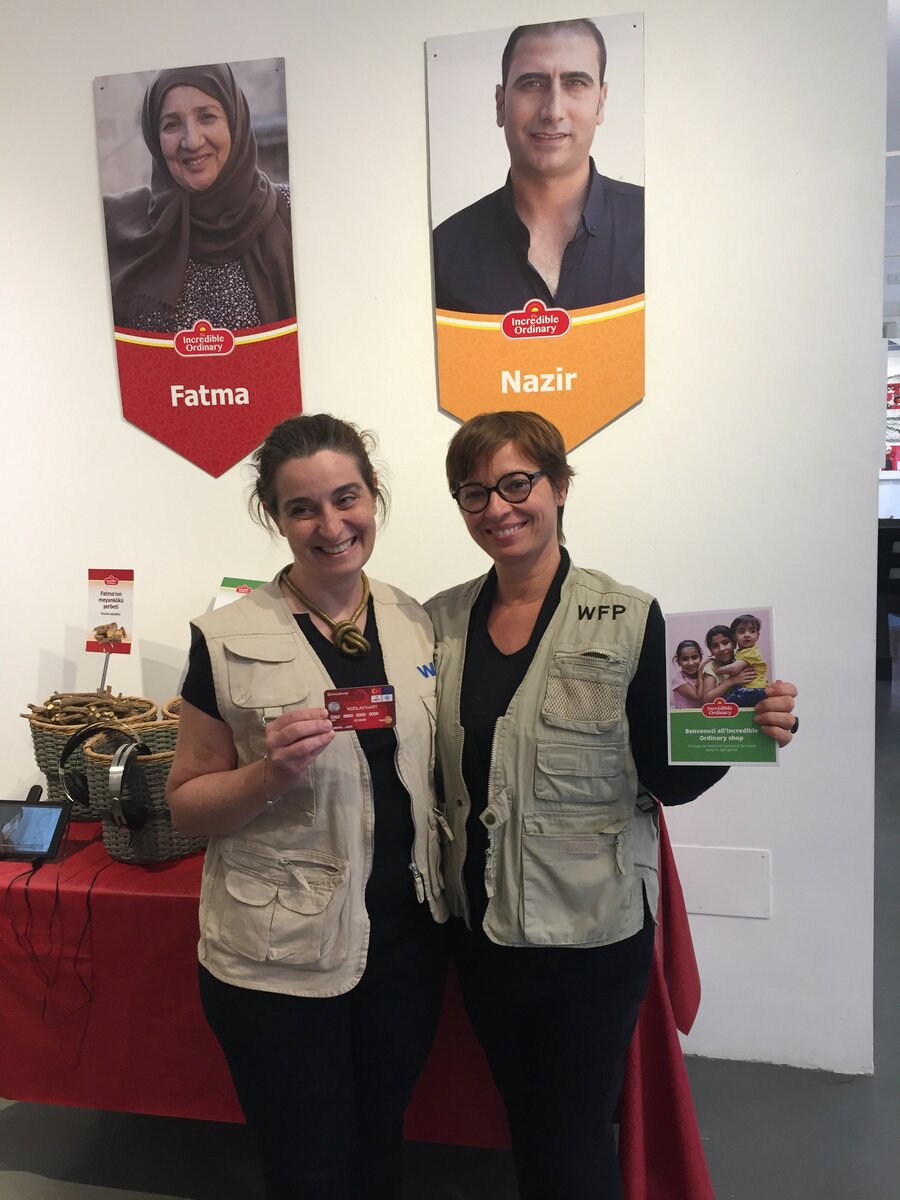 When the ordinary is out of reach
War and displacement have put the most ordinary things out of these people's reach. Even the basic choices we make every day — what shall I cook for lunch? What present should we buy our daughter for her birthday? — have become incredible for them.
Through tablets placed across the shop, you can listen to the stories of eight Syrian families who went through extreme hardship and came out the other end with the help of the ESSN card.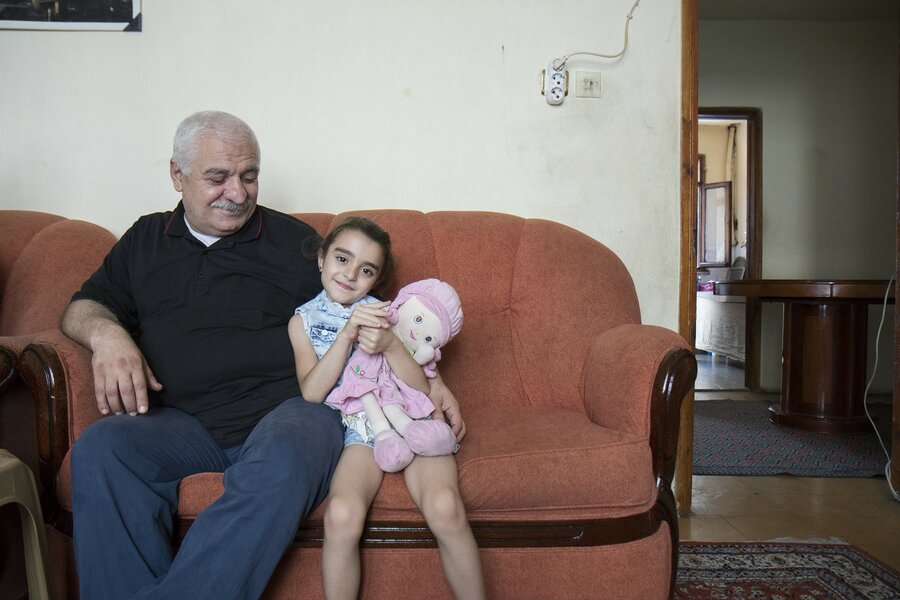 "We had days when we slept hungry," tells grandfather Arif. "We could not afford any food and we were very upset. When that changed, we felt relief. We felt happy, it was like drawing a smile across our faces."
Back to normal
"Families can use the money on their cards to pay for whatever they need to make their lives as 'normal' as possible," says Silvia Biondi, WFP's Head of Programme in Turkey. She adds that since the ESSN card was introduced there has been a sharp decline in the detrimental practices refugee families adopted to cope, such as cutting down on medical expenses, adults skipping meals so that children could eat, and taking kids out of school.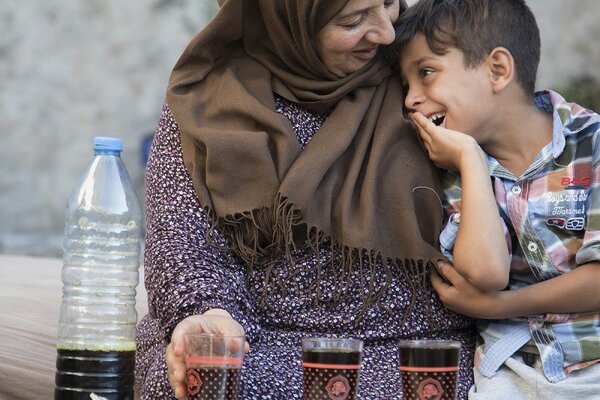 Restoring a sense of normality goes beyond covering basic necessities. Thanks to the card, Arif was able to give granddaughter Jameela a doll, while Fatma can buy licorice to make a traditional sherbet for her guests. For Hatice, happiness came in the shape of a tray. "We Syrians like to eat from a tray while sitting on the floor. It unites us as a family. We could not take anything with us when we left Syria, just a bag with our medicines. We suffered a lot. We were very happy when we could buy a tray with our debit card," she says with a smile.
Visitors are invited to write on post-it notes what they would buy if they found themselves in the refugees' shoes. With winter drawing near, blankets feature high on the list. Members of the public are also invited to share their 'incredible ordinary' item on social media with the #incredibleordinary hashtag.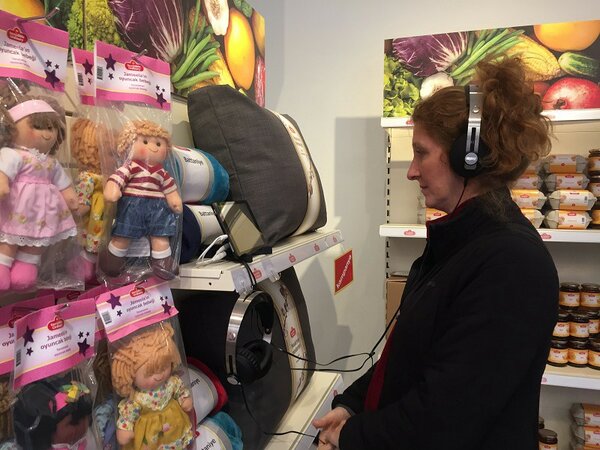 "What struck me is that the items in this shop are not just the obvious ones you would think of: water, bread, milk, eggs. Things that might not seem so essential — a little treat, a taste of home — are just as important to bring refugees back to the ordinary life we all take for granted," said a young woman as she left the shop.
The Incredible Ordinary campaign aims to connect families across Europe with refugee families in Turkey, through a celebration of the incredible, yet ordinary, products and services the ESSN card enables refugees to buy. After stops in Paris and Milan, the campaign will be in Warsaw (9 and 10 October), Berlin (12 and 13 October) and Amsterdam (17 and 18 October).
The ESSN is the largest humanitarian project funded by the EU in terms of the number of people it supports and the scale of the EU's contribution. The EU has so far channelled EUR 1 billion into the ESSN programme.