Rescue of 300 orphans in Sudan offers a rare bright spot as unrest and hunger mount
World Food Programme warns already soaring child hunger and malnutrition is worsening
, Leni Kinzli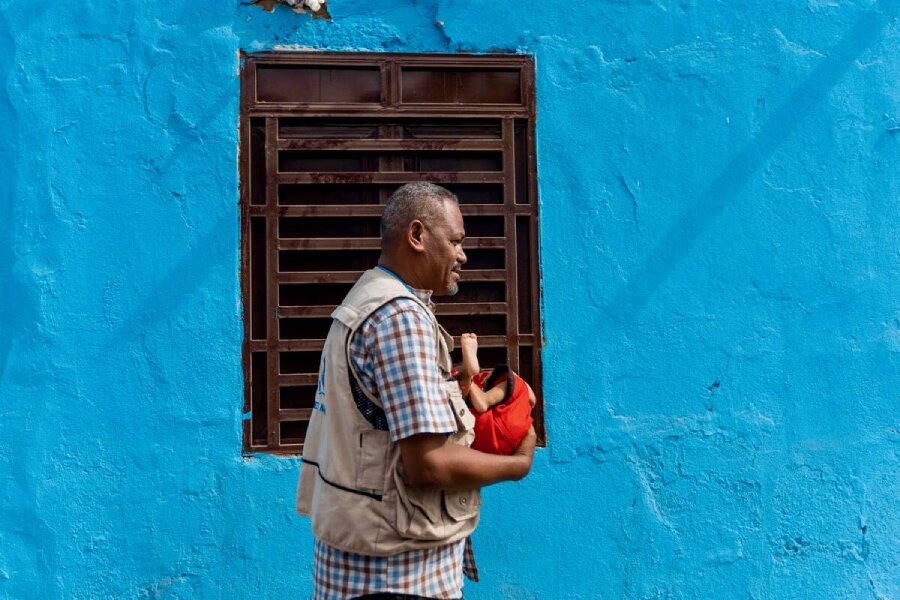 On normal Friday afternoons, the dusty streets of Wad Madani, in east-central Sudan, are filled with the call to Muslim prayer. Soon, families start gathering at home for lunch or jebena, the traditional cup of coffee. 
More than two months of conflict tearing apart the northeast African nation have shattered those peaceful traditions, uprooting over 2 million people and killing hundreds of others.
Sudan's crisis sends hunger shockwaves across the region
Amid soaring funding needs and displacement, the World Food Programme aims to reach millions of people affected by the conflict with ready-to-eat meals, nutritional support and cash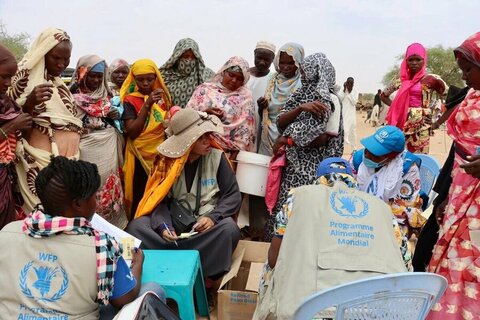 Yet one recent Friday offered a glimmer of hope. Instead of heading to the mosque, hundreds in Wad Madani, the capital of Sudan's Gezira State, gathered at a community center, eagerly awaiting busloads of children. 
Finally, they arrived – some 300 orphans, aged from one month to 15 years old, along with their caregivers. They had been rescued from Mygoma orphanage in Sudan's capital, Khartoum, where fierce fighting has been raging for weeks. 
"They were exhausted," recalls Ammar Elsheikh, a World Food Programme (WFP) monitoring assistant, who had been preparing for the children's food and nutritional care with his colleagues. "We all felt a great sense of duty to support them."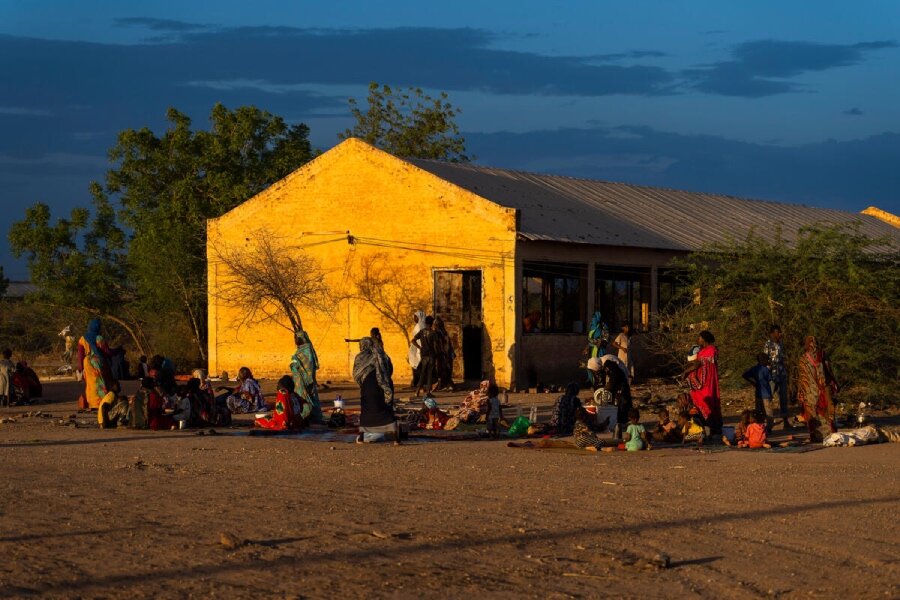 The orphans were lucky to be rescued. But their horrifying experience – trapped for weeks in Khartoum amid heavy gunfire – underscores the broader emergency facing Sudan's children.
So far, the conflict has displaced more than a million youngsters, killed at least 300 and injured nearly 2,000, according to UNICEF estimates. 
Even before fighting erupted in mid-April, around 3 million Sudanese children were suffering from acute malnutrition. Food insecurity overall was already at record levels. Now, with the unrest pushing ever more people into hunger, and disrupting lives, markets and supply chains, WFP fears an already alarming hunger picture will only worsen. 
Saving Sudan's next generation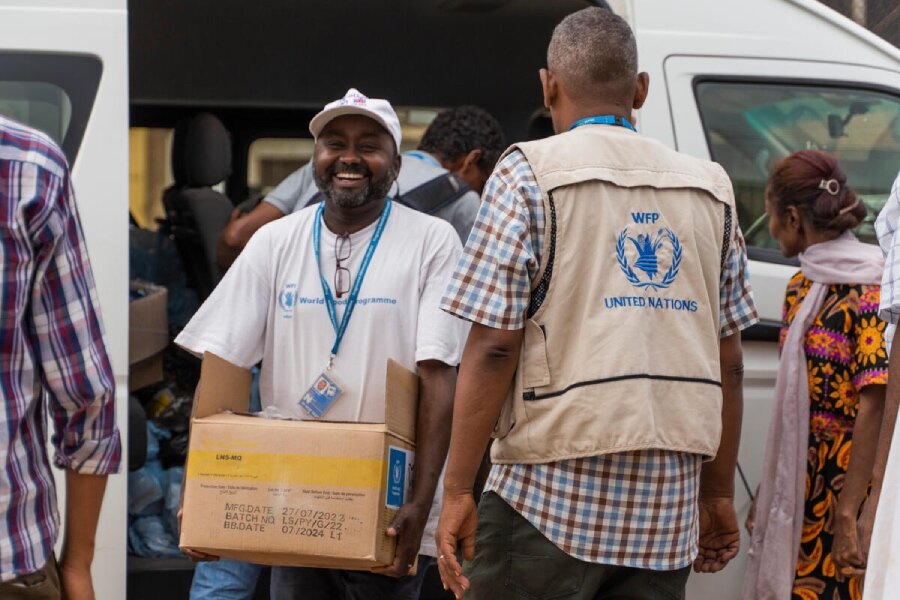 WFP plans to treat moderate acute malnutrition and provide nutritional supplements to 1.2 million children in Sudan, along with pregnant and nursing mothers. But reaching the most vulnerable amid the clashes, during a major funding crunch, makes achieving these goals extremely challenging. Indeed, WFP's Sudan operation has been chronically underfunded, including last year.
"These children are Sudan's next generation," says WFP Sudan acting country director Abdirahman Meygag. "WFP urgently needs donors to step up with swift and generous assistance to ensure children have the food and nutritional support they need to survive these dark times and grow into healthy, productive adults."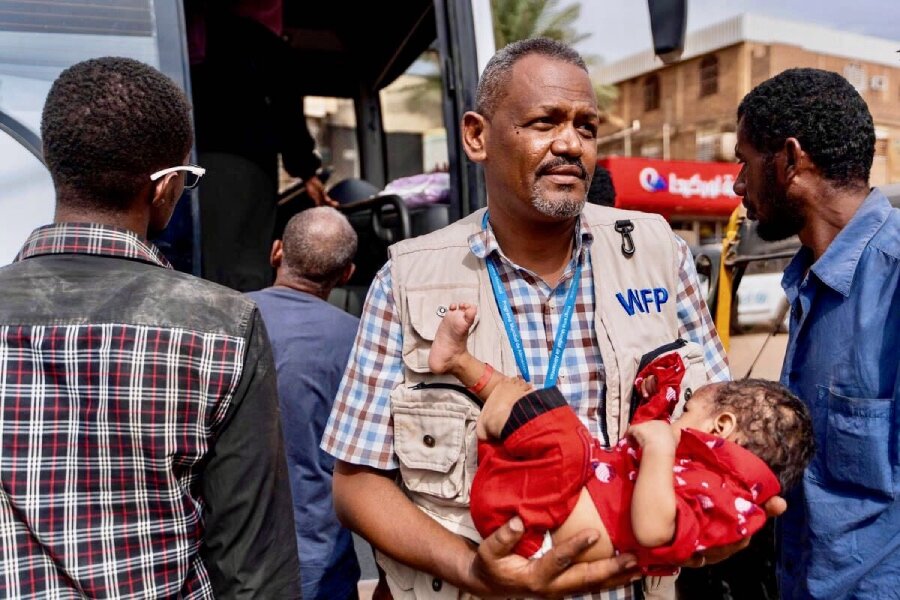 As WFP's Elsheikh and others helped carry the orphans off the bus, there was no time to even ask their names. Many were very weak; weeks without proper care in Khartoum had taken a toll on their health. The youngest were barely awake. 
"It didn't matter what their name was," Elsheikh says. "I wanted to help them all."
Working with humanitarian partners such as the International Committee of the Red Cross and UNICEF, he and his WFP colleagues began providing food and other essential assistance to the children from the minute they arrived in Wad Madani.
Those between six months and five years received immediate nutritional supplements. WFP is also providing two months of emergency food assistance to all the children and their caretakers. 

Left unchecked, Sudan's conflict is expected to push 2.5 million more people into hunger in the coming months, bringing a total of 19 million – 40 percent of Sudan's population – facing food insecurity countrywide.  Insecurity – preventing farmers from accessing their fields – and high fertilizer prices, also risk undermining the current planting season, further deepening hunger. 
Children battling malnutrition are especially vulnerable to the conflict's devastating fallout. Without proper support, they could suffer long-term cognitive and development problems. 
The nutritional outlook of tens of thousands of Sudanese children risks being compromised for another reason. A factory in Khartoum, where WFP was sourcing a significant amount of specialized products to treat moderate-acute malnutrition, was burnt down early on in the conflict. Making up the shortfall could take months. 
Peanut power
The powerful impact of these special nutritional supplements can be seen in Hassahisa, a 45-minute-drive away from Wad Madani. It is here 18-month-old Altahir Hassan Juma and his father Hassan found safety, after they too escaped the fighting in Khartoum. But they carry their worries and sadness with them.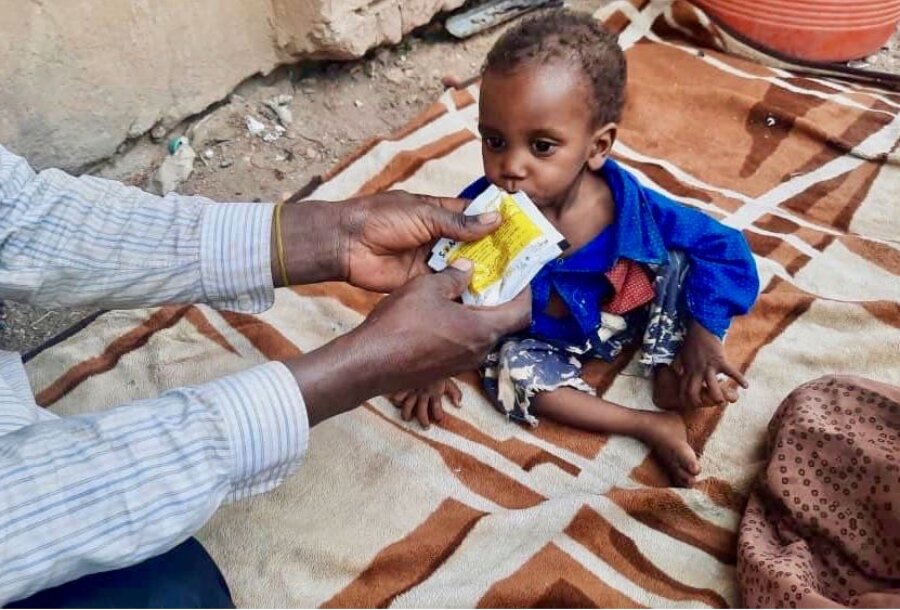 Altahir's mother was killed in the unrest. Hassan is doing all he can to fill his widow's shoes, but his son's health is deteriorating rapidly. Altahir's legs and feet are swollen from edema – too much fluid trapped in the tissues – a clear sign of acute malnutrition. 
When he receives WFP's special, fortified peanut paste, Altahir is so hungry he tries to gulp it down before the package is even opened. 
But a few days and peanut-paste packages later, Altahir is starting to laugh and smile again. Still, it will be a long time before he fully recovers. 
Back in Wad Madani, Elsheikh and other staff are working marathon hours on WFP's emergency response. Helping to nurture and care for Mygoma's orphans gives him the motivation to continue.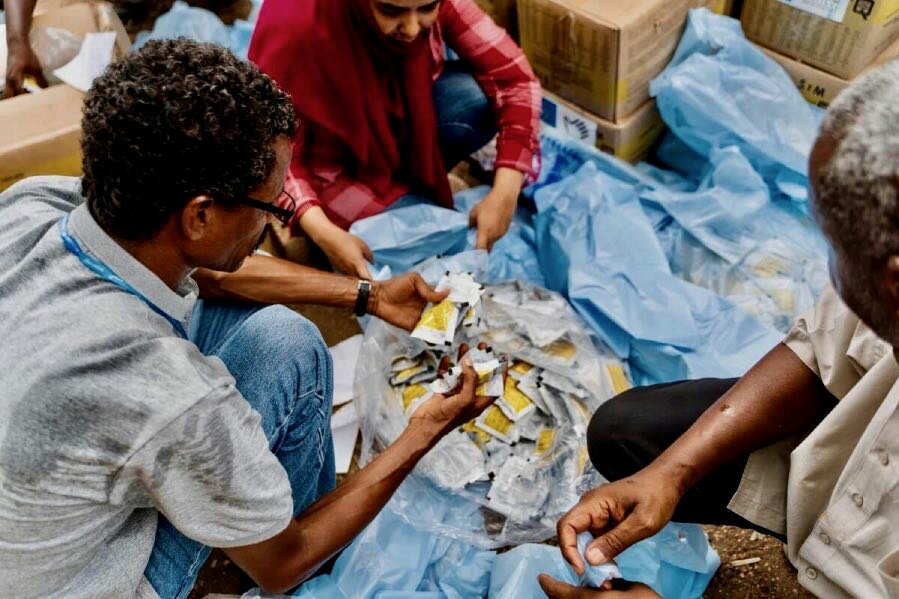 "I felt so relieved and proud to support the orphans," he says. "It was also incredibly tragic, knowing they have no family, and what they had to go through in Khartoum." 
He is waiting for the day when Sudan's children will see peace in their country – so they can return home and resume a normal life 
"I hope these children can receive an education," he says, "and we can return to a situation where they can grow and thrive." 
WFP needs US$409 million over the next six months for its immediate emergency response in Sudan. 
Now is the
time to act
WFP relies entirely on voluntary contributions, so every donation counts.
Donate today