In the ruins of Syria's Deir Ezzor
Three years of siege have stripped many in the northeastern city of their livelihoods, forcing people like Ali to roam the ruins searching for scraps to survive
, Marwa Awad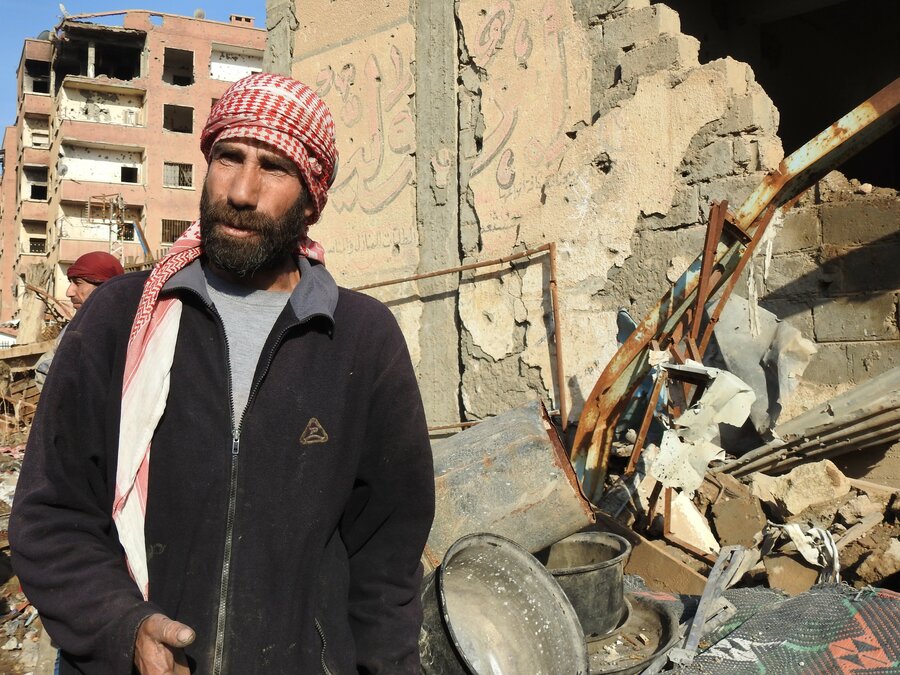 On a decimated street in the eastern Syrian city of Deir Ezzor, Syria, a middle-aged man forages with bare hands for scraps buried underneath the rubble of what used to be one of the city's main streets before a three-year long siege.
Ali, a father of four, disappears into the ubiquitous destruction and emerges with a rusty aluminium pot. He places it on his cart and dives back into the ruins that have now become the source of his living.
"During the siege, my wife and I would skip meals so that our son and three daughters can eat."
"I was a carpenter before the war started. Now, I sell scraps to feed my family," he said. I asked Ali where he once lived and he pointed to a heap of rubble across Cinema Fou'ad Street where we stood. "Over there, right behind the destruction," he said.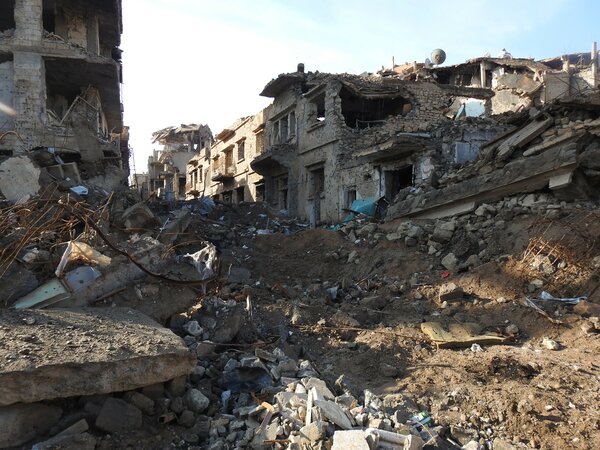 Once running a lucrative carpentry business, Ali and his family are now forced to live on very little. On a good day, he makes up to 2,000 Syrian Pounds (just over US$4) by selling his precious finds to a trader who transports them to Damascus to sell in a bigger market.
"Before this war, it was unthinkable to live on such a small amount. But we've learned to live on very little," Ali said.
The war has forced Syrians to live in hazardous conditions. Ali is aware of the danger he faces daily as he searches for sellable items among unexploded ordnances, but nothing breeds fearlessness quite like desperation.
"I put my life on the line so that my children have a chance to survive. During the siege, my wife and I would skip meals so that our son and three daughters can eat."
Five years of hardship
After five years of continuous fighting and three years of siege, 80 percent of Deir Ezzor city lies in ruins. Families who return can only live in the remaining overcrowded neighbourhoods of Qusoor, Joura, Jbeila and the less destroyed parts of two other areas. Rent has skyrocketed reaching more than $100 a month, forcing families to move in with others to split costs.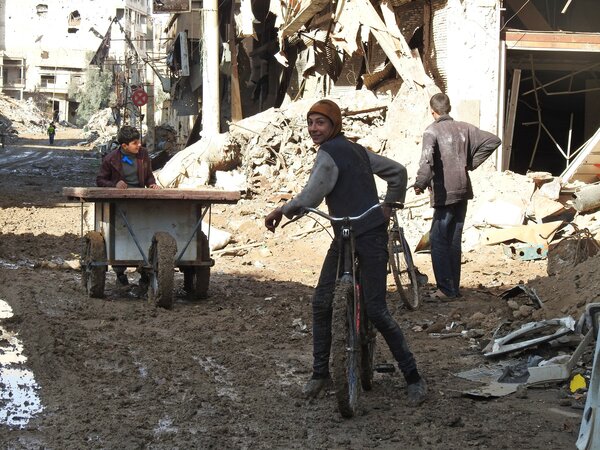 During the second part of the siege, the World Food Programme (WFP) ran an airdrop operation, to deliver lifesaving food assistance to feed nearly 100,000 people including Ali and his family who were trapped in the city. When the siege was finally lifted, WFP had conducted 309 airdrops.
"Life was bleak, but this food helped us survive the siege," said Ali, who, thanks to WFP food support, was able to spend his little savings on other necessities for his family. He added that the food assistance he received through the airdrops covered 90 percent of his food needs. Now WFP provides food rations delivered by land to a total of 75,000 people in the city and its surrounding rural areas.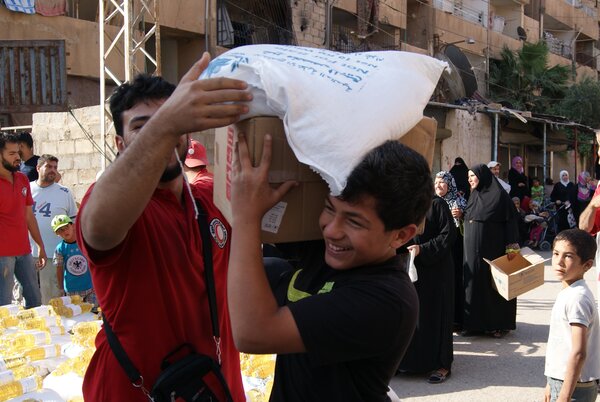 Holding on to hope
While much of the infrastructure of the city is destroyed, Ali nonetheless hopes to return to his profession someday, helping to rebuild his city.
"I hope I can go back to my job and help rebuild the homes destroyed in the war. I pray God will bring business back to this city so we don't remain like this," Ali said, pointing at his daily pile of collected scraps which are, for now, his main lifeline.
Want to help children and families in Syria? DONATE NOW.