War in Ukraine: WFP marks three months of meeting surging food needs
Matthew Hollingworth, Emergency Coordinator for the World Food Programme in Ukraine, discusses the impact of the conflict and the challenges moving forward
, Paul Anthem
It's three months since WFP returned to Ukraine. What are your main reflections?
One of the things that strikes me the most is that the World Food Programme (WFP) shouldn't have to be in Ukraine as part of a United Nations emergency response. This is a country we bought food from to feed the rest of the world.
It's a country where we contracted tech-savvy millennials to develop digital cash platforms. It's heartbreaking that we have to be here to provide food for people who have fled from war and who have lost their homes, their jobs and can no longer support themselves. Three months in and it pains me to say that this war isn't ending soon. The number of people who are affected is growing, and the longer this war continues, the more the needs will increase.
You've worked on a lot of emergencies. Why is this one different?
This war has transformed what is usually a 'breadbasket of the world' into a major humanitarian crisis. Last year Ukrainian grain fed 400 million people around the world. Now in more than 120 countries where WFP works, acute hunger is expected to rise by 47 million people if the conflict in Ukraine continues unabated – that is a staggering 17 percent jump – with the steepest rises in sub-Saharan Africa. Countries already on the brink rely on Ukraine for their food and right now, food is blocked in the ports. To put in plainly, if it can't export, the world faces a hunger crisis of catastrophic proportions.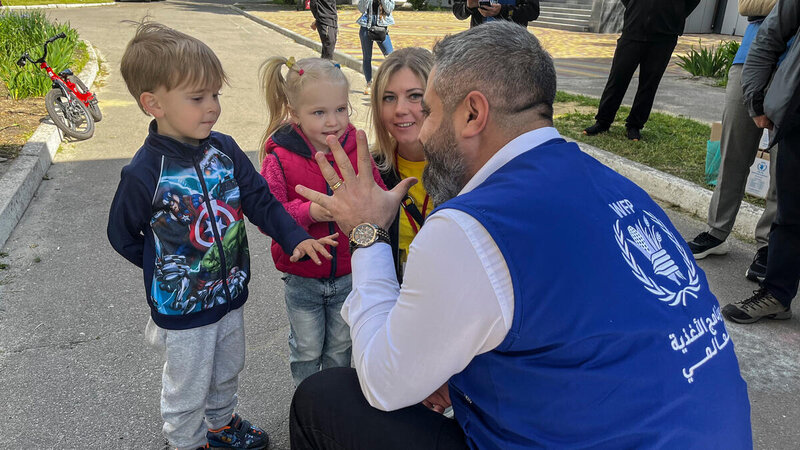 What's struck you most since your arrival?
The courage and resilience of the people of Ukraine has been palpable during my initial travels around the country. Their ability to demonstrate unity and purpose and look after each other will stay with me. Government and communities are the real frontline responders to people's needs. We're talking about vast numbers of people who have been displaced – 15 million people so far – and we see the Government and local administrations coming together to help one another, at train stations, in schools, in churches and synagogues, feeding communities, giving shelter and support.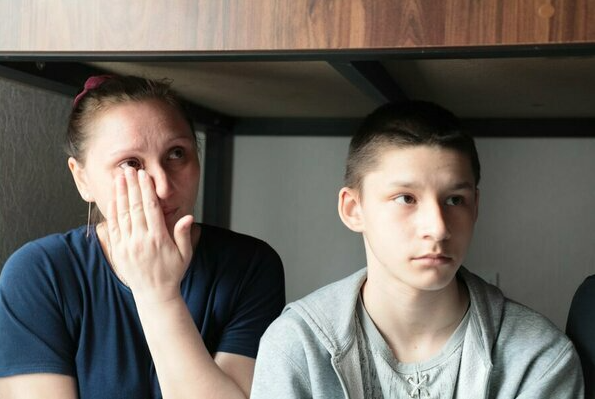 What are the biggest challenges WFP faced scaling up?
We hadn't been operational in the country since 2018. So for my predecessor and his team, there was a considerable amount to do. They had to establish offices and then scale up to reach all of the people who needed our support. We've now got to the point where we reached 2.2 million people in May with monthly rations and cash. We hope to support over 3 million in June. We are opening more offices, more warehouses, and packaging facilities, organizing distributions, recruiting and training national staff, and ultimately, trying to ensure that we're as close as possible to where the most significant food needs are.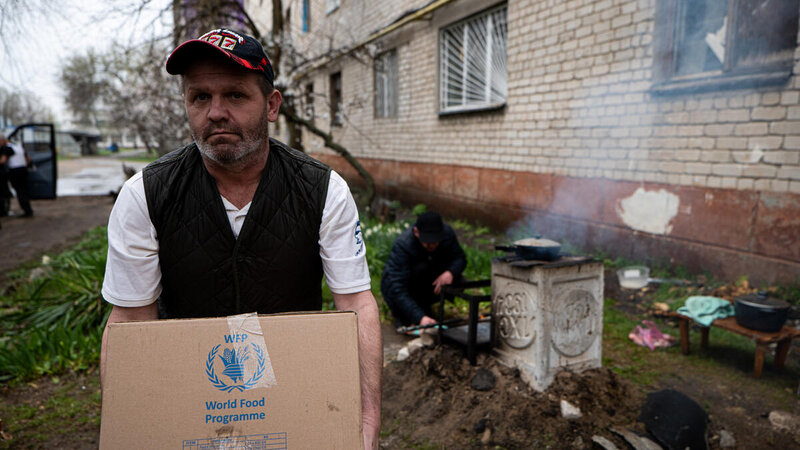 What are WFP's main priorities in the country now?
To ensure that we reach people wherever they need us. We do this in two main ways: through cash and food. WFP signed an agreement with the government in May, which was critical in helping us to identify internally displaced people and others who needed our support. By doing this, WFP increased our cash transfers six-fold in just one month. We've now provided over one million people with cash and injected nearly US$74 million into the Ukrainian economy.
People who register are getting their cash just 72 hours later to cover their food needs as well as medicine and clothes. It was also important that we moved from one-off rations to 30-day food parcels that families can rely on. WFP are now providing pasta, rice, oil, and tinned meat to almost 420,000 people a month.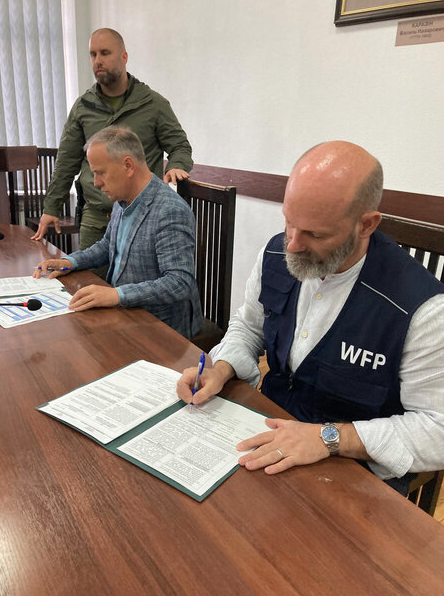 We've heard people talk about a 'localized' response. What does this mean in practice?
Another priority is to harness the amazing opportunity to work with local staff from the outset of the operation. WFP will do this by working through local partners, businesses, trade networks, and institutions because this response should be Ukraine-led, through local partners and through the government. Ukraine has phenomenal social protection systems already in place: the government is youthful and dynamic; it is of paramount importance that WFP  helps to sustain, stabilize, and in some cases restore public and private institutions.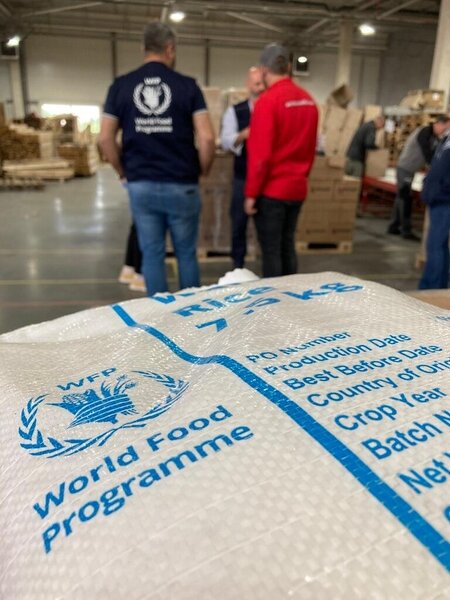 Partnerships must be central to what you're doing here?
Absolutely essential. A partnership approach has to drive our work here. I was in Kharkiv two weeks ago, where we are working with the Ukraine Red Cross to store and deliver food parcels around the city, pooling our resources and using local experience and knowledge. In May, we handed over 9,500 metric tons of food commodities to our cooperating partners in Ukraine. The Food Security and Livelihoods Cluster, which we lead with the Food and Agriculture Organization, includes 38 cooperating partners working across 24 oblasts (provinces). Of these, 20 percent are national NGOs.
Meanwhile, the WFP-led logistics Cluster has stored and/or transported 12,400 cubic metres of humanitarian cargo on behalf of 24 partner organizations. In May alone, we used locally sourced wheat and worked through local bakeries, providing 730,000 people with bread.
We are contracting companies to store, pack and deliver our food rations. In some locations, these companies employ displaced people, so we are helping, indirectly, to provide employment too. And without the partnership with the Ministry of Social Policy, we would not have scaled up our cash response to the levels we can currently sustain.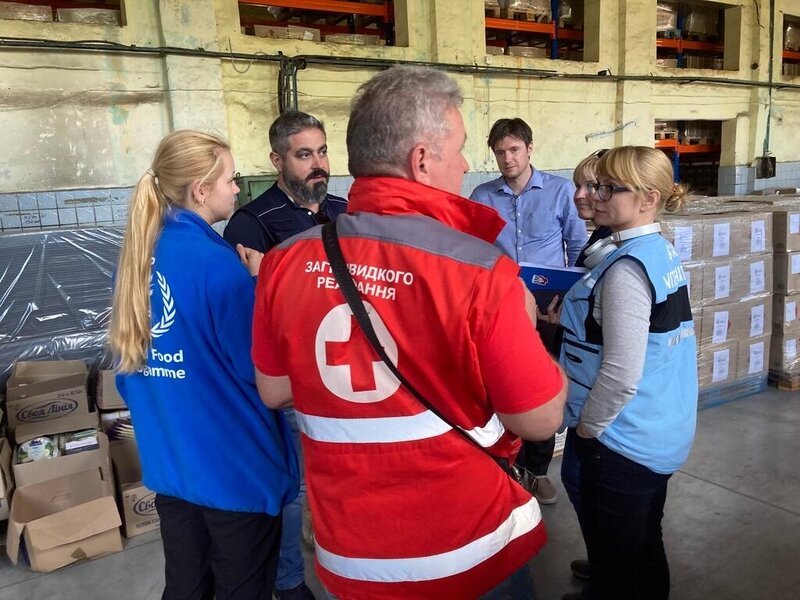 What is WFP doing to get food into the most conflict-affected areas?
Lack of access to conflict zones is one of the most heinous obstacles to providing life-saving food assistance. Despite the challenges, WFP is reaching the furthest possible areas along the conflict lines. In Kharkivska oblast, we have reached more than 1.5 million people. In Luhansk and Donetsk oblasts, WFP – through the Ukrainian Red Cross and others – has supported the food needs of more than 70,000 people, primarily through ready-to-eat food assistance that does not require any preparation or cooking. Further supplies are being pre-positioned in case civilians become cut-off due to a worsening security situation. Families trapped in hard-to-reach, embattled cities face critical shortages of food, water, and other essential supplies, and we continue to appeal for continuous, unimpeded humanitarian access. But we need to be realistic. We have to do a lot more, and we need the opposing sides to give us the "space" to meet these humanitarian needs.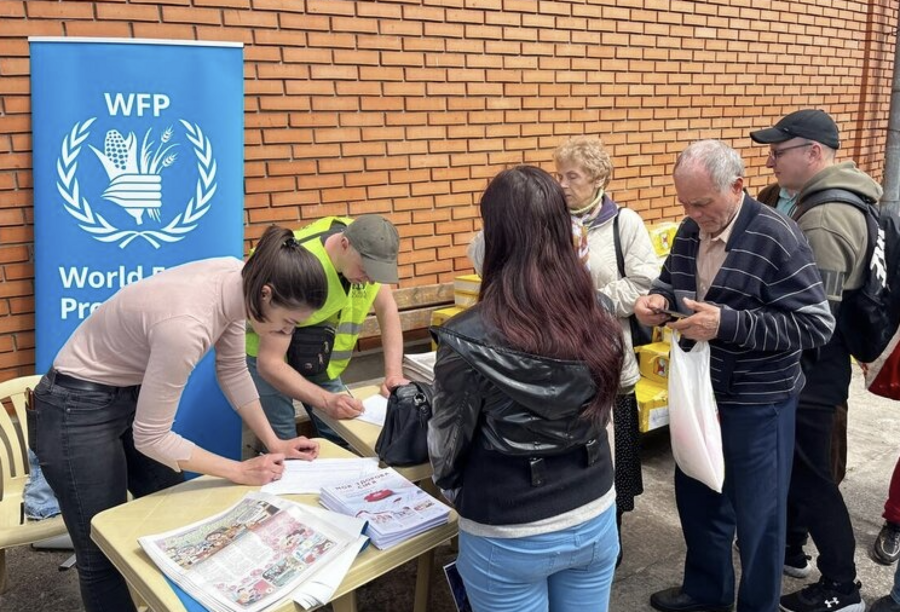 How long do you think that WFP will need to be in Ukraine?
That's very difficult to say while the war continues. If the war stopped tomorrow, I am confident WFP could be out of this country in a year, handing over every innovation and initiative to the Government and our private and public sector partners at state and provincial levels. That should be our goal. But realistically, this war in Ukraine may continue for some time to come, with no winners, only losers.
I've just spent the past three years in South Sudan where there is a protracted conflict with no end in sight, which has created huge humanitarian needs. We certainly do not want to see a repeat here. What I can say with certainty, however, is that WFP will be here for as long as the Government and the people want us to be here, for as long as our support is deemed necessary.
We will continue to focus on the humanitarian imperative, but also see how WFP can contribute to preparing the country for a better future. We will do this through investing in food systems, supporting more impactful social protection policies and practices, replacing or reinventing agri-business and jobs devastated by the destruction in the east of the country, and being part of the alliance to ensure Ukrainian food, and farmers, can still feed the world.
Now is the
time to act
WFP relies entirely on voluntary contributions, so every donation counts.
Donate today