WFP calls for safe access to reach Palestinians in urgent need
More supplies ready at border after food and cash delivered to over half a million
, Paul Anthem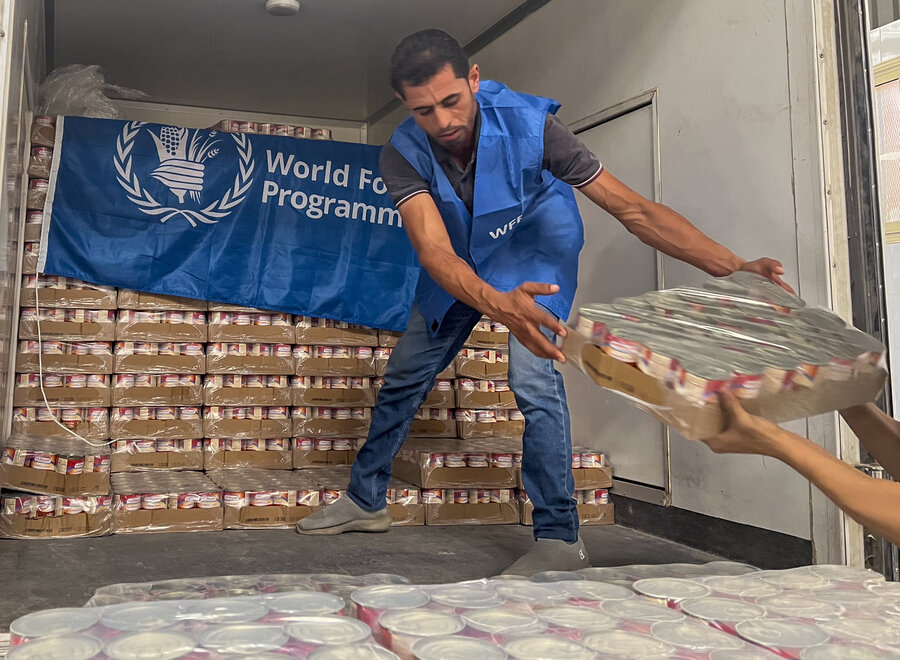 The World Food Programme (WFP) is stockpiling 310 metric tons of food at the Gaza border ready for dispatch to people in desperate need – as soon as humanitarian access is granted.  
WFP's supplies in Al Arish, Egypt, could feed 244,000 people for a week if unhindered access and safe passage were provided to our teams on the ground. WFP is appealing for Gazans fleeing southwards to be afforded safe passage and to be protected in areas of displacement. Humanitarian organizations – including WFP – must be allowed to access these people whose needs are increasing by the hour. 
Samer Abdeljaber, WFP Palestine Country Director said: "WFP has tons of food coming in from planes and trucks around the region, piled up and ready for the green light to enter Gaza from any possible entry point. We need access into Gaza and we need to be able to reach the people inside wherever they are."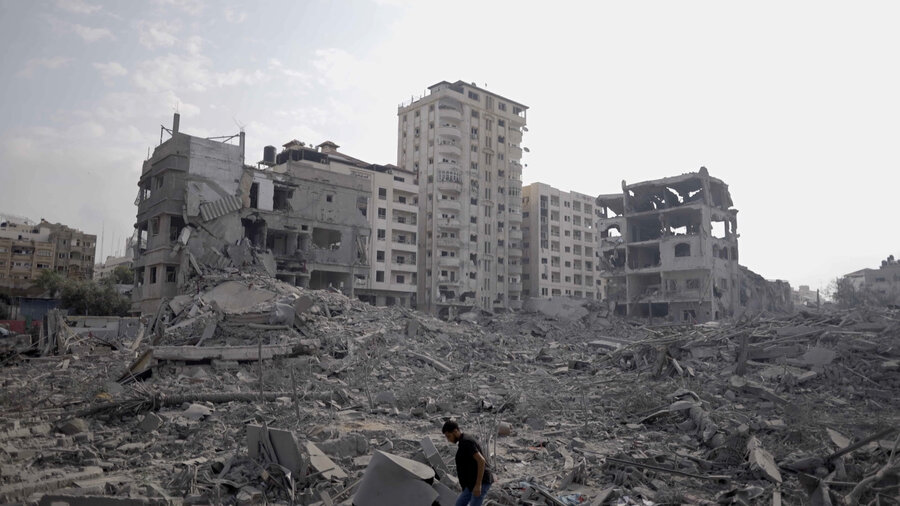 Our food supplies in Al Arish include 20 metric tons of high-energy biscuits and 2 mobile storage units for warehousing. Food supplies procured from regional suppliers are also on the way to the border – mainly canned food and date bars. Ready-to-eat rations comprise a can of chickpeas and one of beans, and a small box of juice.
 
Among those people needing our urgent support is Eyad Khalil and his family of eight in Gaza. "My fear is for my children," he said. "My fear is for my relatives. My fear is for my neighbours. I fear for all of Gaza. Children are dying. 
"We need everything. We need safety. We need peace. We need the necessities of life. Electricity. Water. Food. Drinking. There is no water. There is no water at all. Medicines for children. Food. Drinking."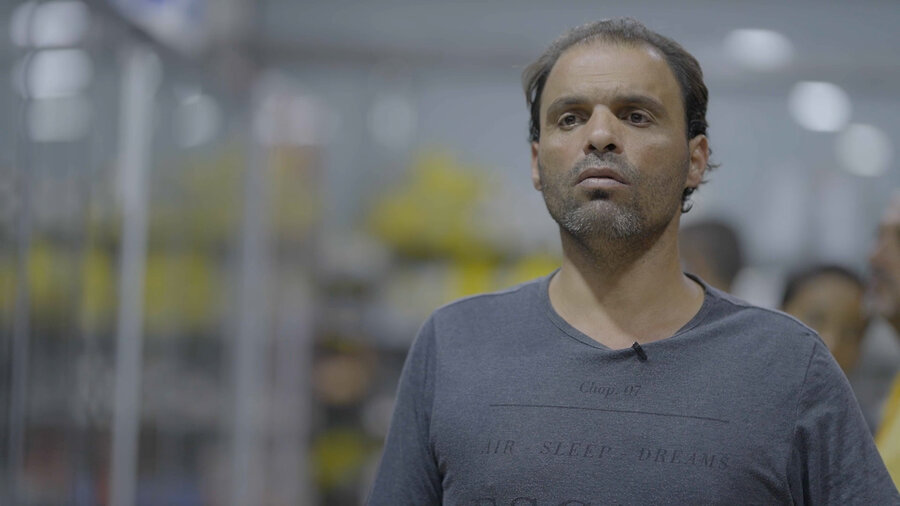 Despite immense challenges, WFP has provided food and cash assistance to over 522,000 Palestinians since the start of the current crisis, reaching people every day.
As of Monday (16 October), WFP had provided fresh bread to around 220,000 displaced people in 92 UN-designated shelters. On Monday we reached 170,000 displaced people in 30 shelters. The average number of people per shelter has nearly tripled, with tens of thousands of desperate families on the move.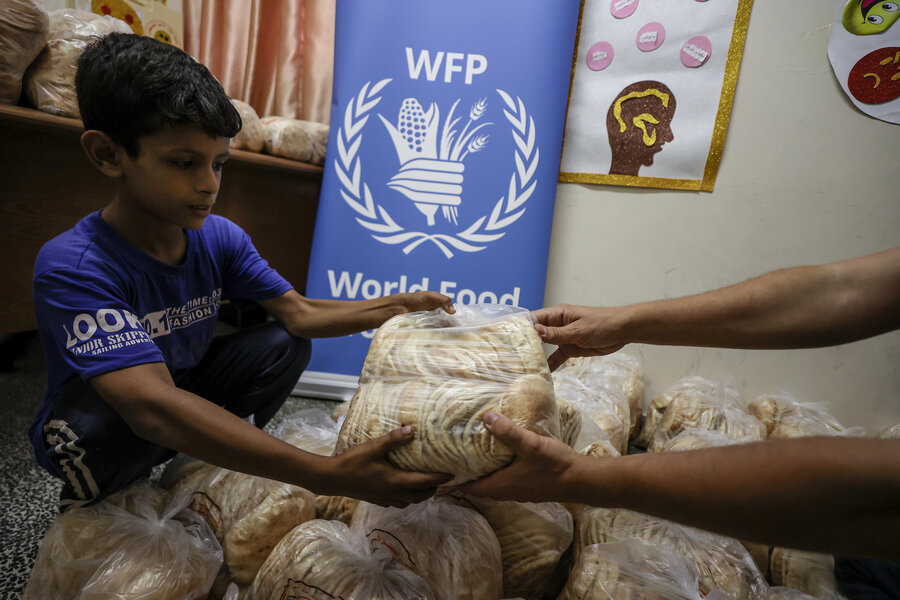 "The shops are going to run out of basic food items within days," said Abdeljaber. "Any existing stock can't reach the shops, or the people, because of damaged infrastructure and lack of fuel. The number of bakeries we work with is decreasing by the day. They also don't have enough water or electricity to produce bread. We have had to reduce the ration we are giving to people because, while the shelters are overcrowding, our ability to reach them is becoming more limited."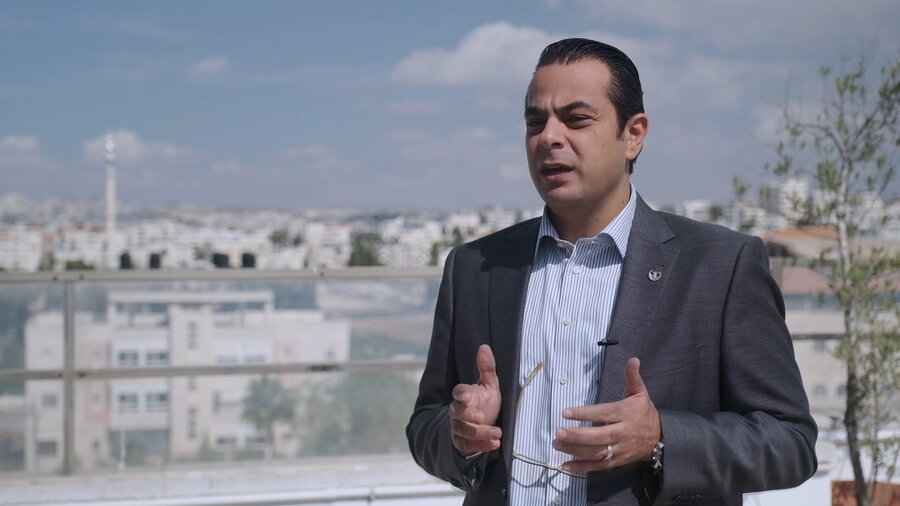 Nearly one-third of the population of Palestine – 1.84 million people – are food insecure. WFP aims to provide a vital food lifeline to 805,000 people over the next 30 days in Gaza and the West Bank, if conditions allow, bringing desperately needed food, water and other essential supplies. 
WFP requires an immediate US$74 million for the next three months to provide this emergency assistance. The current crisis erupted amid severe funding shortfalls, which in June forced us to suspend assistance to 60 percent of beneficiaries. 
Now is the
time to act
WFP relies entirely on voluntary contributions, so every donation counts.
Donate today