Video: A boy in Yemen offers a glimpse into his life for World Food Day
, By Annabel Symington
To mark World Food Day, 12-year-old Malik takes us on a tour around the displacement camp on the edge of Marib City in Yemen where he lives with his parents, brother and sister. 
Malik and his family fled to the As Swaida camp around five months ago. It was the third time in Yemen's long conflict that the family had been forced to flee to safety. With each displacement, the family's ability to cope has been stretched  further. They are among around 4 million Yemenis who have been displaced by conflict and are facing some of the highest rates of food insecurity as a result.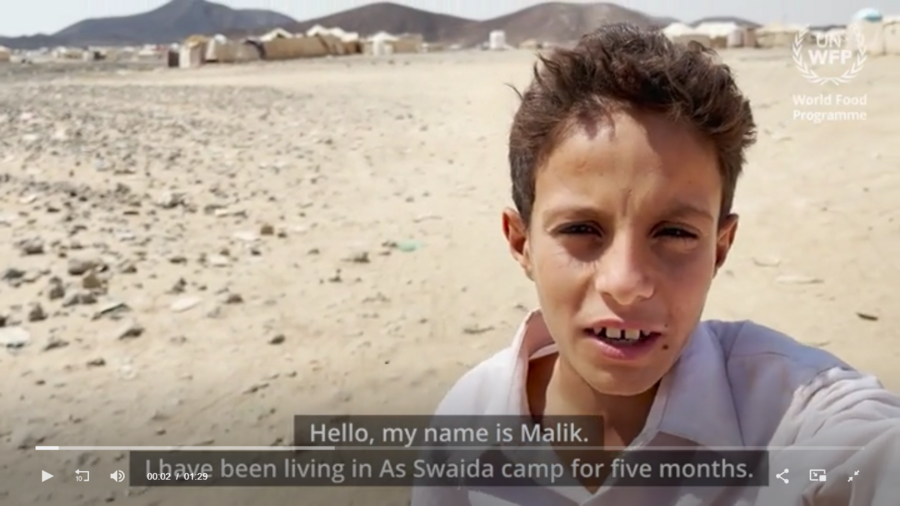 Now  fighting is once again encroaching the place when Malik's family had hoped to find refuge, as Yemen's war closes in on the strategic city of Marib, home to the country's oil and gas reserves. In September, as hostilities escalated in Marib, close to 10,000 people fled in search of safety – the highest rates recorded by the International Organization for Migration in a single month this year.
The fear of displacement, however, isn't the only challenge for Malik and his family. Life is tough in the large camp - home to around 12,500 people - in the arid desert of central Yemen, and support from the humanitarian community is vital. Nearly all families in the camp receive food assistance from the World Food Programme (WFP), while children and mothers can also access nutrition support through the WFP-run mobile health clinic.
Now is the
time to act
WFP relies entirely on voluntary contributions, so every donation counts.
Donate today