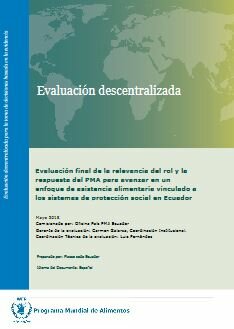 The evaluation objective is to assess at what extent WFP in Ecuador have been contributing to enhance its role and response capacity in food assistance in a performed relationship with national social protection systems. The evaluation was focused on the most recently activities carried out as part of the PRRO 200701, but also learning from the Emergency Operation 200665 of response to the earthquake.
The evaluation evidence and a set of 14 evaluation recommendations are providing strategic and operational insights especially oriented to implementation of the Strategic Results numbers 1, 2 and 4 of the Country Strategic Plan 2017-2021 recently approved.
The evaluation was managed and conducted by an independent consultancy firm, including a gathering information's fieldwork phase between January and March 2018.