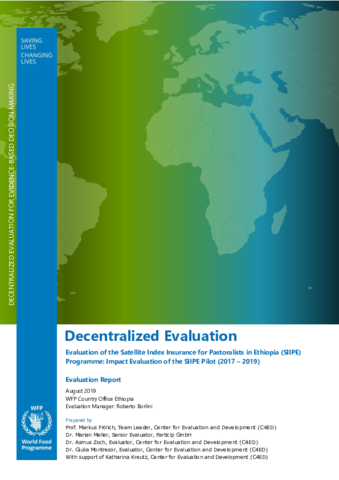 The decentralized evaluation has been commissioned by the WFP Ethiopia Country Office and covers the first year of the Satellite Index Insurance for Pastoralists in Ethiopia (SIIPE) pilot programme (2017-2019).
The Ethiopia Country Office commissioned this impact evaluation to improve the insurance product of the SIIPE pilot and to encourage learning for key stakeholders (WFP, Government of Ethiopia and private sector partners) before a potential scale-up. The specific objectives were to understand whether SIIPE brought about any behavioural change, if (and how) it provided greater protection to pastoralists against climate risk; as well as to measure the changes in well-being of individual households attributable to the programme.
The evaluation was designed to assess the impact of the WFP's SIIPE pilot program against the following evaluation criteria: effectiveness and impact. The impact estimates are based on a quasi-experimental (propensity score matching) design that compares beneficiary households in pilot communities with comparable non-beneficiary households in nearby communities. The baseline was conducted in January and February 2018, and the follow-up data collection in February and March 2019.
Key recommendations from the evaluation included:
On the insurance product: Consider increasing the insurance coverage of risks other than pastures.
On other programme components: Rigorously implement training and improve training materials.
On other programme components Conduct a follow-up data collection to capture the full programme effects.