'This funding means that we can save and change more lives every year'
How flexible contributions made a telling difference to WFP's work in 2019
, World Food Programme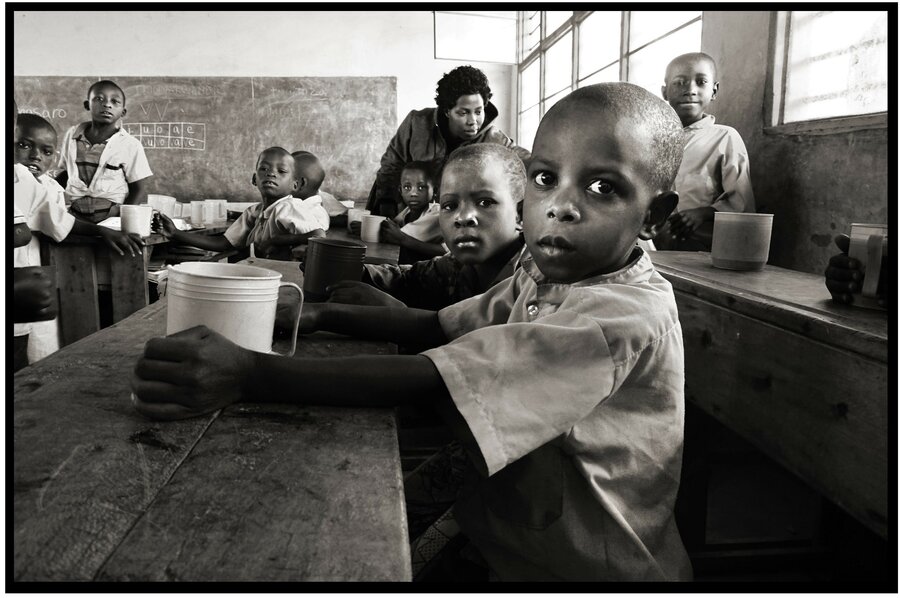 Reflecting on a record year for emergencies
Flexible funding has never been more essential to the work of the World Food Programme.
In 2019 the agency dealt with a record number of emergencies — 8 at the highest level of 3, and 12 at Level 2 — fuelled chiefly by conflict and climate change.
Conflicts in Yemen and Syria raged on, with millions displaced and facing chronic food insecurity. In South Sudan, devastating drought and flooding combined with local fighting to leave people in urgent need, while Central Sahel also saw a combination of conflict and climate extremes leading to a huge surge in the number of people needing immediate humanitarian assistance.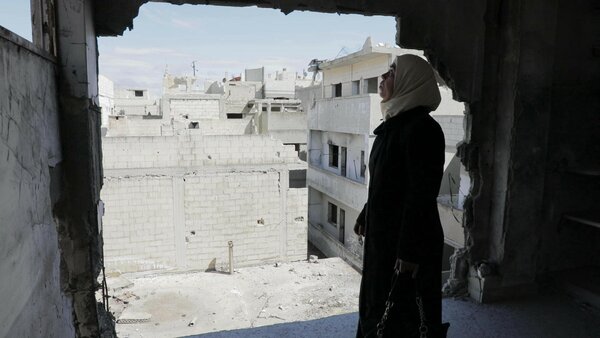 Elsewhere, inter-ethnic conflict and a protracted Ebola epidemic saw food insecurity rise by 20 percent in the Democratic Republic of the Congo, while increasing violence in northeast Nigeria forced tens of thousands of people from their homes.
In the Caribbean, one in three Haitians, or 3.7 million people, needed urgent food assistance as rising prices, a weakening local currency, and a drop in agricultural production took their toll. In Southern Africa, more than 11 million people experienced "crisis" or "emergency" levels of food insecurity after the worst drought in 35 years in central and western areas during the growing season.
WFP's agility in rapid response and ongoing support was evident across these emergencies, as it was in Mozambique, after Cyclones Idai and Kenneth struck within 40 days of one another — destroying lives, infrastructure and crops, and leaving more than 2 million people in need of food assistance.
Flexible funding also proved critical to WFP's work in the humanitarian, development and peace nexus, providing food assistance that helped create and promote ongoing stability rather than recurring conflict. An example lies in Syria, as described in this report, where funding is helping farmers boost their harvests and allowing training in agriculture, sewing and plumbing, providing the means for communities to rebuild their lives and livelihoods, and to hope for a brighter future. Another example is the Democratic Republic of the Congo, also featured below, where WFP cash assistance is helping farmers increase their crop outputs while boosting spending power and thereby local markets and economies.
Highest-ever contributions underpin WFP's support across the world
Crucially, donors stepped up with a record amount of funding, totalling more than US$8 billion. The contribution of each donor is highly valued, and makes a telling difference in every country where WFP works to save and change lives. It also reflects strong partnerships with countries, forged through working together towards the shared goal of a zero-hunger world.
A total US$422.7 million of contributions came through flexible funding, including the Immediate Response Account (IRA), representing 5 percent of WFP's total contributions. This funding is not earmarked by a donor to a specific activity, country or operation, allowing WFP flexibility in how it uses the money. Partially flexible or 'softly earmarked' funding might be tied to a geographical region or type of activity, such as emergency response, while fully flexible contributions allow WFP to use funds in areas of greatest needs.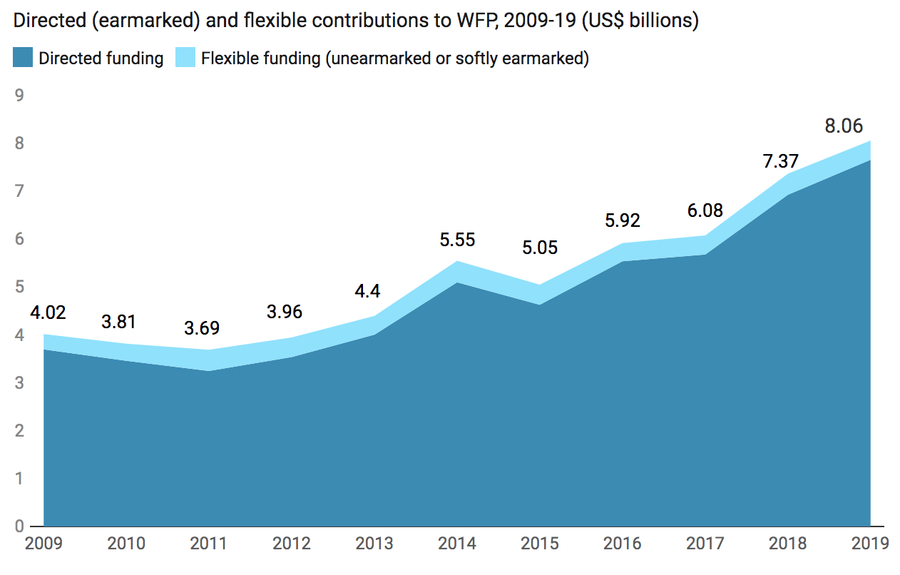 While vital to WFP's work, flexible contributions have been falling over recent years, and are now well short of the 20 percent they represented only 11 years ago. As Executive Director David Beasley points out: "Flexible funding allows us to be more effective and efficient. We can respond more quickly, save costs and ensure maximum impact for every dollar we receive. Put simply, this mode of funding means that we can save and change more lives every year." This point was never more pertinent as today, given the COVID-19 pandemic and the huge threat it poses.
Flexible funding also allows us to use innovation wherever possible as a means of helping to achieve zero hunger. SCOPE, WFP's online beneficiary identification system, is just one of many examples of this — allowing staff to identify emerging issues, understand people and contexts, and ultimately to provide a more targeted and needs-based service.
COVID-19 brings flexible funding into sharp spotlight
During the writing of this report, the COVID-19 pandemic has emerged to threaten a global humanitarian catastrophe. WFP's own analysis reveals that almost a quarter of a billion people could be pushed into severe hunger in 2020 by the fallout.
"[We are] talking about a hunger pandemic," David Beasley warned the UN Security Council in April. "It is critical we come together as one united global community to defeat this disease, and protect the most vulnerable nations and communities from its potentially devastating effects."
WFP's top priority is to ensure it has the resources to meet the food and nutrition needs of almost 100 million people whose lives depend on its assistance. It is monitoring emerging humanitarian needs to catch those on the brink who may be pushed into hunger by the socioeconomic fallout of the pandemic. WFP is further helping governments strengthen social protection systems and school feeding, to boost the impact these approaches can have on reducing hunger in times of crisis.
Flexible funding is crucial in ensuring that WFP can keep providing assistance to the people it serves globally, both during and in the aftermath of the pandemic. It would mean WFP is able to respond with agility to rapidly changing needs, especially in fragile contexts where the situation is expected to further deteriorate and where resources to address this will be limited.
WFP's logistics strength means it will serve as the backbone for critical humanitarian services in this area. WFP is also appealing for funding for common services including vital aviation, shipping, storage and transport, as well as engineering services in areas affected by the pandemic.
Where funding is flexible and predictable over several years, WFP can respond effectively to sudden-onset emergencies as well as providing ongoing, lifesaving support to emergencies that are more protracted and possibly out of the public spotlight. WFP has a greater capacity to intervene at the right time, avert pipeline breaks, reimburse advanced financing and provide regular food rations more efficiently.
More than this, flexible funds can reduce the contributions required from donors over the long term, as people are provided with the opportunities to become more self-sufficient. This point has been emphasized by the Executive Director: "We are just not another agency throwing out money…we truly will save [governments] money with effective programmes that help people become more resilient and self-reliant. That is the power of the World Food Programme."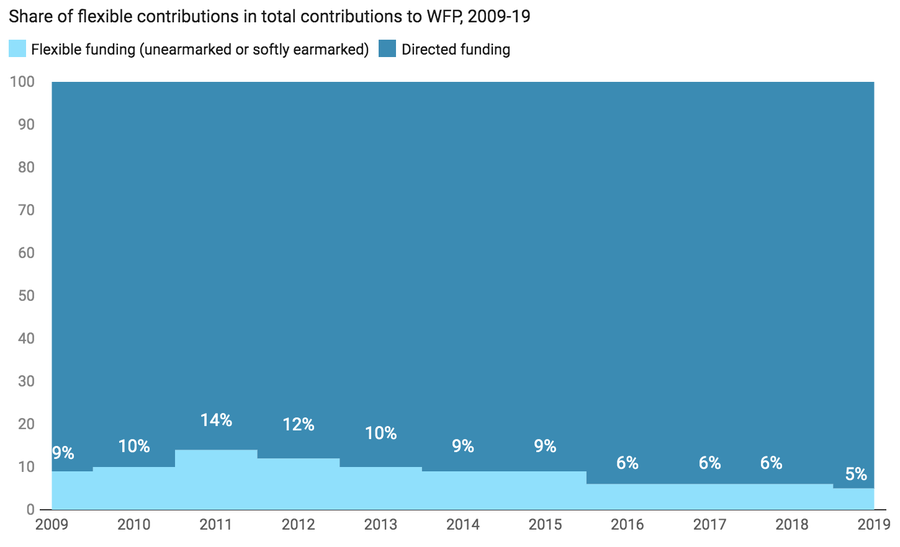 WFP's Strategic Resource Allocation Committee (SRAC) is critical in ensuring that flexible contributions are used in the most effective way, taking into account factors including food security indicators, the level of emergency, and the current resourcing and estimated shortfall of the operation. Flexible funding also supports core, strategic work of WFP to ensure its sustainability. This might include technology, legal functions, strategic coordination, security, risk management, or the development of SCOPE (WFP's beneficiary identification system).
In 2019, the top donors of flexible funds included Sweden, the United Kingdom, the Netherlands, Germany, Norway, Denmark, Australia, Canada and Ireland.
Fund allows for immediate and decisive response
The IRA allows for fast, life-saving responses to emergencies by WFP, releasing funds within 24 hours of the onset of a crisis.
This is critical where disasters strike suddenly and WFP's expertise is immediately required on the frontlines. The funds are unearmarked, allowing WFP the greatest flexibility in responding to the most pressing emergencies and directing resources to the areas and people in greatest need. Switzerland, Belgium and Germany were the highest donors to the IRA in 2019.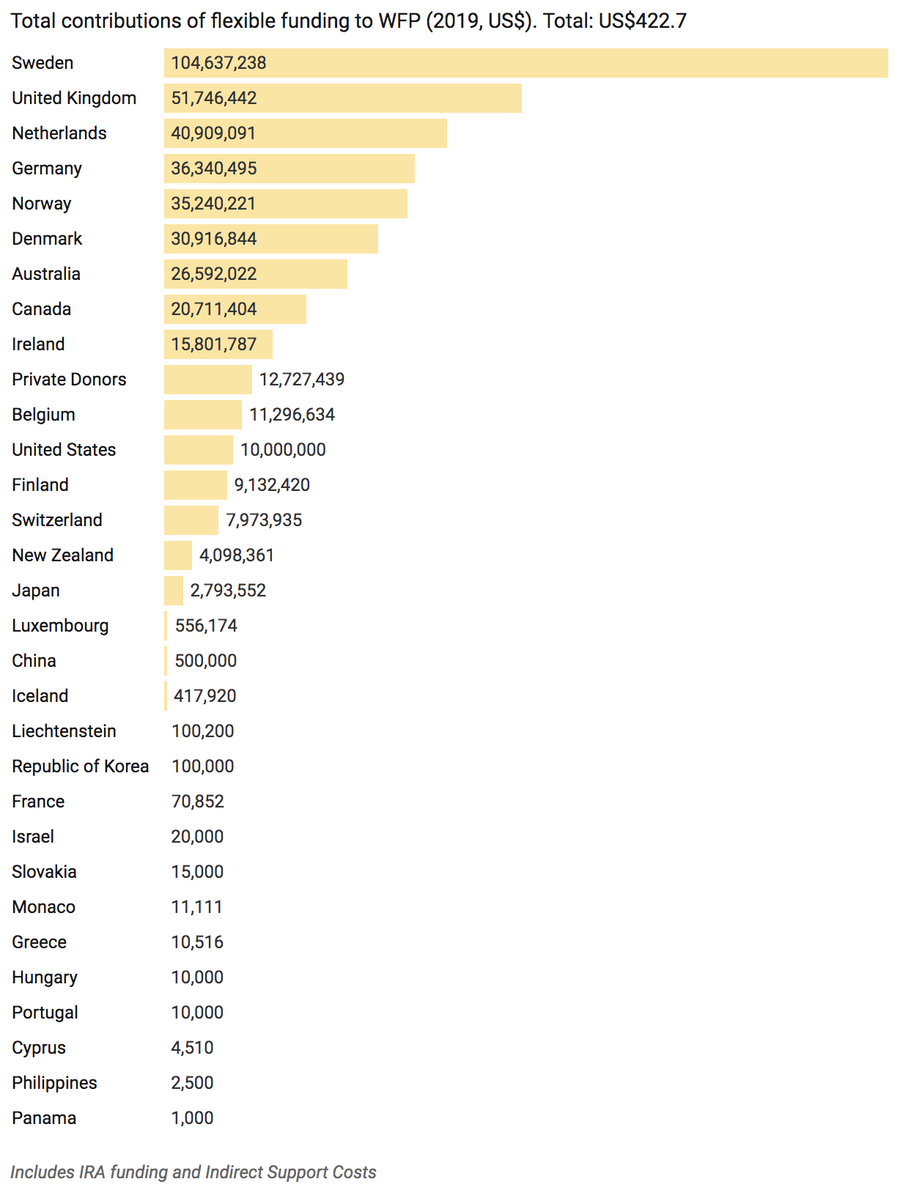 Focus on our donors
Each year we provide a focus on selected donors, on a rotational basis. Below we hear from Alexander De Croo, Belgium's Deputy Prime Minister and Minister for Development Cooperation, and from H.E Rasmus Prehn, Denmark's Minister for Development Cooperation, while also within this report there are videos featuring donors. All contributions and allocations are also featured in tables within the report.
Funds adaptable to rapidly changing needs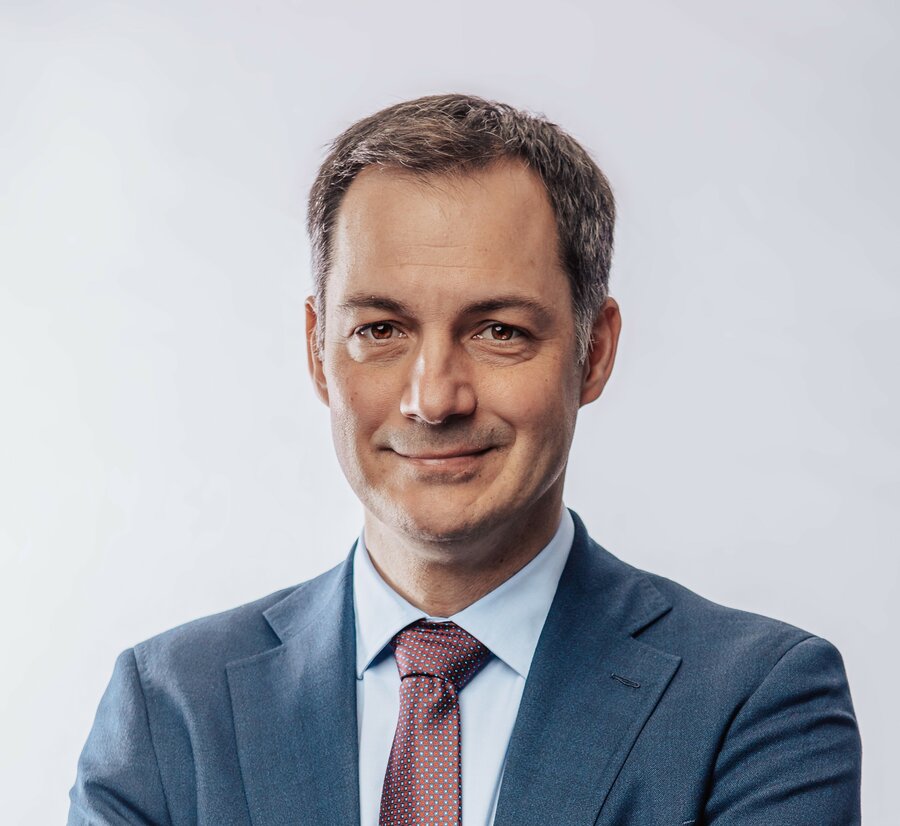 More than half of Belgium's contributions to WFP consisted of flexible, unearmarked funding in 2019. Alexander De Croo (pictured left) spoke about the advantages of this form of funding.
"Belgium has led by example when it comes to granting IRA and core funding to WFP," he said. "We remain committed to giving our partner the necessary flexibility to respond to rapidly changing humanitarian needs.
"Flexible and multiyear funding help prevent disruptions to WFP's life-saving work and allows it to be more timely, effective and efficient."
'Denmark is proud to support the World Food Programme'
How flexible funding saved and changed lives in 2019
In this report we highlight the importance of flexible funding to WFP's operations throughout 2019. Nowhere was this more evident than in Yemen, where donors helped pull the country back from the brink of famine, or in South Sudan, where flexible funding meant WFP could pre-position 17,800 metric tons of food that could be dispatched rapidly and at less cost during the rainy season. In Mozambique, donors ensured we could reach 2.3 million people after the devastating double blow of Cyclones Idai and Kenneth in little over a month. In Central Sahel, our government partners helped us reach 2.6 million people in urgent need as the effects of conflict and climate change took their toll.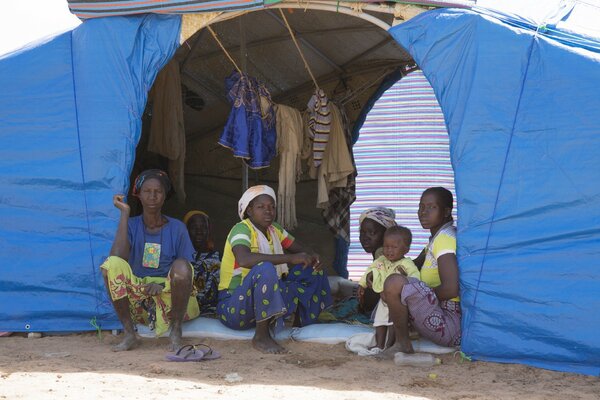 Flexible funding also gave families hope of maintaining or even developing livelihoods threatened by relentless conflict, with farmers in Syria provided with training and tools for growing new crops to feed their families and increase their incomes. WFP cash for families in the Democratic Republic of the Congo meant people could grow more crops as well as buy food and other essentials. Flexible funding also meant WFP could help to contain the spread of the deadly Ebola virus, by providing food that encouraged people to stay within their local area. Elsewhere, donors' money meant millions of children had access to nutritious school meals in countries such as Ethiopia and Rwanda, at the same time providing motivation for them to receive a valuable education that could change their futures.
Here, through a selection of examples from the aforementioned and other locations, we look more closely at exactly how flexible funding was both life-saving and life-changing in 2019 for millions of people across some of the 80-plus countries where WFP works.
Yemen: Back from the brink of famine
Yemen's catastrophic war threatened to plunge millions of people into famine in 2019.
WFP responded with an unprecedented expansion of food assistance, from 8 million to 12 million people per month — its largest-ever scale up globally. Meanwhile, food assistance was doubled in the worst-hit areas where conflict and economic collapse had left nearly 240,000 people living in famine-like conditions.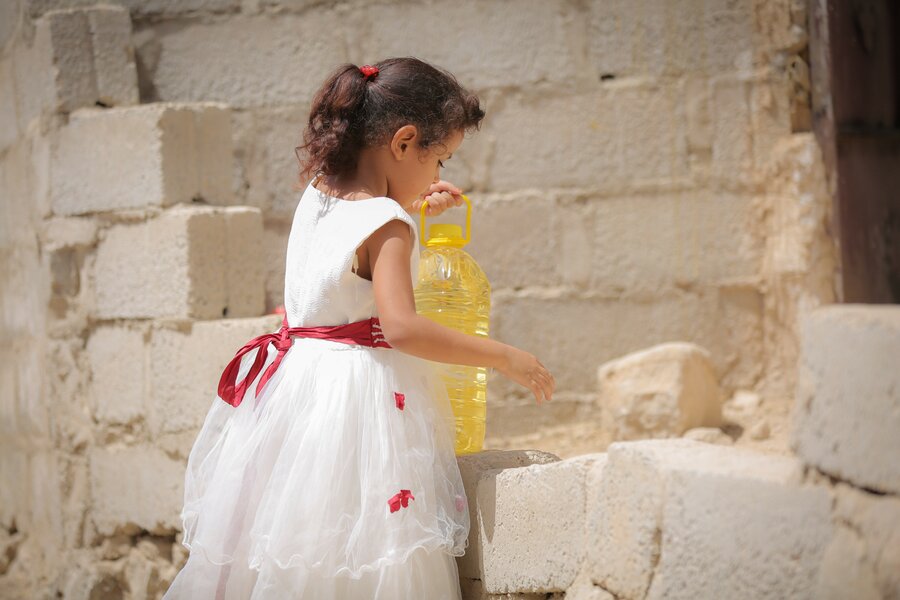 Food, vouchers and cash proved a lifeline for families on the brink, reeling them back from the most acute levels of food insecurity. A food security assessment showed that catastrophic levels of food insecurity had been reversed in 29 of the 45 most hunger-stricken districts.
None of this would have been possible without the support of WFP's donors, and without the flexible funding that meant money could be channelled quickly to those in most need.
'If there is stability, we can take care of everything'
Samir and his daughter Bonyan were among those receiving WFP's food assistance, though the father yearned for a day when he could support himself: "I wish for an end to the war so people can live peacefully, with security and stability. If there is stability in our lives, we can take care of everything," he said.
Another father, Salem, in Aden Governorate, explained the difference that cash from WFP had made to his family: "Cash assistance gives me the choice to buy food and other things. Now I can send my child to school again."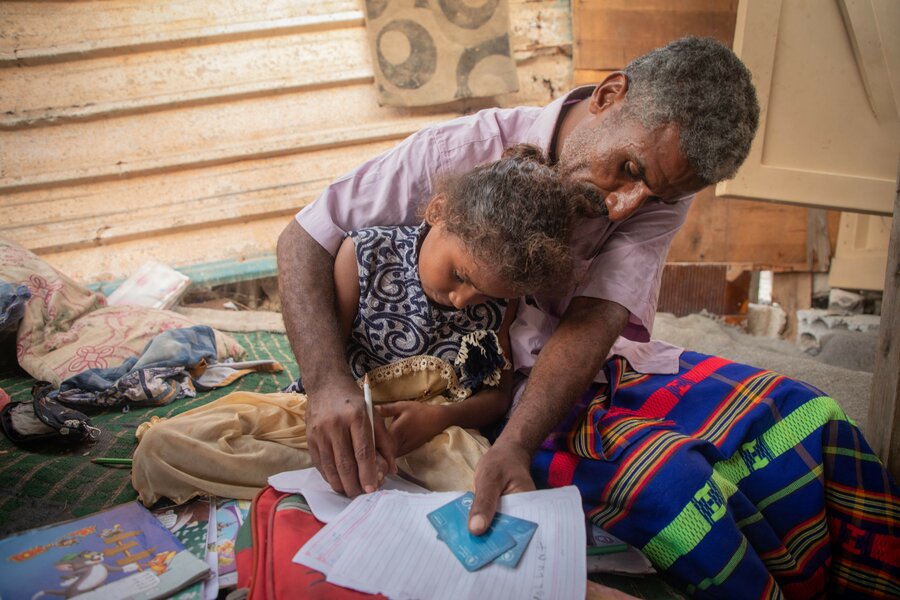 A total US$25.4 million for Yemen from WFP's Immediate Response Account prevented breaks in WFP's supplies that could have cost lives. Instead it meant WFP could procure supplies quickly from its Global Commodity Management Facility — an internal financing platform that enables the advanced positioning of food and cuts delivery times.
"The funding provided to the IRA was literally life-saving," said Country Director Laurent Bukera. "Had we not been able to secure these commodities, WFP would have been forced to either provide a reduced ration or reduce the number of beneficiaries assisted.
"Millions still face a daily struggle to find enough food however, and the further support of donors is essential so we can assist them."
South Sudan: Donors helped cut both response times and costs
South Sudan was another country pushed to the precipice in 2019. People faced unprecedented levels of food insecurity, with the combined effects of climate change, conflict and economic stagnation destroying lives and livelihoods.
Parts of the country were hit by severe drought in the first few months of the year, followed by widespread flooding from July that affected close to 1 million people and destroyed over 73,000 metric tons of cereals.
The scene was one of complete devastation. Tens of thousands of people lost their homes and were living in temporary shelters. Whole towns and villages were engulfed by rising waters. Many livestock also perished, while floods wiped out grazing pasture. The risk of disease among cattle rose too. This in a country that was still struggling to recover from years of conflict that had displaced 3.8 million people.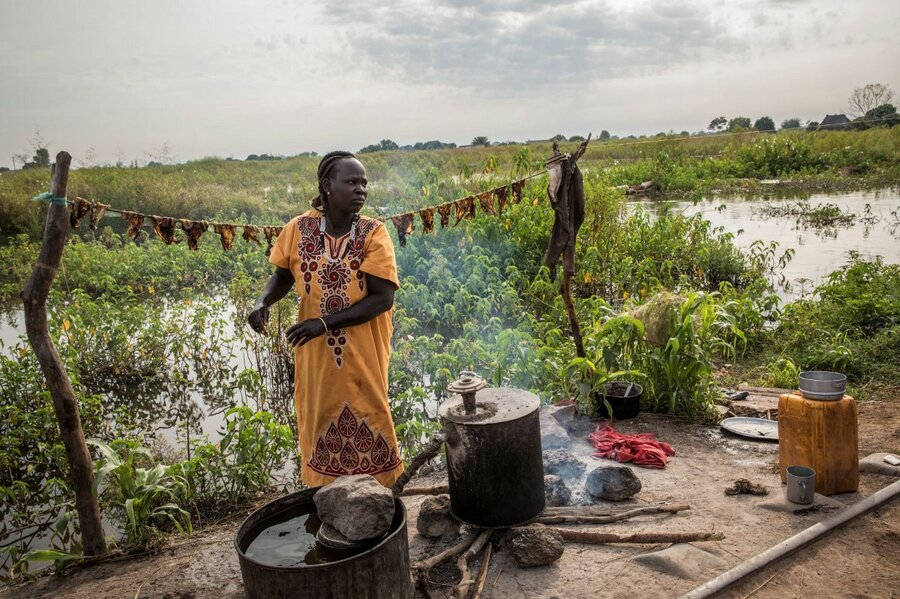 Yet the harshest conditions reveal the most striking levels of resilience among families in the frontline of crisis. Arach Mabior in Makuach village, 300 km south of the Sudan border, is typical among them. "My home is destroyed, the village school where my children attend classes collapsed, the harvest in our fields has been washed out and our future is uncertain, but I can recover it all, if there is peace."
Humanitarian assistance was a lifeline to communities bearing the brunt of disaster throughout the year. A key approach of WFP involves pre-positioning food, ensuring it can reach communities once rains begin in or around May and block access to 90 percent of towns and villages.
'WFP made significant savings by reducing the need for airlifts'
South Sudan received US$20 million from the Immediate Response Account in 2019, using the money to procure and pre-position 17,800 metric tons of food. In this way, WFP not only ensured immediate availability of supplies during the rainy season, but also made significant savings by reducing the need for airlifts that can cost up to 250 percent more than road or river transport. In addition, availability of IRA funding enabled the country office to buy and uplift available supplies from the Global Commodity Management Facility, which speeds up food deliveries by reducing supply lead times and allowing the purchase of food when market prices are more favourable.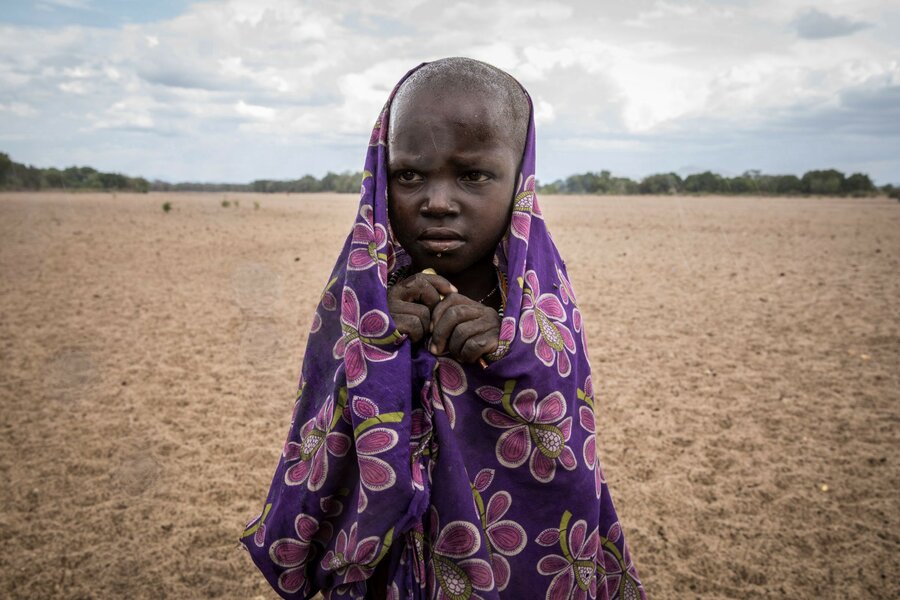 A further US$3.5 million in flexible funding also allowed WFP to address critical shortfalls which threatened the suspension of the most underfunded projects. A US$1 million was used for cash-based transfers, as part of WFP's emergency response, and another US$1 million for biometric registration under SCOPE. The remaining US$1.5 million was used to repay an IRA loan taken at the beginning of the year.
Burkina Faso: Funding meant food and better nutrition as conflict intensified
A surge in conflict saw Africa's Central Sahel region descend into crisis in 2019, displacing millions of people and leaving 2.4 million in need of food.
This in a region where high temperatures and lack of natural resources had already left farmers vulnerable to the destructive effects of climate change, with chronic levels of malnutrition, food insecurity, poverty and inequality across Burkina Faso, Mali and Niger.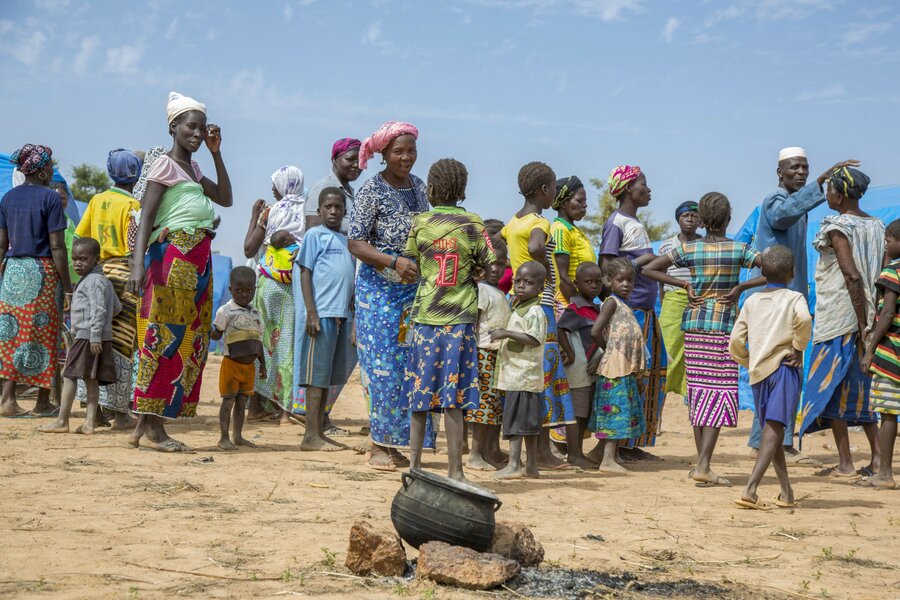 As WFP's director of emergencies Margot van der Velden said: "The Sahel is a tragic masterclass in how violence and extreme weather feed into each other."
Parts of Burkina Faso were in freefall, as the threat of violence triggered a 500 percent rise in the number of people fleeing their homes and moving south in search of safety — from 87,000 to 650,000 people.
'Flexibility in managing contributions has allowed us to fill important gaps'
Flexible funding of US$30.4 million across Burkina Faso, Niger and Mali proved vital in helping WFP reach 2.6 million people in Central Sahel 2019. In Burkina Faso, the funding helped to provide 287,000 IDPs and host communities with food baskets containing cereals, pulses and vegetable oil. In December 2019, WFP provided 4,171 metric tons of food.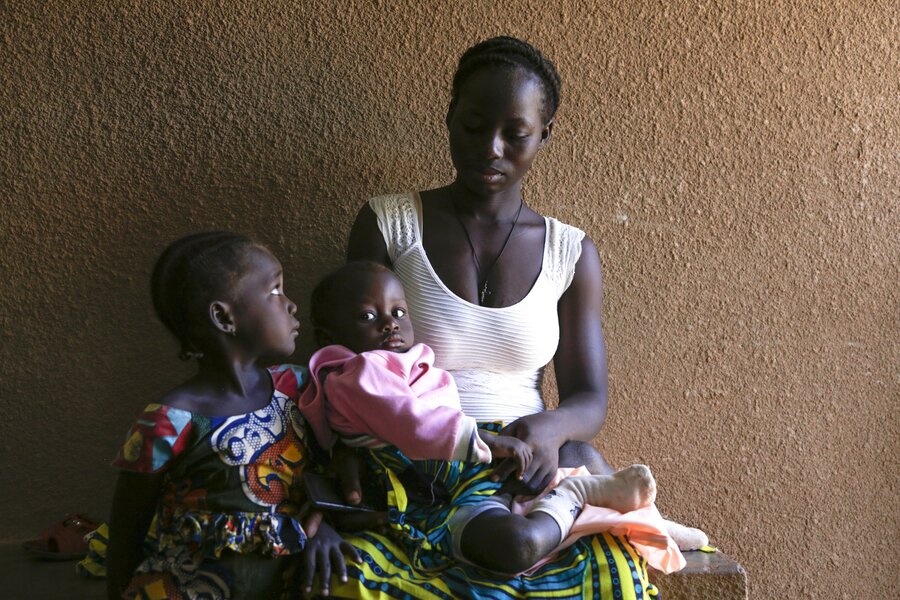 Burkina Faso Country Director David Bulman emphasized the difference that unearmarked funding had made: "Bravo to donors that allow us flexibility in managing their contributions. This has allowed us to fill in important gaps, and to provide food assistance which responds to the most important needs of the moment."
Flexible funding also supported the treatment of malnutrition, with WFP providing food and nutrition assistance to more than 28,000 beneficiaries, including more than 23,000 children aged 6–59 months and almost 5,000 pregnant and breastfeeding women. A total of 81 metric tons of nutritional products were distributed.
Money was also targeted at preventive actions that may reduce the need for funding in the long term. A total 104,200 pregnant and breastfeeding women, with children aged 0–23 months, learned about improved nutrition through 100 new local community groups in 2019.
Syria: Farmers' resilience stands out in the face of war
Amidst the devastation of Syria's nine-year old conflict, which has left 6.5 million people unable to meet their food needs and forced nearly 12 million from their homes, flexible funding has proved vital to communities scrambling to protect or rebuild their livelihoods.
A total US$16 million in unearmarked funding in 2019 allowed WFP to support families across the country, whose ability to grow food for their own survival had been severely undermined.
Ahmad Al Sheikh and his eight children depend on the land and the weather to survive. His farm is the source of food on the table, the money in his pocket and his hopes for a brighter future for his wife and eight children.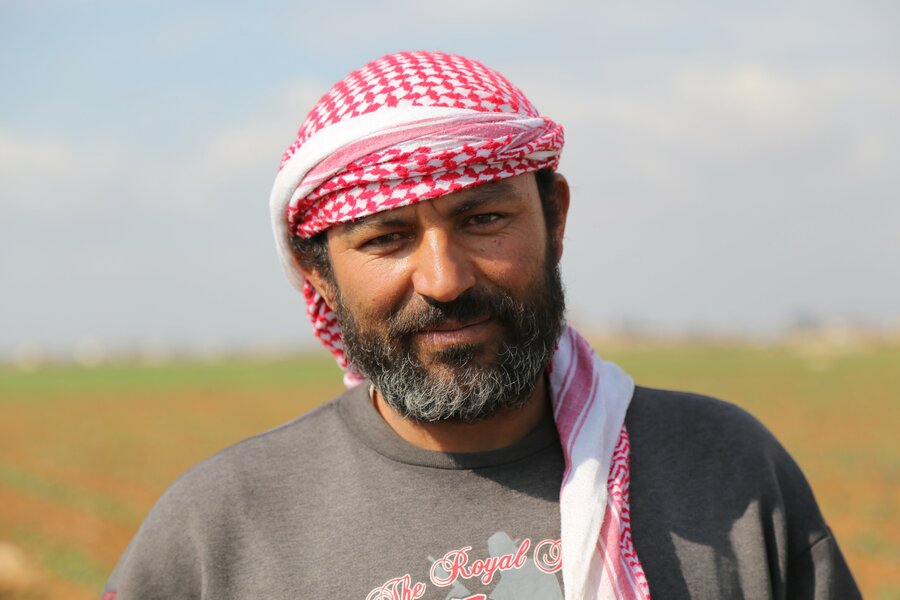 Ahmad considers himself one of the lucky ones. In rural Aleppo, his farm is surrounded by fields of green, but signs of destruction are never far away. The road to his farm is filled with houses that have been deserted as conflict forced his neighbours to flee in search of safety. But throughout nine years of conflict, Ahmad has remained.
"I grow tomatoes, wheat, cucumbers, eggplant, capsicum and many different vegetables," he said. "We eat part of our crop, sell some and we share what is left-over with families in our community who don't have enough to eat. Many families are struggling."
Ahmad's eight children are all aged under ten, so his brother helps him to plant, harvest and care for his crops. The food this family grows is critical, as it is their only source of income.
Ahmad received support from WFP to boost his harvest, including seeds, fertilizer, and basic agricultural tools. He also received training on how to adopt new farming techniques. An agricultural expert visited his farm twice per month and provided practical advice so Ahmad could grow food to support his family throughout the year. To avoid adopting negative coping strategies, Ahmad received food assistance during the lean season. Together, this support helped him to improve his family's diets and gain additional income from selling his surpluses.
'Everything in life works by hope, except agriculture'
"So far this winter I have planted many crops, but only the parsley, herbs and onions have started growing," he said. "I'll wait for the others, but the winter rains are a huge risk for us here. One bad downfall can wash away the seeds and limit the amount of food we can grow. Everything in life works by hope, except agriculture. The only way to make your farm a success is by working."
Families across Syria are facing increased economic pressures, and even families in rural areas feel the effects. The cost of seeds has increased ten times in recent years, and the price of pesticides has doubled. Finding spare parts for his farm equipment is becoming increasingly difficult and expensive.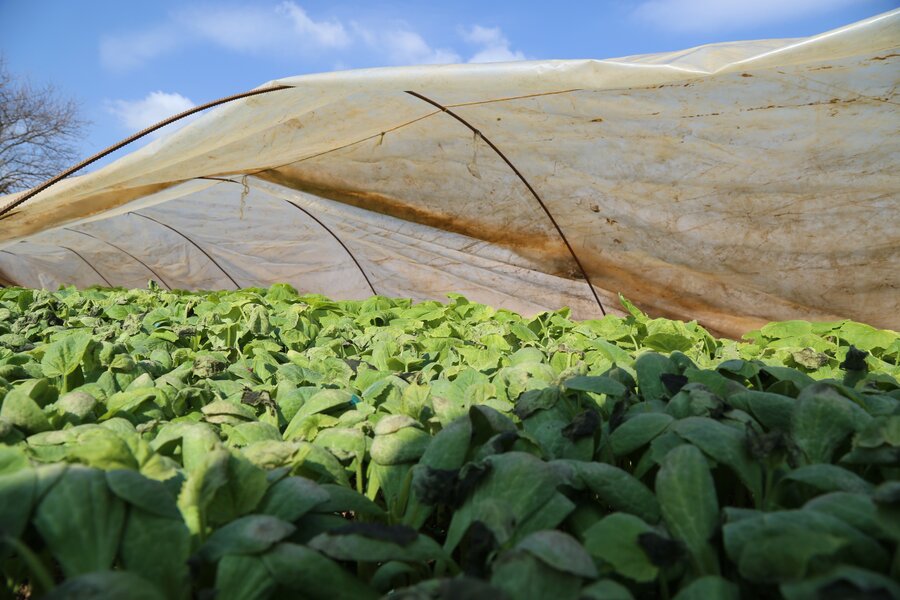 "It is getting more difficult to earn an income," says Ahmad. "The seeds and irrigation canal have made a huge difference for us. They have helped us to reduce our expenses and helped us to grow a steady supply of food."
Flexible funding from donors helped farmers like Ahmad meet their immediate food needs and invest in their futures. This support is critical to ensure that Syrians can become more self-reliant and help to re-build after years of conflict and displacement.
The same goal lies behind WFP's use of flexible funding to provide food to families in exchange for training in areas such as farming, plumbing and sewing so they are equipped with the skills to build better lives in the future.
While donors are helping WFP to change lives in this way, they are also helping to save them amidst the destructive impact of war. Contributions of US$1.6 million helped WFP provide the nutritional support essential to the survival and physical growth of Syria's next generation, and beyond this to the future prospects of the country as a whole.
'Flexible funding made a telling difference to each family reached by WFP in Syria in 2019'
By December 2019, WFP was dispatching nutrition products for the prevention of acute malnutrition and micronutrient deficiencies for 216,900 children across 13 governorates. WFP delivered supplies for the treatment of moderate acute malnutrition to Community-Based Management of Acute Malnutrition centres and mobile clinics. This was enough to meet the needs of 2,200 children and pregnant and lactating women and girls.
A further 58,100 pregnant and breastfeeding women and girls received nutrition support through cash-based transfers, to buy fresh food, including dairy products, meat, fruits and vegetables, from 108 WFP-contracted shops.
Flexible funding made a tangible difference to each family and each community reached by WFP in Syria in 2019, providing assistance that meant food was on the family table, that children did not go without the vital nutrition on which they depend, and that offered at least some hope for those most vulnerable to the effects of a ruinous conflict.
DRC: Cash helped families to survive and shape own futures
Millions of people have been driven from their homes by conflict in the Democratic Republic of the Congo (DRC). Those most affected by the violence are left with nowhere else to turn other than relying on humanitarian support, with the country facing the second-largest hunger crisis next to Yemen.
In 2019, WFP quickly scaled-up its food and nutrition assistance, reaching 6.9 million people with food and nutrition assistance through in-kind and cash assistance. This effort was assisted by a total of US$32.6 million in unearmarked contributions from our donors. Flexible funding meant WFP was able to provide displaced families with cash so they could buy food and other essentials. It also provided a kick-start for people to try and generate their own incomes.
Bahati Mitondo, a mother of four, escaped from ethnic clashes in Tshamwana village, near Manono town in the south. She is now settled in Mulange village.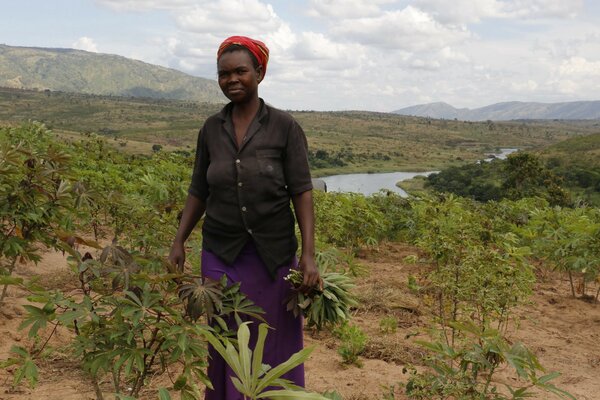 "Cash was helpful to buy food and pay school fees. But most of all, I could extend the field I've been exploiting since I arrived," said Bahati. "The soil is fertile here and I feel secure. It's like a new life here."
Yves Aklamavo, head of WFP's Field Office in Tanganyika province, explained: "Cash assistance boosts the local economy as the money is spent on local markets. Through this modality, WFP also scaled up its operations more rapidly, helping IDPs to survive and, in some cases, start changing their lives."
'The food serves as compensation for not being able to work'
Among the country's other challenges, which included heavy flooding in the northwest and large-scale displacement in the east, was containing the world's second-largest Ebola outbreak on record. Part of the money allocated to DRC was used to distribute weekly food parcels to people suspected of carrying the disease, meaning they did not leave their homes and potentially infect others. Weekly food distributions also helped contain Ebola as they encouraged potential virus carriers people to come forward and be registered as requiring medical care.
Kahindo Anastasie was identified as a suspected case after visiting her aunt, who contracted the virus, and received food from WFP and its implementing partner Caritas. "The food serves as compensation for not being able to work in the fields," she said.
Mozambique: Funding allowed for a rapid response where every second counted
The speed and scale of WFP's response to the devastation wrought by Cyclone Idai in Mozambique "transformed desperation into hope", according to WFP's Regional Director for Southern Africa Lola Castro.
Idai made landfall north of Beira, Sofala province, on 14 March 2019, leaving 1.85 million people needing humanitarian assistance. More than 700,000 hectares of crops — chiefly maize — were washed away before the main April–May harvest. Other key sources of income, such as livestock and fisheries, were also badly affected.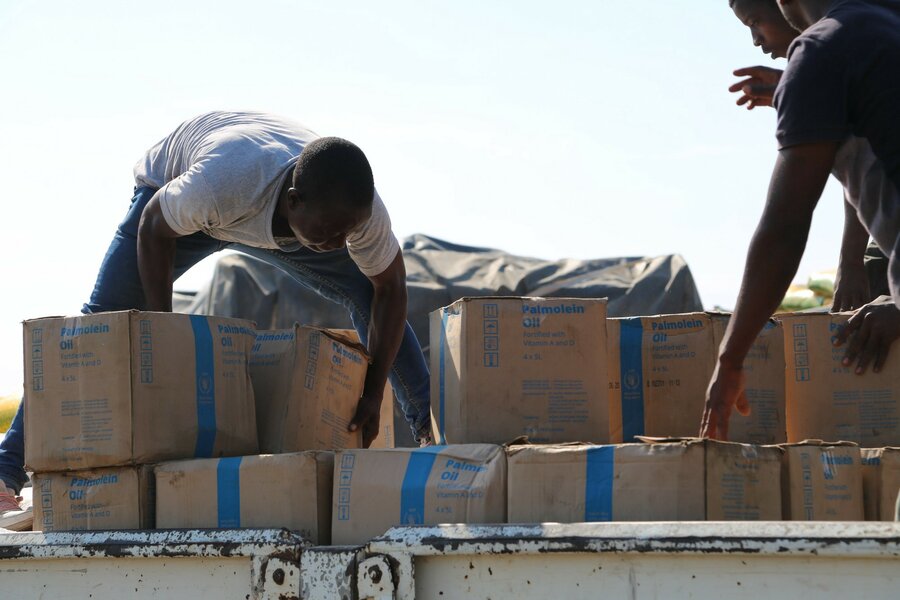 Just over a month later on 25 April, Cyclone Kenneth made landfall in Capo Delgado, northern Mozambique, driving thousands of people from their homes and into temporary shelters.
WFP supported 2.3 million people with life-saving food assistance in the provinces of Sofala, Manica, Zambezia, Tete, Cabo Delgado and Nampula, during the relief phase of the emergency response from March to August.
WFP's support in the aftermath of Cyclone Idai included 30-day rations of rice and maize meal, pulses, fortified blended food and vegetable oil. Where local markets were functioning, WFP gradually switched to cash-based transfers. A total US$55.8 in flexible funding, including US$40.5 million from WFP's Immediate Response Account, was critical in this response.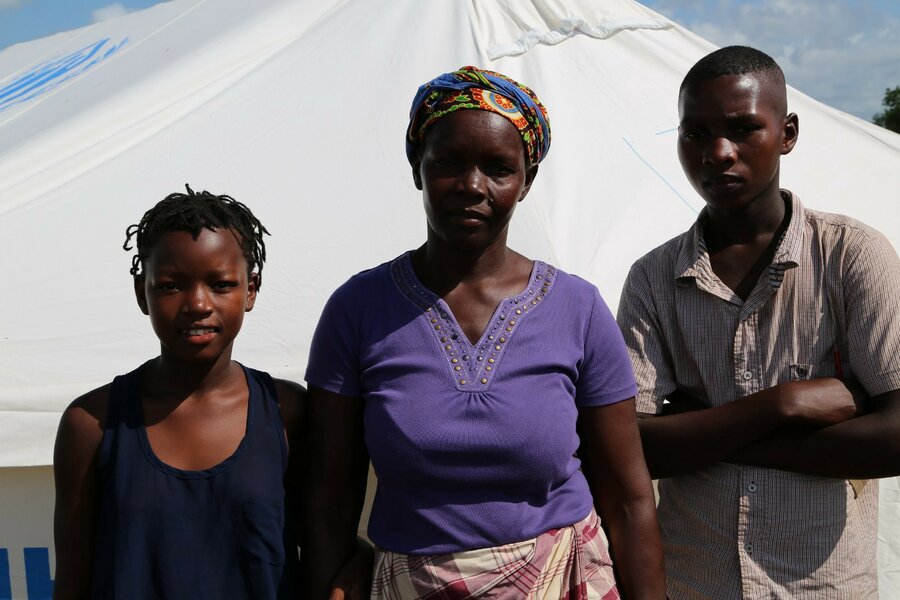 Among those to receive support was maize and rice farmer Maria João, after floods from Cyclone Idai washed away her house, crops and belongings. Her hope is to grow her own food after she was promised land by the government at Mutua resettlement area, around 45 km from Beira. "I just want to be able to work the land and grow food to raise my family," she says.
In preparation for Cyclone Kenneth, WFP had strategically pre-positioned stocks and had 564 metric tons of food — including maize, beans, peas, vegetable oil, salt and a fortified cereal mix — ready for distribution in and around Pemba, the capital of Capo Delgado.
'The timing of this funding was fundamental, as every moment lost could mean loss of lives'
In September, as part of the recovery phase, WFP provided food assistance to 625,575 people in Cyclone Idai and Cyclone Kenneth-affected provinces, working with local authorities and humanitarian partners. WFP provided vulnerable households with food assistance and vouchers to buy commodities.
"Both Cyclones idai and Kenneth, had a devastating impact on the lives and livelihoods of people," said WFP Deputy Country Director James Lattimer. "Many were stranded on top of houses and trees. Immediate funding after the cyclones played a critical role in delivering life-saving food to the affected people by air, boats and other means. The timing of this funding was fundamental, as every moment lost could mean loss of lives".
Zimbabwe: Bringing urgent assistance while providing future hope
Flexible funding came to the fore as Zimbabwe was swept up by crisis in 2019.
The country suffered its worst hunger emergency in more than a decade, with drought, flooding and hyperinflation plunging 7.7 million people — half of Zimbabwe's population — into severe hunger.
Donors' unearmarked contributions were critical in ensuring WFP could provide food to vulnerable communities in Mbire district, south of Harare. It also meant WFP was able to procure cereals ahead of the next lean season, a critical advantage in reducing the impact of this period on families. Beyond this, flexible funding provided the means for smallholder farmers to offset the worst effects of climate change on their livelihoods.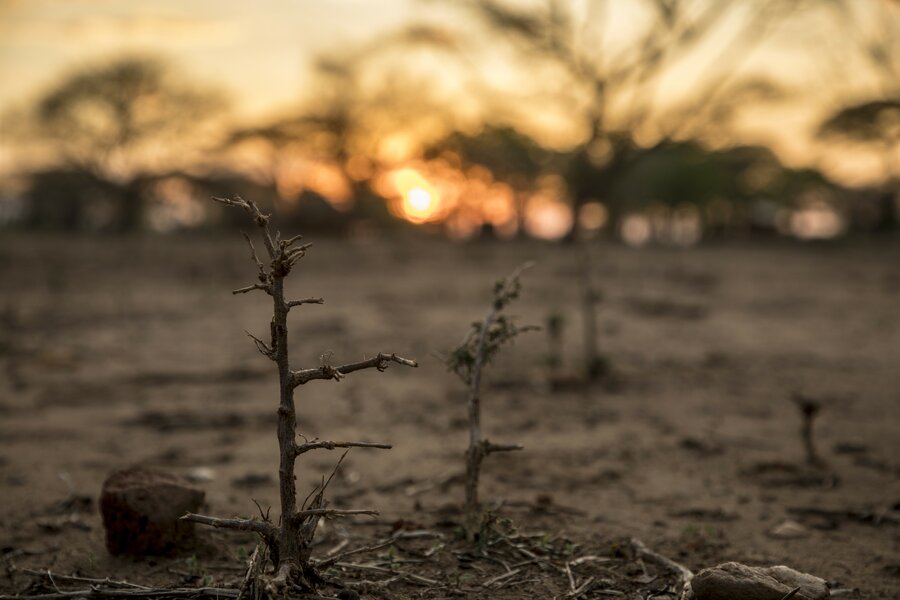 In the southeastern Matobo district, WFP provided cash to 9,000 people in exchange for work on community assets including drilling boreholes and creating solar powering for water pumps to support vegetable gardens. In the central Nkayi district, a sand dam was built to support gardens and orchards. In this way flexible funding helped build the resilience and self-sufficiency of families, which could in turn reduce their need for additional funding in the future.
Donors' support was also essential in preventing breaks in supplies to refugees through 2019, with contributions meaning WFP could provide enough cash for families to meet their monthly food requirements. Cash both allowed refugees to choose the food and other items that met their essential needs and boosted local markets.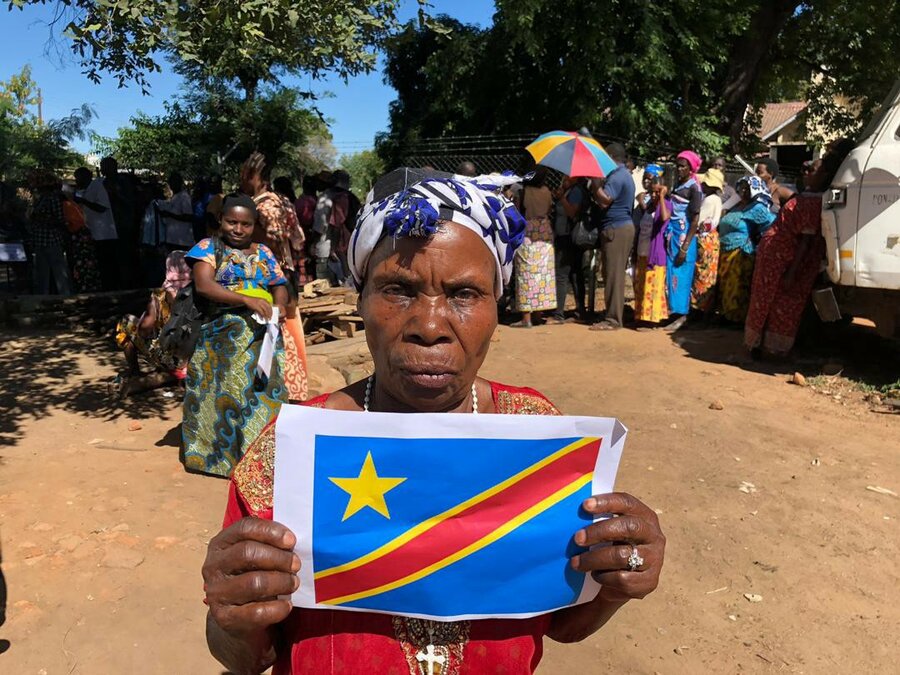 Among those refugees was Elizabeth Kandolo in Tongogara refugee camp, Chipinge district. She fled the Democratic Republic of the Congo but her children were killed and her home destroyed. "I miss my children, I thought they would bury me, but I was the one to bury them first," she said. "A part of me died on the day my children were killed,"
Geberetsadik Zweditu from Ethiopia had been in Tongogara refugee camp for 11 years, and gave birth to her two daughters there. "We are not allowed to work, so the money allows me to purchase food for my children so that they have the energy to attend school and do well," she said.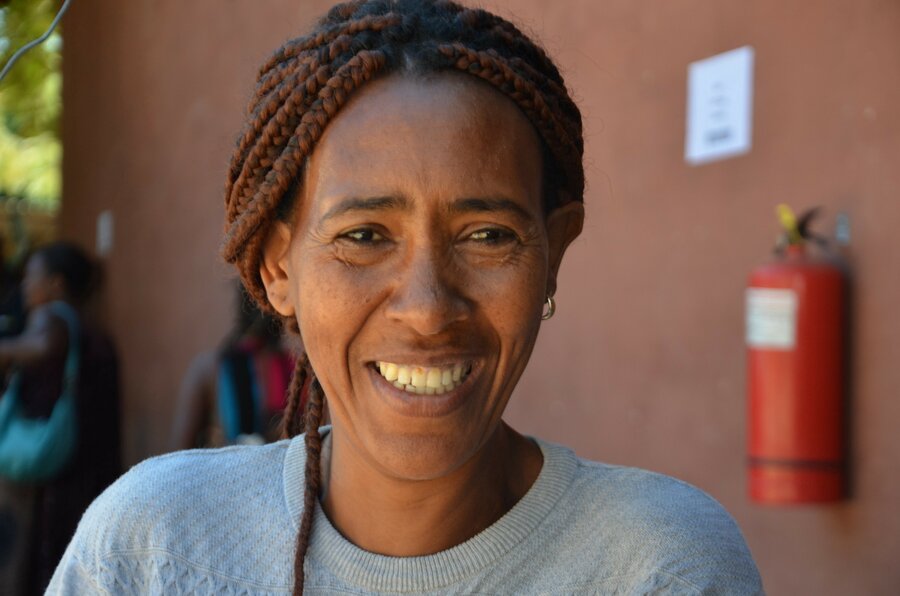 In summary, US$29.5 million in flexible funding, including US$14.5 million through the Immediate Response Account, meant WFP could respond to the most urgent needs in Zimbabwe and also create the conditions for farmers to become more resilient and self-reliant in the long term.
Palestine: Food vouchers help women trying to emerge from the past
It is women and children who usually suffer most amidst the poverty of Palestine.
Women like Raeda in Gaza, whose husband abandoned her and their seven children after his debts spiralled out of control. She relied on credit and charity from relatives and friends just to secure basics such as groceries and clothes.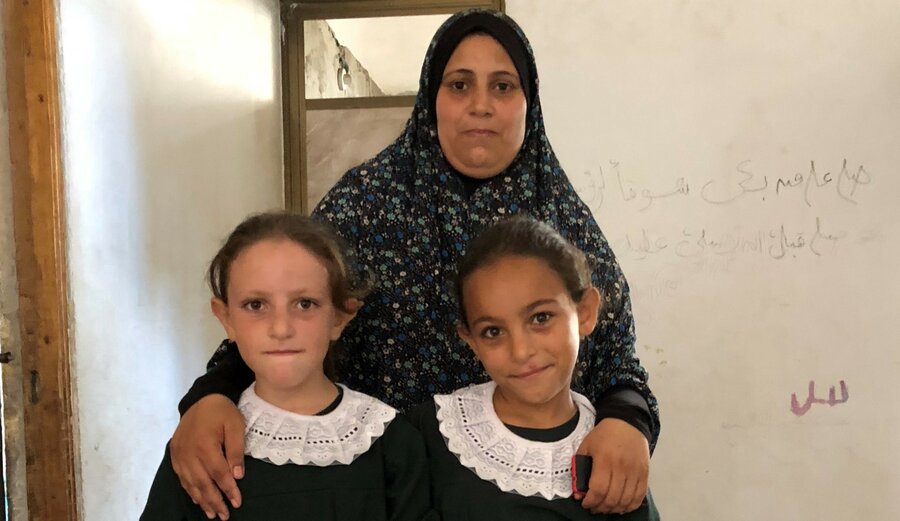 Women like Azza, also in Gaza, who was left struggling to provide for her eight children after her husband lost his job overseas and had to return. And women like Yara, also abandoned by her husband and left to fend for her five children.
Their everyday reality is one of conflict and of limited opportunities, as trade and access restrictions blight the economy and drive up unemployment. Here, flexible funding helped provide a lifeline.
'Life without the food voucher is unthinkable'
It came in the shape of electronic food vouchers, provided to more than 260,000 food insecure non-refugees in Gaza and the West Bank. Around 20 percent of families are headed by women who have been either divorced, widowed or abandoned.
For Raeda, the US$80 provided each month meant she could provide the range of food her growing family needed, including dairy. It also meant an education for five of her children — after her sons had to quit early in order to make money for the family.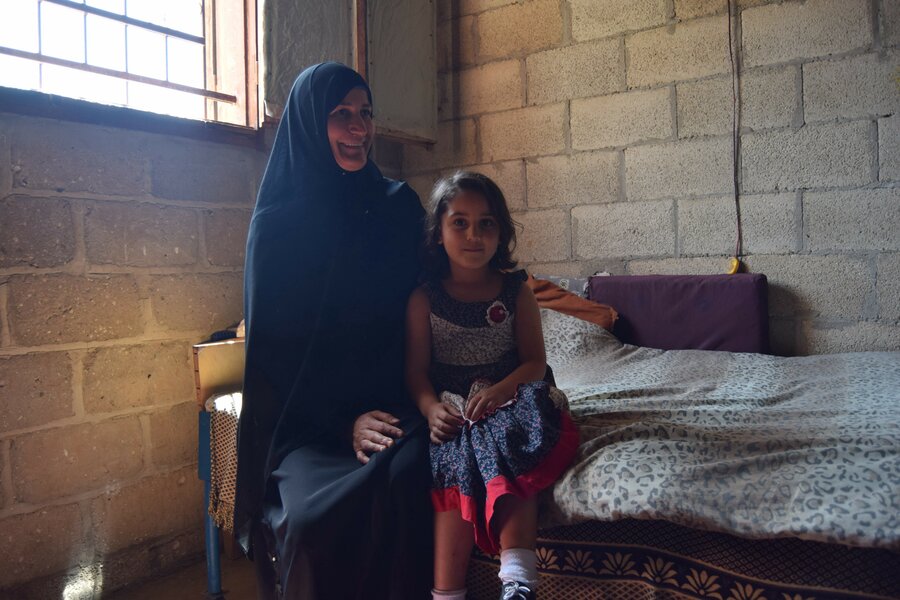 "Life without the food voucher is unthinkable! At least I can keep my other children in school," she said. That schooling could prove vital in arresting the cycle of poverty that traps families like Raeda's. For Yara, the money meant she could buy food including eggs and flour in bulk from a WFP-contracted store nearby.
This support can also empower women, providing the means to generate their own incomes and become more self-reliant. Azza's story is testimony to that. "The food we receive through WFP's electronic voucher has helped me cope and has even given me the peace of mind to come up with ideas that have changed the course of our life," she explained.
'I am driven by my passion to build a better future for my children'
Azza started a small business in her own backyard, buying 12 chickens and selling the eggs. She then harnessed her skills in preparing bread and pastries, selling them in a nearby shop. "I am driven by my passion to build a better future for my children, and this small business helps with their school fees," she said.
Palestine received a total US$29.6 million in flexible funding in 2019. These contributions are priceless to women like Raeda, Azza and Yara, providing the means to put food on the family table, keep children in school and even create the opportunities for families to become less reliant on WFP and other agencies in the longer term.
Rwanda: Funding allowed school meals to continue in camps
Flexible funding in Rwanda was the difference between providing food and nutrition assistance to 150,000 refugees, and introducing ration cuts that had loomed large over the camps for months.
Schoolchildren within the camps no longer faced the prospect of learning on an empty stomach. Instead, flexible funding meant access to nutritious food to help their vital physical development, and to an education that could change their long-term outlooks.
"School is the only hope for our future," says Elie Ndagijimana, a university student and refugee studying at Kepler University Programme in Kiziba camp, Rwanda.
WFP's school meals programme reaches over 57,400 boys and girls in primary schools, of whom 21 percent are children from host communities who attend the same school as refugees in and around six camps. Each child in primary school receives a daily cup of nutrient-rich porridge.
Among them is 9-year-old Alexis Mushimimana, who dreamed of becoming president of DRC and leading his country to peace and development. "I love this porridge because it makes me feel very energetic and ready to study hard up to university. I never imagine how we could study without it," he said.
The impact of donors' support to school meals extends beyond the children too, creating job opportunities that can help refugees improve their lives.
Marcianne Mukagatare, a widower who is in Kiziba camp with her five children, earns US$20 a month as a cleaner in the school. "Thanks to this opportunity I can clothe my kids and diversify food, which is a big challenge for families here in the camp," she explained. She is one of 56 people employed by the school meal programme in Kiziba camp, a programme that WFP implements through its partner the Adventist Development and Relief Agency (ADRA).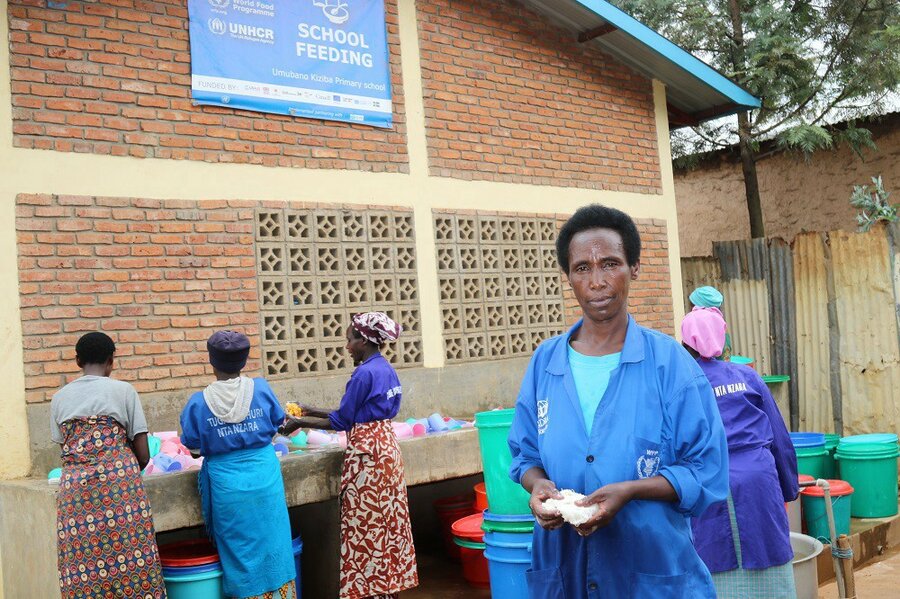 Flexible funds played a further critical role in supporting work to prevent malnutrition. Nutrition education for refugees included creating gardens for growing vegetables, while smallholder farmers were issued with nutrition messaging so they might produce as well as buy and eat more nutritious food.
Constant innovation underpins WFP's efforts to achieve zero hunger, and here again flexible funding helped in Rwanda in 2019. Donations supported the use of the Farm2Go app, a digital tool for farmer cooperatives to collect real-time data from smallholder farmers and their cooperatives. The app allows the ordering of farming materials as well as providing access to finance.
In Rwanda, the impact of US$9.3 million in flexible funding cut across WFP's range of activities. Funding helped WFP not only address the immediate needs of vulnerable people, but to boost local productivity and thereby the food systems essential to sustained growth, while also promoting the health and potential productivity of the next generation.
Ethiopia: Donors fuelled children's education and ambition
In neighbouring Ethiopia, refugees attending school could similarly look forward to nutritious food while receiving an education that might alter the course of their lives. It was part of Ethiopia's allocation of US$11.9 million in flexible funding that made this possible. Donors helped fuel the dreams of children like Mohammad, who shouted: "Teacher, teacher, I want to be a teacher!," when asked by WFP about his career ambitions.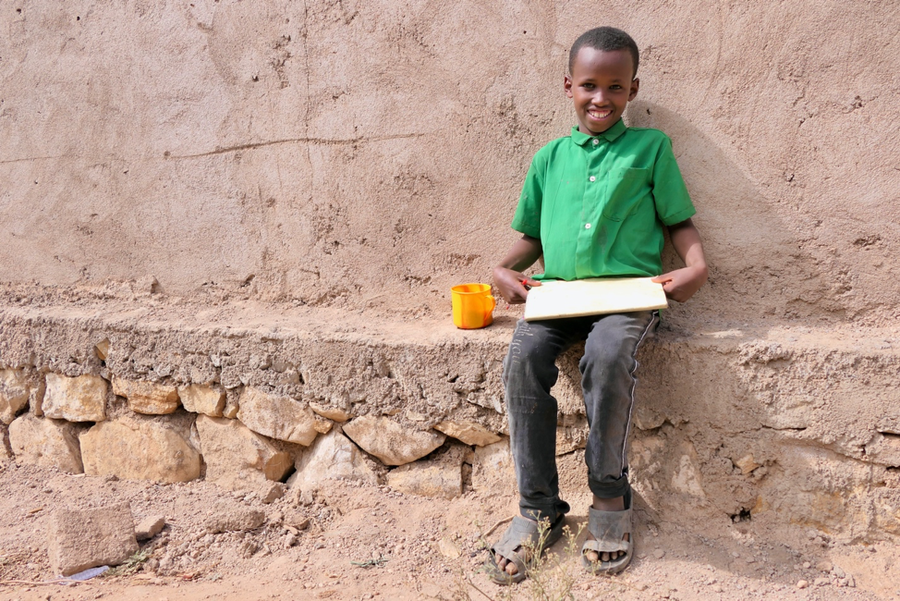 During WFP's visit to a school in Kebribayah refugee camp, Somali Region, there was flurry of activity ahead of break-time. Three kitchen workers had five minutes to arrange 1,000 orange plastic cups ahead of the school's morning break. It looked chaotic, but was a well-rehearsed operation — the first of two daily school feedings.
Many refugee families send children to camp schools on an empty stomach, making it hard for pupils to focus on lessons. "I used to have pupils sleeping in my classroom, but that doesn't happen anymore," explained Tsion, one of the school's teachers. Meals also act as a strong incentive for parents to send children to school rather than making them work.
Each child receives 100 g of super cereal, cooked as a porridge, and 20 g of sugar every school day. In 2019, generous flexible contributions were used to sustain this school meals activity and ensure the provision of consistent daily hot meals.
Thanks our donors, WFP continues to provide hot meals to 120,000 children in 26 refugee camps throughout Ethiopia, keeping hunger at bay and nurturing dreams like Mohammad's.
Afghanistan: Women empowered to break out of poverty
Flexible funding of US$4 million helped change the lives of women living under the shadows of conflict in Afghanistan.
Among them was Rahila from Wardak province, who is married with two children. She took part in vocational training organized by WFP and NGO partner Female Rehabilitation & Development Organization, with 1,000 women gaining skills in sewing bags and weaving carpets — and many keen to start their own small businesses.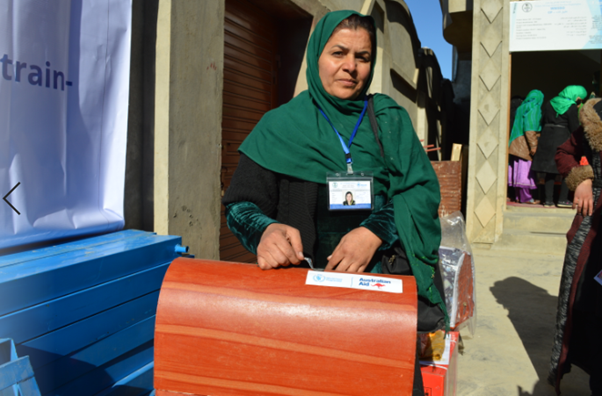 "During the six-month training, I learned how to make handbags for women," said Rahila. "Now I will start making bags at home to sell on the market. My husband is a day labourer and has no fixed income. With the money I make, I will help our family buy food and other necessities."
Technology is another way that WFP is working to ensure Afghan women can take charge of their futures, with SCOPE cards allowing female-headed households to buy food for their families from select markets and shops.
In this way, donors are helping build a better, self-sufficient future for those previously denied an opportunity to gain an education or generate an income.
El Salvador: Support encouraged farmers to remain on their land
WFP's work with farmers in Central America's Dry Corridor helps combat the worst effects of climate change and provides an incentive for them to remain on their land rather than migrating in search of work.
Salvadoran farmer José Cirilo Mendoza provides a case in point. He learned farming from his father, but embarked on a perilous journey to the United States after five consecutive years of drought wrecked his hopes of providing for his family.
"Nowadays we harvest half as much as we used to, if not less. Sometimes we lose our crops and have to buy the food we need for the year," said José. "This is why I decided to leave: I needed to work, lift myself up, be somebody and do something."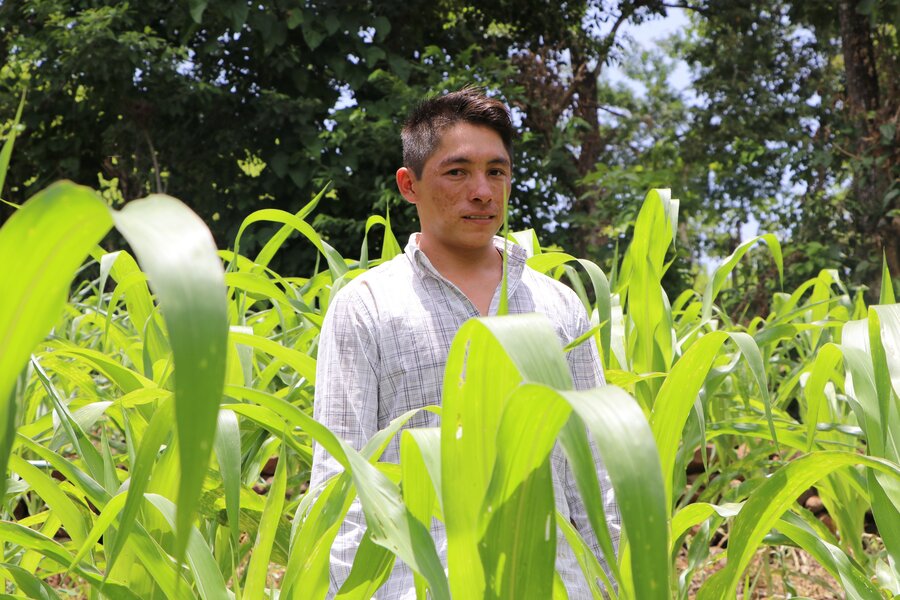 After being caught and returned to El Salvador, he is among farmers learning about climate resilience-building activities including soil conservation, creating watersheds and water harvesting.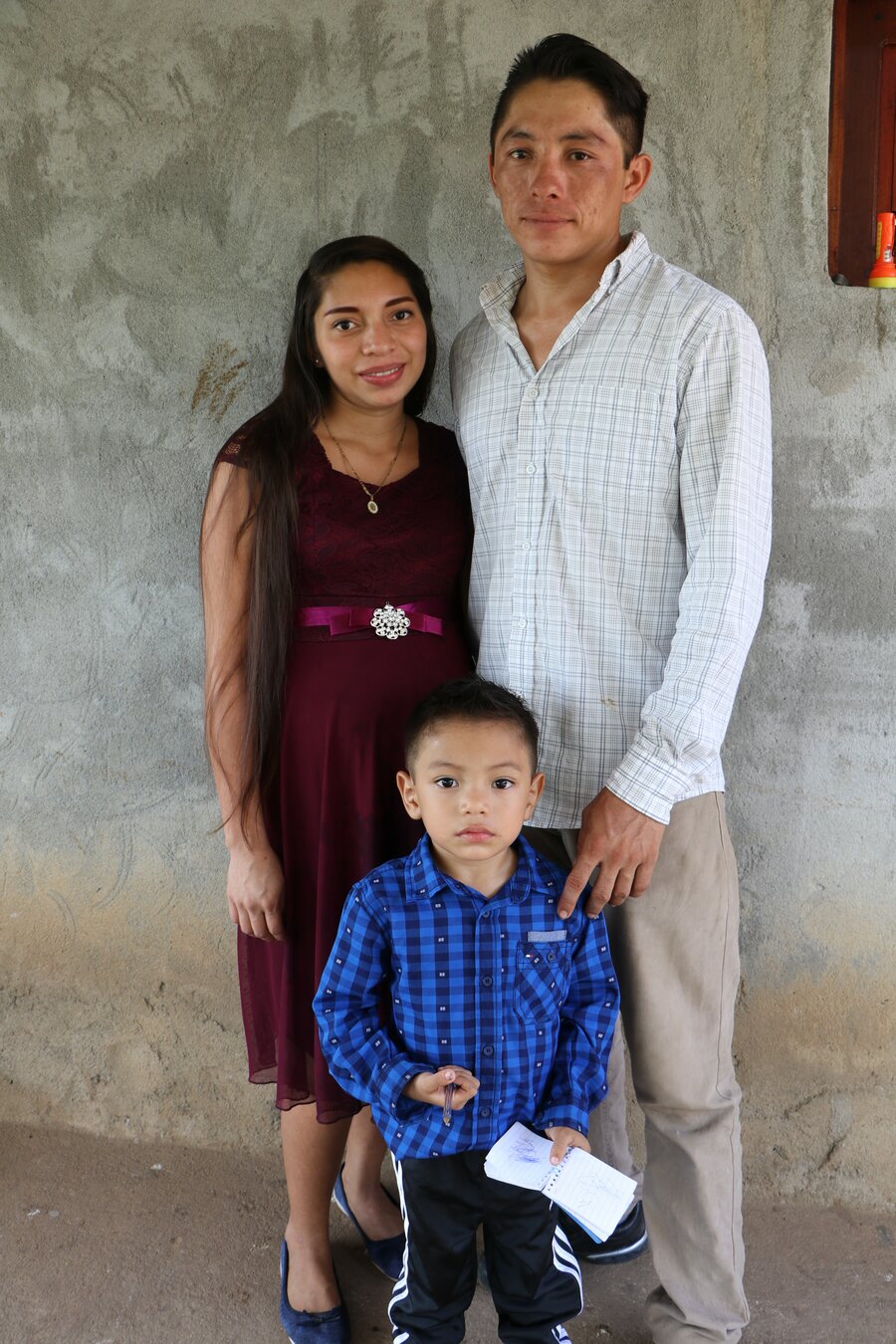 José Cirilo participated in a WFP project funded by part of the US$3.8 million provided to El Salvador in flexible funding.
Through the project, members of José's native San Andrés community received cash transfers as they set up their own community orchard, where they could grow fresh vegetables such as tomatoes, green peppers, eggplants and radish.
"It's hard having a family and not knowing how to prosper, how to feed them. Wanting to see them grow healthy, and not having the necessary resources," says José. WFP's project has helped us a lot financially — now I can buy corn, which is what we need the most. If things go back to what they were before the drought, I will stay here in El Salvador. Otherwise, I think I will leave again because there is no work here. One can't survive."
Flexible funding can help thousands of other farmers like Cirilo from deserting their lands in El Salvador as well as in Guatemala, Honduras and Nicaragua, with more than 2 million people affected by drought.
Myanmar: Donors' money meant food and an education for children
In Myanmar's Rakhine, Kachin and Shan states, over 700,000 people are food-insecure, with little to no access to livelihoods to support their families. Each month, WFP provides food or cash assistance to approximately 300,000 of these people, helping families meet their basic food and nutrition needs.
Sar Bu Nar Har, a head of household from Pike Thay village in Minbya Township, central Rakhine, has struggled to find income to support her family of six, including an elderly grandmother and young children. Selling vegetables, along with some irregular casual labour work, earns her a daily income of just MMK2,000 (US$1.40), which only covers a small portion of the family's daily expenses.
"Now we don't need to worry about food as we were selected for WFP food assistance as a female-headed household," she said. With basic food needs provided for, she is saving her small income to repair her damaged house, and her children have been able to return to school.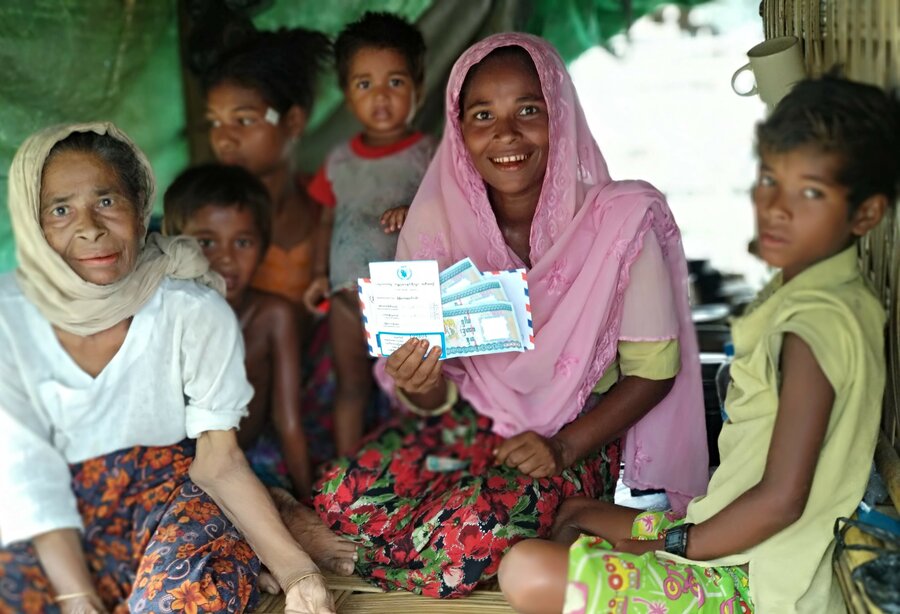 In 2019, WFP was able to sustain relief and nutrition assistance distributions each month without any pipeline breaks, largely due to flexible contributions which could be mobilized quickly to cover approaching funding gaps. In fact WFP extended its monthly response, to support up to 13,500 additional people displaced by fresh escalation in armed conflict between the Myanmar military and the Arakan Army, an ethnic armed group in Rakhine State.
Ultimately, flexible funding of US$22.7 million helped WFP to respond efficiently and reliably in complex conflict-affected areas of Myanmar, ensuring vulnerable girls, boys, women and men with few available options to provide for themselves were able to meet their basic food needs.
WFP thanks all its donors for their critical support throughout 2019, and for flexible funding that enabled a fast, decisive and cost-efficient response in areas where it was most needed. With donors' continued support in 2020 and beyond, WFP can ensure it reaches those who depend on it for their lives, now more than ever as COVID-19 threatens a hunger pandemic of its own. Ultimately, this funding can help improve countries' self-reliance and reduce the need for financial resources from other countries in the long term.
This report draws in part on previous articles on WFP Insight, with authors and links listed here: Afghanistan: Ann Nallo; Burkina Faso: Peyvand Khoshandi; DRC (Cash & Ebola) Jacques David; El Salvador: Jonathan Dumont; Rwanda: Noel Dukuzumuremyi; Palestine (Azza's story): Yasmine Abu El-Assal / Palestine (Raeda's story): Raphael du Boispean / Palestine (Yara's story): Kelly Stablein; South Sudan: Tomson Phiri; Zimbabwe: Tatenda Rodney Macheka; Mozambique: Rafael Tarasantchi
New articles within report: Ethiopia: Ed Johnson; Myanmar: Silja Lehtinen; Syria: Jessica Lawson
Previous reports: 2018 |2017 | 2016 | 2015 | 2014 | 2013 | 2012