Ukraine one year on: WFP Country Director on minefields, looming threats and 1.3 billion meals provided to millions of civilians in need
LONG READ FEATURE: WFP's Matthew Hollingworth looks back on 12 months of humanitarian operations in Ukraine and shares key concerns, achievements – and an urgent pitch to global leaders
, Matthew Stevens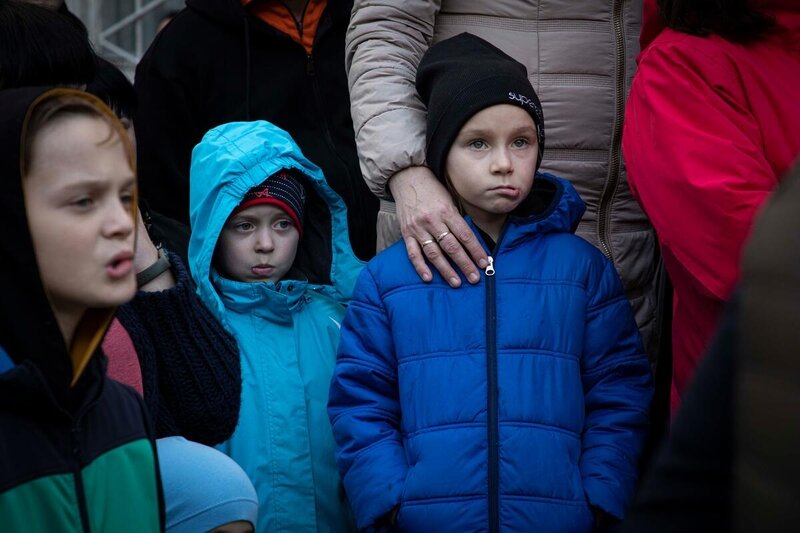 In Ukraine, it's the scale of things that strikes one the most – the scale of the challenge, of the threat, of the country itself.
"We spend days on the move every month," says Matthew Hollingworth, the World Food Programme (WFP) Representative and Country Director in Ukraine. "And I mean that literally – days travelling, on the road. In trains, in cars, on our way to frontline communities in Kherson, Mykolaiv, Kharkiv, Donetsk, Zaporizhzhia. Because this nation is simply enormous, and we can't fly anywhere without open airspace."
It is along these journeys that the sheer vastness of this country – the second largest in Europe after Russia – becomes manifest, along with the enormous apparent contradiction of having to set up emergency food operations in the "breadbasket of the world".
"You travel from west to east and come across farms that take an hour to drive past," adds Hollingworth, who has just returned from one such journey, to Odesa. "Field upon field of the most unbelievably fertile land." 
We shouldn't need to be here – but we are.
And yet, when  full-scale conflict broke out on 24 February last year, that abundance of food – enough to feed 400 million people around the world – was suddenly of little comfort or use to those whose lives were threatened by war.
People from every walk of life had their lives and livelihoods interrupted, families focused on getting their loved ones to safety, young and old joined together to defend their nation, supply chains were destroyed and food systems ground to a halt.
"We're delivering food assistance in one of the most fertile countries in the world. It's perverse. We shouldn't need to be here – but we are and we do." 
One year ago today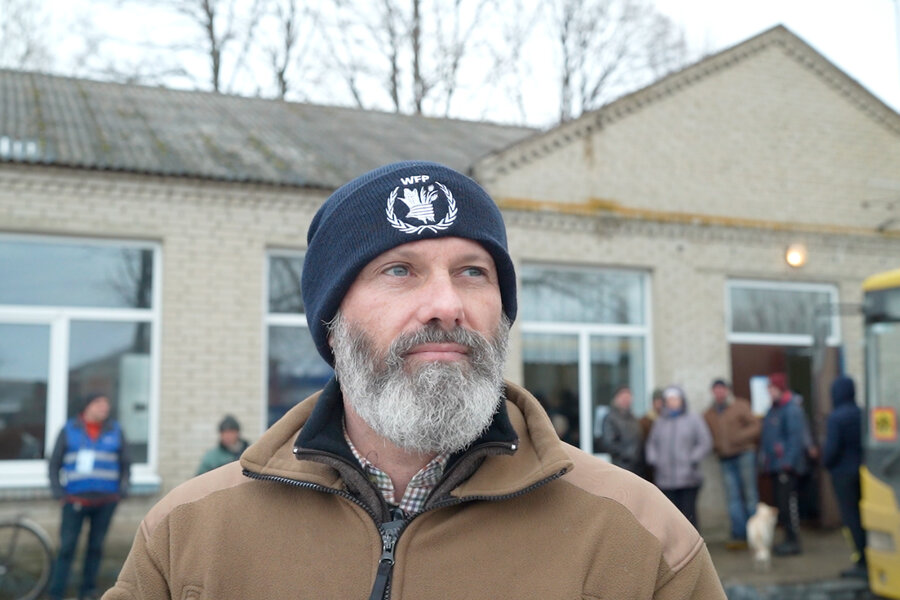 One year ago, WFP did not have an office in Ukraine. This lower middle-income agricultural powerhouse did not require one any longer, and operations shut down in 2018. That – and much more – changed dramatically in the days following the invasion.
WFP moved quickly to reactivate operations in and around Ukraine, engaging with international and local partners. Within weeks, WFP had reached over a million people with food and cash assistance, including in encircled or embattled areas.
"It was still very much at the beginning of everything when we arrived," says Hollingworth. "There was a great deal of fear and of movement, with five million people fleeing the country, five million internally displaced – most of them women and children."
Kyiv was attacked and it looked to anyone watching the news that perhaps Ukraine would be defeated very quickly. "Twelve months later, we know that that's certainly not the case."
Collateral hunger and the Black Sea Grain Initiative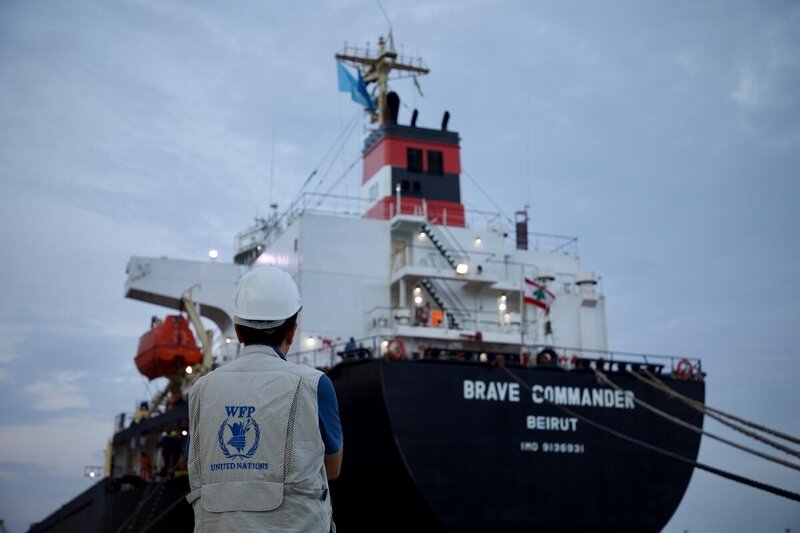 The war's effects swiftly rippled outwards. Food, oil and fertilizer prices soared, affecting vulnerable communities in countries thousands of miles away – 20 million of them in the Horn of Africa alone. Food stopped flowing out of Ukrainian ports, meaning humanitarian operations were also seriously undermined – Ukraine was WFP's single largest supplier of food.
When the Black Sea Grain Initiative was signed in July, opening up ports in the region for humanitarian operations, it brought some respite.
"This initiative is critical," says Hollingworth. "Since it was introduced, we've transported over 480,000 metric tons of wheat out of Ukraine, supporting operations in Ethiopia, Yemen, Afghanistan, Somalia and beyond. And we represent a fraction of the 21 million metric tons exported to date. This initiative has also led to an easing of global food prices – at a time when that is critical for so many. It also gives a reason for Ukrainian farmers to keep on producing."
1.3 billion meals provided – and counting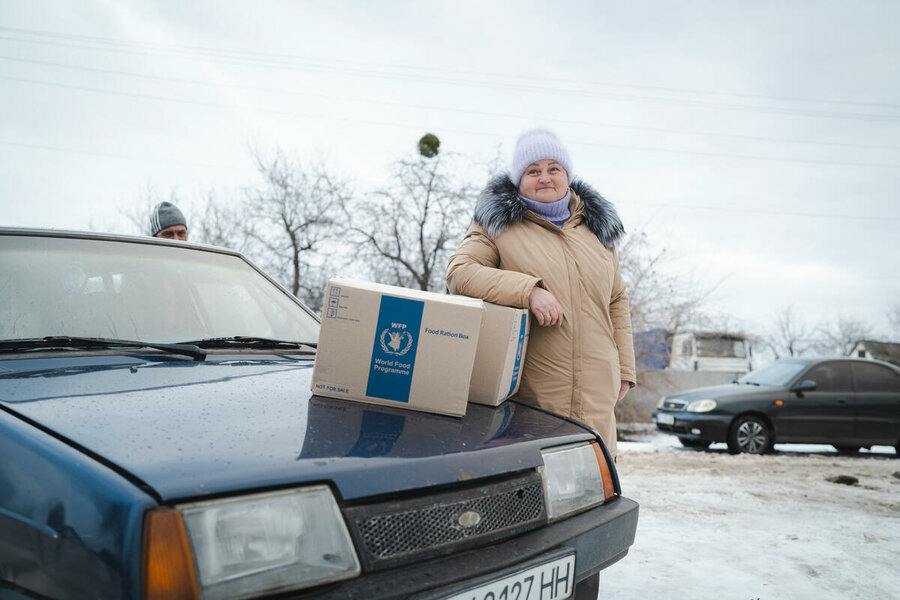 Another year, another winter.
On the weather front, things are somewhat manageable. "We've had a couple of cold snaps, but it could have been much, much worse, in a country where temperatures drop to -20°C in winter," says Hollingworth.
Another positive note in this otherwise dramatic situation is the number of people supported by WFP over the past twelve months.
"We've provided the equivalent of 1.3 billion meals to people in Ukraine so far, through direct food supplies and cash assistance."
WFP has supported more than 10 million people to date in the country. "That's unique individuals supported, not the same people," Hollingworth clarifies. "And, for the last few months, we've consistently reached three million people per month, every month."
Today, over 80 percent of WFP aid is directed at those living near the frontlines. Here, what little food is available if often sold at exorbitant prices. "So that's where we focus our efforts," says Hollingworth.
And, increasingly, that food is sourced here, in Ukraine. "We went from running an operation that relied on importing food from outside the country, to one that sources 85 percent of food internally – buying from local farmers and retailers, supporting the local economy."
When conflict finally wanes and peace prevails, we at WFP could put ourselves out of a job here faster than anywhere else I've been to
And that element – forward-looking bolstering of Ukraine's food systems and economic foundations – is key. "Part of what we're trying to do is ensure that a country that could feed itself and the world is in a position to do so again as swiftly as possible once the war is over." That's why WFP aims to hand over its operations to capable partners – including the country's ministries and local stakeholders – that can continue to deliver for the people of Ukraine as soon as that is a viable option.
The largest single humanitarian provider of cash assistance, WFP has supported over 2 million people here with money transfers and vouchers, helping them buy household essentials while, crucially, pouring more than US$ 400 million into Ukraine's economy.
A veteran of WFP warzone operations, Hollingworth says Ukraine differs in one critical aspect from all others he's been deployed to. "As a global food producer and lower middle-income country, Ukraine could get back on its feet relatively quickly. When conflict finally wanes and peace prevails, we at WFP could put ourselves out of a job here faster than anywhere else I've been to – and that's a good thing."
Peace of course being the key – and currently missing – element.
 
Agricultural minefields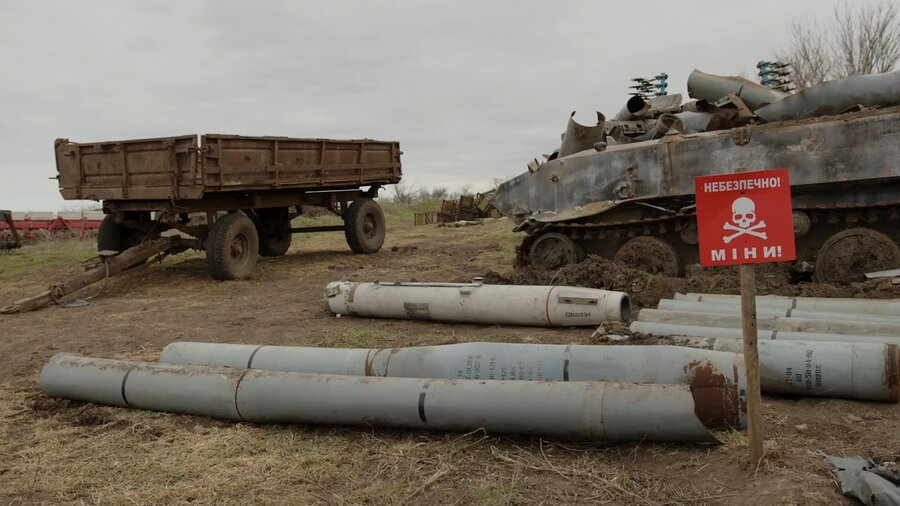 The fields of Ukraine are now sown with mines, remnants of war, unexploded ordnance. And these keep piling up.
"This now affects large swathes of previously cultivated land in Ukraine," says Hollingworth. "And we know from other conflicts that – if unaddressed – this could be a major challenge for farmers for decades to come."
That's why WFP is working with FAO, the Ukrainian Ministry of Agrarian Policy and Food, the Fondation Suisse de Déminage and other partners to support mine-clearing efforts and raise awareness among small farmers – who account for a staggering 40 percent of the country's agricultural output.
"Today, we spend US$100 million feeding farmers who until a short while ago were part of a sector that produced enough food to feed 400 million global citizens each year. With a one-time investment of US$100 million, we could potentially clear the mines and put up to 100,000 farming families back to work – with a massive return on investment for everyone."
Threats to civilians and a pitch to global leaders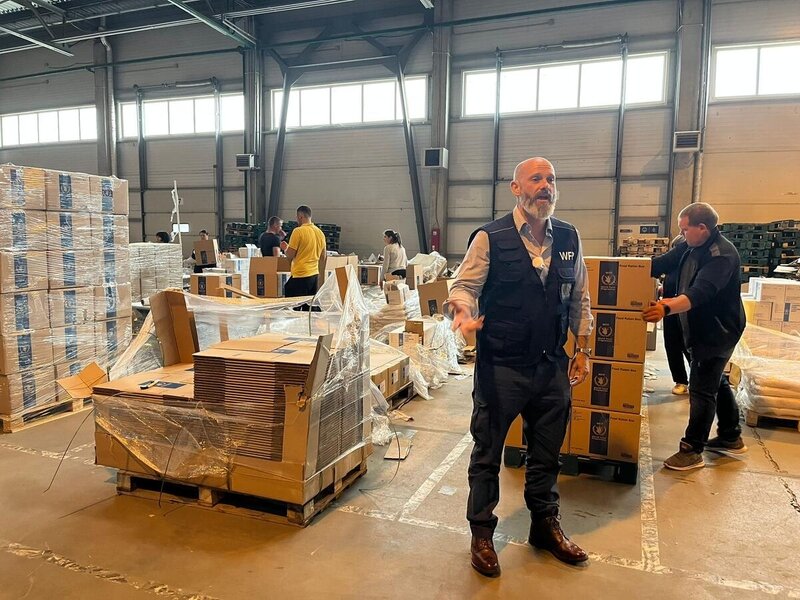 The key threat to civilians now is an escalation of the conflict. "And, frankly, it's not something we're expecting – we're already living it," says Hollingworth. "Along the frontline, we're seeing increased shellfire, and displacement, and destruction in cities and towns."
WFP is already planning for when some of the communities it serves today might be unreachable in coming weeks. "The line of control might shift, and we're preparing for that – prepositioning food in a 10 km range of the front line, in areas that might be cut off from our consistent support."
While these communities are a concern, those who are already out of reach today are an even graver one.
"The thing that should worry everyone – that keeps us awake at night – is that we've had no major success in serving the people in areas controlled by the Russian Federation since February last year.
"We know, from what we've seen in Kharkiv and Kherson oblasts when we accessed them in autumn 2022, that needs in those areas are likely to be significant. Communities there need our help."
Focus on political solutions, on advocating for an end to the war – but don't stop helping
And if access were granted today? "Well, in that case, WFP would be the best-placed organization to support them. We have the reach, the muscle, the know-how and the will to provide what help is needed."
Today, in the wake of US President Joe Biden's surprise visit to Ukraine, the country's future still hangs in the balance. For WFP staff, work continues.
When asked what he would say to global leaders, Hollingworth says, "That's simple. I'd ask them to show the same level of stamina and resolve as the people of Ukraine.
"Focus on political solutions, on advocating for an end to the war – but don't stop helping."
 
---
WFP's food and cash assistance in Ukraine is generously funded by USAID, Australia, Canada, the Czech Republic, Denmark, the European Union, Finland, France, Germany, Iceland, Ireland, Japan, Kuwait, Luxembourg, the Federated States of Micronesia, Norway, the Republic of Korea, Slovakia, Slovenia, Sweden, Switzerland, Timor Leste, UN CERF, the United Arab Emirates, the United Kingdom, UN CERF, as well as private corporations and individuals.
Now is the
time to act
WFP relies entirely on voluntary contributions, so every donation counts.
Donate today