How a restored bridge trades food insecurity for hope in DRC
No more crossing the Lwizi river in Tanganyika the hard way as World Food Programme support cuts corners for farmers and communities
, Barbara Pereira Mendes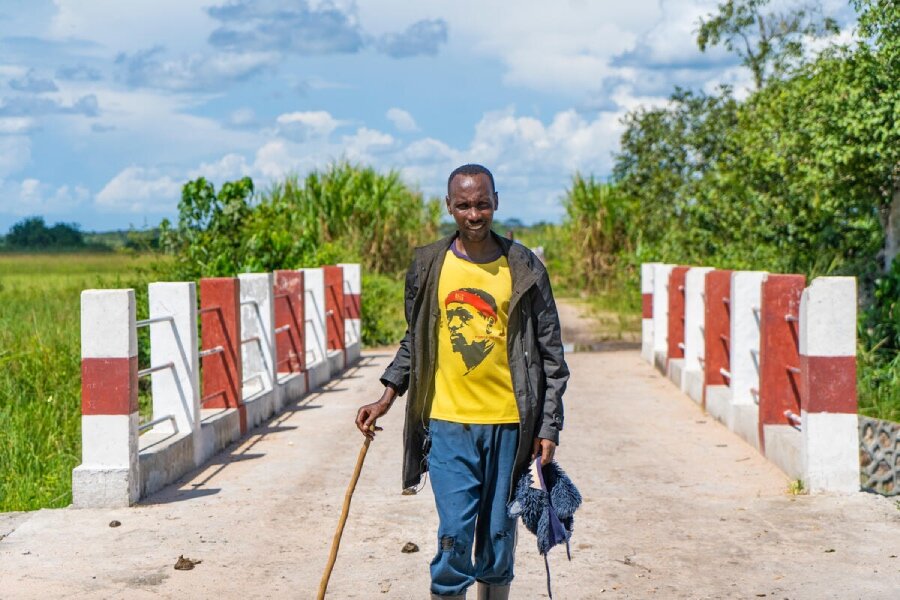 "Some cows refused to cross the water," says cattle farmer Eric Mutabazi, recalling the days when it took hours to find a safe place to cross the Lwizi river, in the Democratic Republic of the Congo's eastern Tanganyika province.
Its treacherous waters meant "the safety of my livestock and my income were at stake," he says.
But what could Mutabazi do? The Lwizi bridge, the only crossing for 300km, was destroyed during the DRC's 1990s war. The rural farming communities the bridge served were isolated, their access to grazing land, education, trade and vital services, severely restricted.
Last year, thanks to the wizardry of a World Food Programme (WFP) rehabilitation project, the 15-metre-long concrete structure reopened, restoring access to the other side of the river for thousands of people living in the towns of Nyunzu, Kalemie and the trading hub of Kabalo. 
Catalyst for growth
Now they can visit their families. Cattle breeders can sell cows; traders can easily transport bags of maize to markets, and big trucks can efficiently reach Kabalo with bags of cassava flour. And children no longer need to take dangerous boat journeys to school.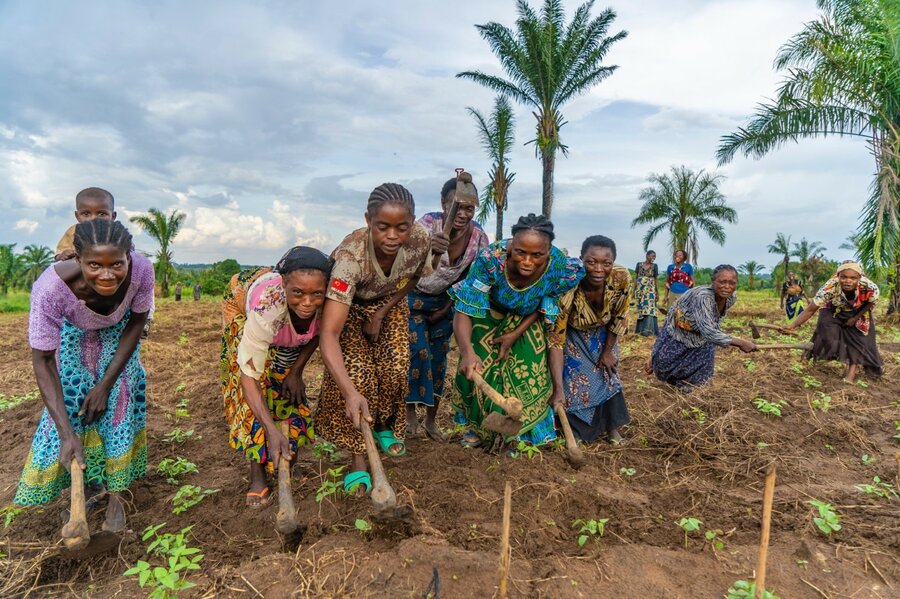 Rehabilitating the bridge is part of a broader WFP push for sustainable development, gender equality and food security aimed at 6,000 families in the Lwizi area. It shows the dividends that a relative state of peace can bring, in a country where unrest is rife. 
Countrywide, some 26 million people in DRC face severe food-insecurity. An ongoing crisis in the northeast, roiled by years of conflict in North Kivu, South Kivu and Ituri provinces, have pushed millions to the brink of disaster.
Revamp for dusty airstrip in DRC looks set to boost a region's economy
World Food Programme-backed upgrade invites commercial and humanitarian flights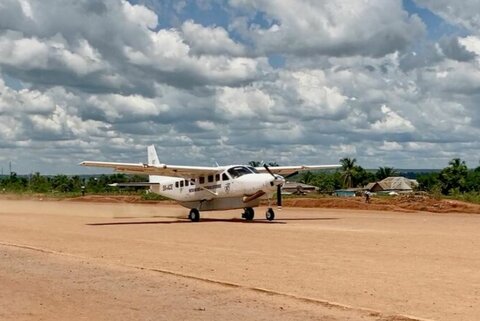 ---
Tragically, a US$557 million funding gap for our operations leaves WFP unable to meet mounting hunger needs. 
But here in the relatively stable Lwizi area, hundreds of kilometres to the south, we are building the skills of community-based organizations, boosting social harmony and enabling women to achieve goals such as becoming community leaders – through, for instance, diversifying their means to earn a living.
Though WFP-supported training in better agricultural practices and crop diversification, women are growing their harvests, meaning more food on the family table and more surplus to sell at markets. Women are also making and selling traditional crafts and starting small businesses like tailoring or eateries.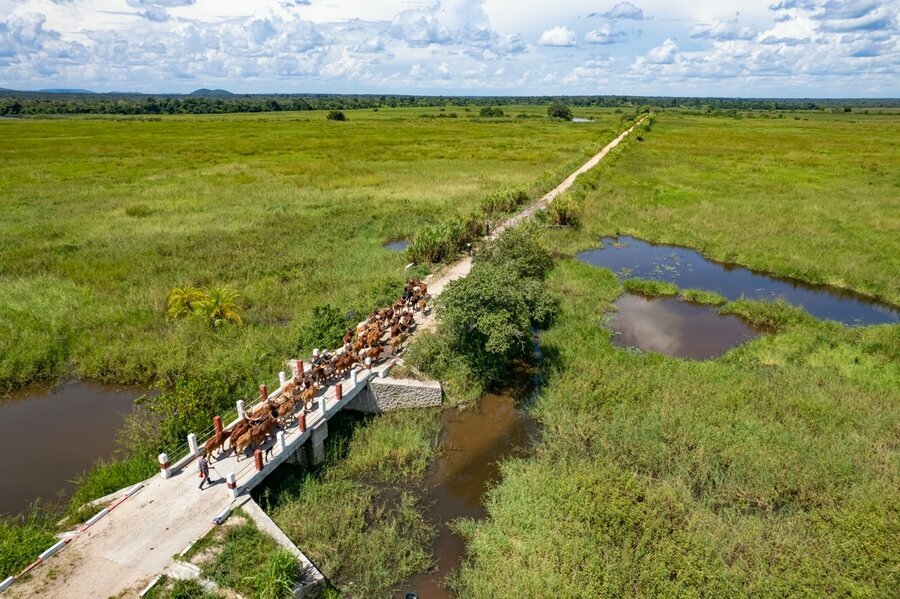 "The impact of the rehabilitated bridge extends beyond mere convenience," says Moustapha Toure, head of WFP's Kalemie office. "It has become a catalyst for economic growth, providing opportunities for trade and commerce.
"It has also transformed the landscape of aid delivery," he adds, "enabling timely support to those in need."
Trucks and other vehicles carrying humanitarian and commercial goods along with workers once had to take a ten-day, 300km detour to reach the other side of Lwizi. 
Journeys took longer during the rainy season, resulting in spoiled stock and hardship for smallholder farmers and business owners.
For farmers like Paul Massoudi Balipe, who grows maize, higher transport costs mean having to raise prices for customers.
"Thanks to the bridge, the price of maize has dropped significantly, making it more affordable to the local population," says Balipe.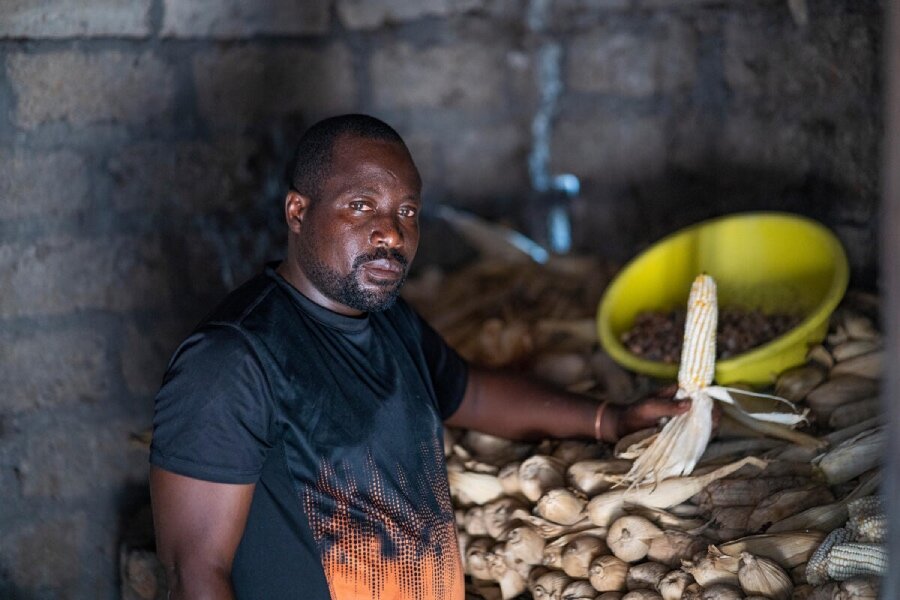 The Lwizi bridge is just one example of how WFP and other humanitarian partners are prioritizing infrastructure projects in Africa's second-largest country, where a dearth of roads, rail networks and bridges poses a major development hurdle. 
---
In the DRC's North Kivu and South Kivu provinces, for example, WFP collaborated with the Government to rehabilitate nearly two dozen agricultural feeder roads, providing food assistance to thousands of people involved in the project.
This project also offered daycare services for children and cash transfers for childminders as an incentive for women to participate. 
In central Kasai province, WFP's rehabilitation of a dusty airstrip helped boost economic activity and cut travel time for humanitarians trying to reach remote and vulnerable communities.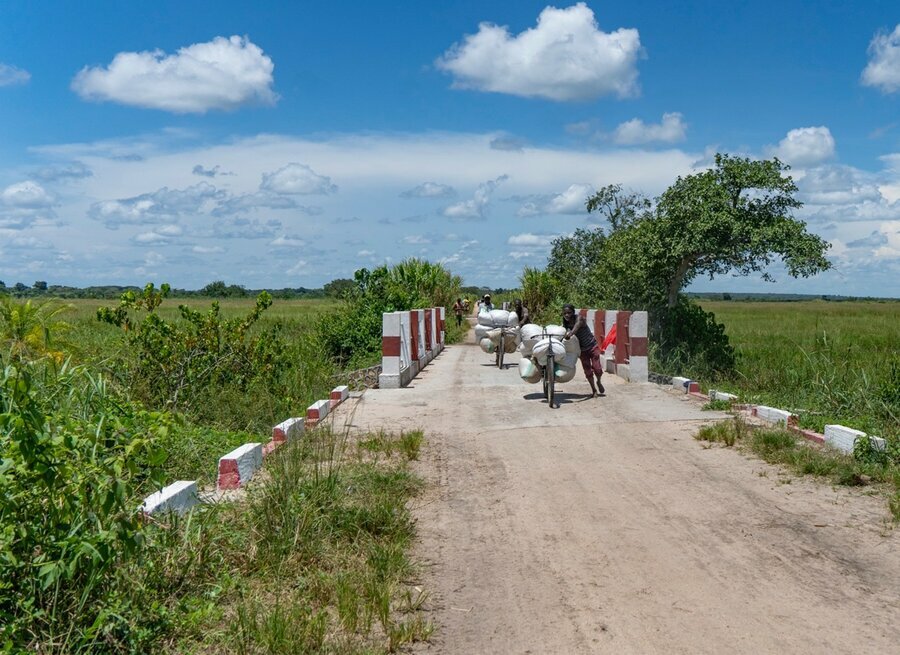 Last year, in the provinces of Tanganyika and Ubangi, WFP also provided cash assistance to communities involved in rehabilitating 44km of roads, along with storage facilities. This helped stimulate local markets and enhance transportation networks, contributing to economic growth countrywide. 
---
Back at Lwizi bridge, livestock breeder Eric Mutabazi gazes at the bustling traffic – cars and traders on motorbikes and bicycles balancing bags of food.
With easy access restored, he sees the potential of sharing his cattle breeding expertise with Lwizi villagers on both sides of the river. He hopes others will be attracted to his lucrative business, and move ahead.
"The bridge has brought us new possibilities," he says, "and a renewed sense of connection."
Learn more about WFP's work in DRC
Now is the
time to act
WFP relies entirely on voluntary contributions, so every donation counts.
Donate today