A regular guide to the facts, figures and frontline work of the World Food Programme
, World Food Programme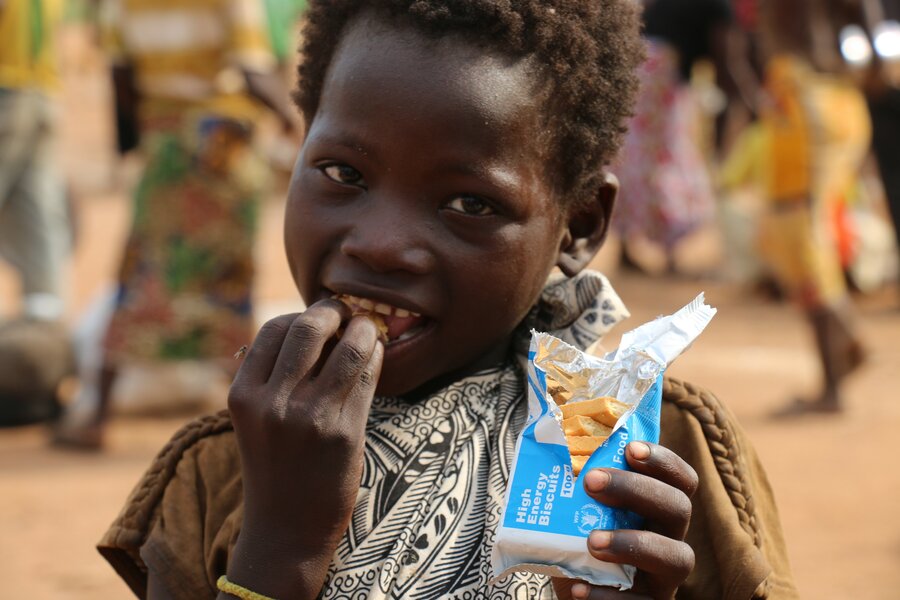 About WFP
WFP reached 160 million people in 2022, with a presence in over 120 countries and territories. WFP is among the first on the scene in an emergency, providing food and other assistance to people affected by conflict, drought, floods, earthquakes, hurricanes and crop failures, as well as pandemics such as COVID-19. At the same time, we keep a sharp focus on sustainable development, providing governments with the support and skills to manage food security in the long term.
Quick facts
WFP is funded entirely by voluntary donations, with a record US$14.1 billion raised in 2022.
More than 50 percent of the people WFP serves are women and girls.
1 metric ton of food, typically including cereals, pulses and oil, is sufficient for approximately 1,660 people for one day – meeting their minimum daily energy intake of 2,100 kcal as well as their vitamin and mineral needs.
WFP has more than 23,000 staff, of whom 87 percent are field-based.
A global hunger crisis
Up to 783 million people – one in ten of the world's population – still go to bed hungry each night. WFP estimates – from 79 of the countries where we work (and where data is available) – indicate that more than 345 million people are facing high levels of food insecurity in 2023. This is an increase of almost 200 million since early 2020 (pre-COVID-19 levels). Over 40 million people across 51 countries are in Emergency or worse levels of acute food insecurity in 2023. Without urgent life-saving action, they are at risk of falling into catastrophe or famine conditions. Furthermore, 45 million children under 5 years of age are estimated to suffer from acute malnutrition.
A deadly combination of conflict, economic shocks, climate extremes and soaring fertilizer prices is at the root of soaring numbers. The economic fallout of the COVID-19 pandemic, and then the war in Ukraine, has pushed prices up and put food out of reach for millions of people across the world. At the same time, high fertilizer prices are causing a falling production of maize, rice, soybean and wheat. 
These rising costs are also affecting WFP's work. Inflation, supply chain disruption and other factors increased WFP's food-procurement costs by 39 percent between 2019 and 2022, hampering our ability to assist people at a time when they need it most.
While Asia is home to the greatest number of undernourished people at 418 million, Africa is the region with the highest prevalence of undernourishment in percentage terms, at 21 percent. This is more than double the rate in all regions, according to the latest edition of the State of Food Security and Nutrition in the World. See also: A global food crisis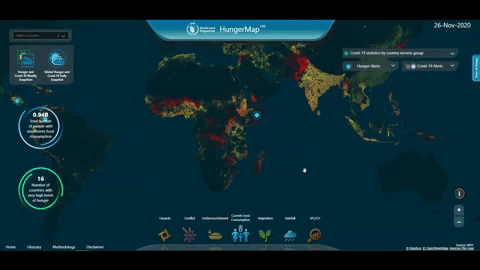 Millions at risk without urgent assistance
The latest Hunger Hotspots report issued an urgent early-warning alert for humanitarian action in 18 hotspots where millions were expected to face worsening food insecurity from June to November 2023, unless they received immediate assistance. 
Humanitarian action is critical in preventing starvation and death, particularly in the highest alert hotspots. However, the report also highlights how humanitarian access is constrained by insecurity, bureaucratic barriers and movement restrictions.
Afghanistan, Nigeria, Somalia, South Sudan and Yemen remain at the highest alert level. Haiti, the Sahel (Burkina Faso and Mali) and Sudan have been elevated to the highest concern levels - this is due to severe movement restrictions to people and goods in Haiti, as well as in Burkina Faso and Mali, and the outbreak of conflict in the Sudan.
Main areas of work
Emergency response* and preparedness
WFP is the frontline agency responding to emergencies caused by conflict, climate shocks, pandemics and other disasters. We also coordinate responses to large-scale emergencies on behalf of the wider humanitarian community, as lead agency of the Logistics Cluster and the Emergency Telecommunications Cluster. Our focus is also on emergency preparedness, working with partners to provide early warning and helping communities lessen the impact of looming disasters.
Each day WFP has up to 6,500 trucks, 140 aircraft and 20 ships on the move, delivering food and other assistance.
(*See also 'Current emergencies' section below)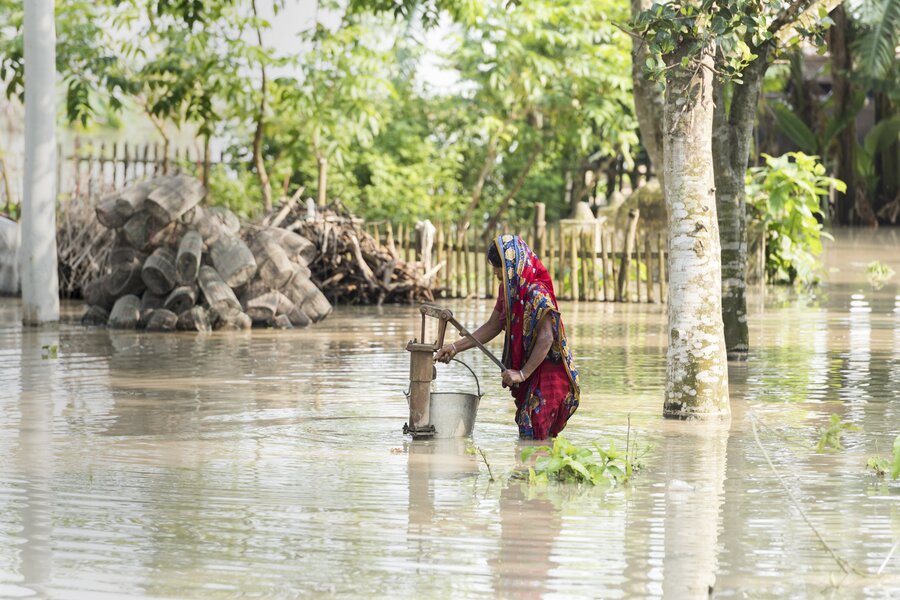 Climate action
Climate shocks such as droughts and floods can wipe out crops, disrupt markets and destroy roads and bridges. WFP is working with governments and humanitarian partners on the frontlines, responding to an increasing number of disasters. At the same time, we take pre-emptive action which reduces the number of people needing humanitarian assistance.
WFP deploys Forecast-based Financing to provide cash to vulnerable families, allowing them to buy food, reinforce their homes and take other steps to build resilience ahead of climate disasters. This approach was used ahead of torrential rains in Bangladesh. 
WFP assisted more than 15 million people in preparing for or mitigating climate-related shocks in 2022, and arranged insurance for people in 14 countries against crop and other losses due to weather extremes. 
Nutrition
Sustainable development is only possible in communities where malnutrition is eradicated and future generations can flourish. WFP has broadened its focus in recent years from emergency interventions to addressing all forms of malnutrition including vitamin and mineral deficiencies, and overweight and obesity.
WFP addresses malnutrition from the earliest stages through programmes targeting the first 1,000 days from conception to a child's second birthday. We provide access to healthy diets, targeting young children, pregnant and breastfeeding women and people living with HIV.
WFP reached more than 28 million people – mainly mothers and children – with malnutrition treatment and prevention programmes in 2022. This included 2 million mt of fortified foods, up 39 percent from 2021.
School-based programmes 
WFP is the largest humanitarian organization implementing school feeding. School meals improve children's nutrition and health, while also increasing access to a potentially life-changing education. Home-grown school feeding sources food from millions of smallholder farmers, increasing their incomes and boosting local economies.
WFP and UNICEF are joining forces under a renewed commitment to millions of vulnerable children. The initiative will focus on supporting governments in adopting an integrated approach to schoolchildren's nutrition and health, incorporating school feeding, nutrition, deworming, and water, sanitation and hygiene.
WFP worked with governments to reach 20 million schoolchildren in 59 countries with nutritious school meals, take-home rations or snacks in 2022. A total 49 percent of those reached were girls.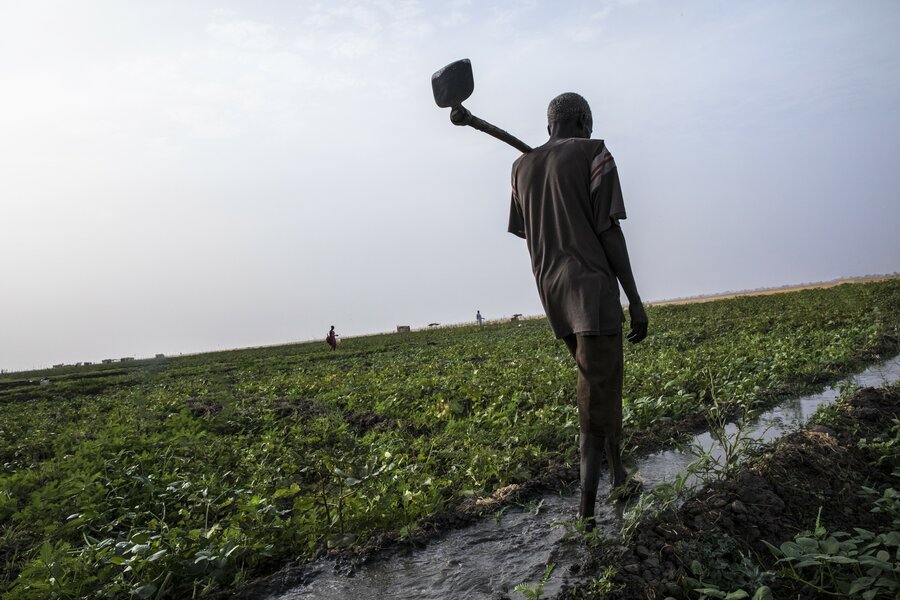 Smallholder farmers
Smallholder farmers produce most of the world's food and are critical in achieving a zero-hunger world. WFP's support to farmers spans a range of activities to help build sustainable food systems, from business-skills training to opening up roads to markets.
WFP and partners supported more than 947,000 smallholder farmers in 44 countries in 2021.
WFP procured 117,000 metric tons of food valued at US$51.9 million from smallholder farmers in 27 countries in 2021. 
Resilience
WFP's Food Assistance for Assets programme improves the prospects for long-term food security, while helping create conditions for peace. People receive food or cash to meet immediate food needs, which frees up their time for working on community assets or livelihood resources that can increase resilience to climate change and improve access to markets.
WFP provided food assistance for 8.7 million people through food assistance for assets activities in 2021.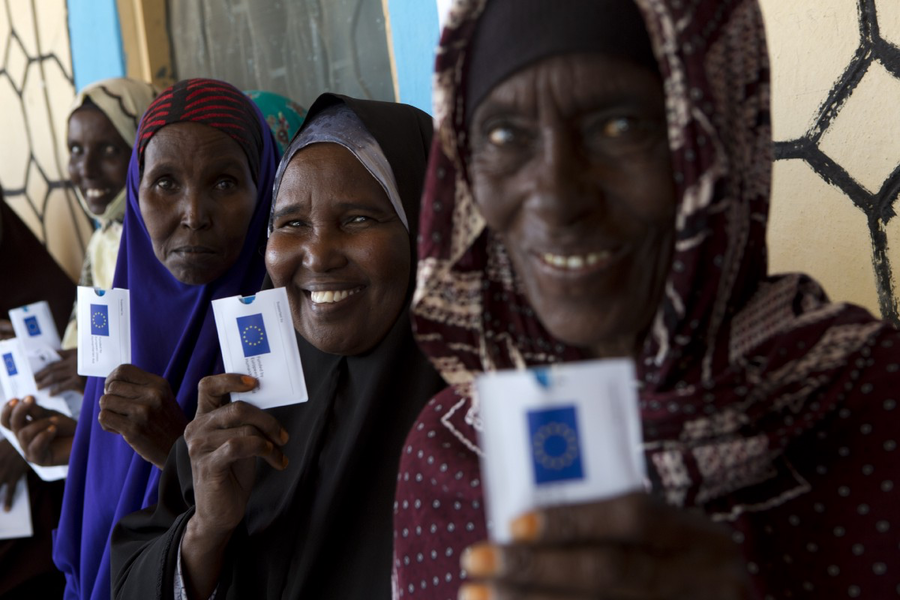 Cash assistance
WFP is the largest cash provider in the humanitarian community. Cash allows for increased food choices and diet diversity for beneficiaries while boosting local smallholder production, retail and the financial sector.
Over US$3 billion was provided to people in 72 countries through cash or vouchers in 2022, an increase of 42 compared to 2021.
Capacity building
Through its Country Strategic Plans, WFP is transferring its skills and knowledge to a range of public, private and civil society actors who are pivotal to sustaining national policies and programmes. We are building governments' and other partners' capacities to manage disaster risk and improve food security, while also investing in early warning and preparedness systems for climate and other threats.
WFP is training government staff in Ethiopia in the use of drones for activities such as mapping flood-risk zones and assessing damage to crops after disasters — building their abilities to deploy the technology without WFP's assistance.
In Bangladesh, we provided training to staff from the NGO Social Assistance and Rehabilitation for the Physically Vulnerable, so they could implement a community-based nutrition project.
Nobel Peace Prize
The award of the Nobel Peace Prize to WFP in October 2020 reflects our strong advocacy for the critical role of peace in ending hunger, and for the use of food as a tool for peace. Conflict and insecurity are key drivers of hunger. Many of the people WFP supports are fleeing conflict, and have been forced to abandon their land, homes and jobs. This award increases WFP's opportunity to provide a stronger voice to more than 800 million hungry people in the world, and to mobilize support for the food assistance that they need.
Digital innovation
New technologies and innovation help drive WFP's work to achieve zero hunger by 2030.
WFP's Munich-based Innovation Accelerator identifies new ideas, pilots projects and scales up high-impact innovations. It has supported more than 125 projects globally, with 22 of these scaling up through WFP's field operations. A total of 37 million people in 88 countries benefited from innovative solutions in 2022.
Read the WFP Innovation Accelerator's 2022 Year in Review for more information. 
Building Blocks – The world's largest implementation of blockchain technology. In Bangladesh and Jordan, it has processed US$529 million worth of transfers via 23 million transactions, saving US$3 million in bank fees. In Ukraine, it has coordinated US$337 million of assistance from 18 humanitarian organizations, saving US$35 million.
HungerMap LIVE – Enables internet monitoring of food security in vulnerable, hard-to-reach communities, in near real-time, in up to 60 countries. Collates publicly available macroeconomic data and information on food security, nutrition, conflict, hazards and weather.
Optimus – Applies advanced analytics that allows field staff to quickly compare operational plans and identify the most cost-effective means to assist people. Used in over 44 country offices, resulting in over US$50 million of savings since 2015.
In conjunction with the Innovation Accelerator, WFP's country offices, regional bureaux and business units have established regional innovation hubs in Eastern Africa (Kenya), and Latin America and the Caribbean (Colombia), and innovation units within the Jordan, Kenya, Tanzania and South Sudan country offices.
Current emergencies
Türkiye/Syria earthquake response
WFP was on the ground within 24 hours of the devastating earthquake hitting Türkiye and Syria on 6 February. In the first three weeks of the emergency we reached more than 2 million people with urgently needed food assistance. See also: Story
Afghanistan
Afghan families have faced unprecedented levels of food insecurity and malnutrition in the wake of the Taliban takeover in August 2021. The country has been engulfed by a severe economic crisis, which is conspiring with earthquakes, droughts, floods, and other climate shocks, to keep humanitarian needs at staggering levels.  In 2022, WFP assisted nearly half the population – 23 million people - through food and cash and vouchers. 
See also: Emergency page
Burkina Faso
Burkina Faso is experiencing a multidimensional crisis driven by insecurity, political instability, climate change and rising food prices. An estimated 3.5 million people, or 16 percent of the population, are projected to be facing Crisis or worse levels of acute food insecurity during the lean season between June and August 2023. In 2022, WFP provided emergency food assistance to 2.1 million people across the country including internally displaced persons, and worked with various partners to strengthen the resilience of communities to climate shocks and stresses.
The Democratic Republic of the Congo
The Democratic Republic of Congo is in the grips of a dire humanitarian crisis, with high levels of hunger and alarming levels of malnutrition, largely resulting from conflict, mass displacement and low agricultural production. WFP has scaled up lifesaving assistance and, with sustained funding, could help build resilience of communities and improve food systems for longer-term food security. See also: Emergency page
Ethiopia
A total 13.6 million people are in need of humanitarian food assistance across northern Ethiopia due to the impact of conflict and related restricted access in Tigray region. With no end in sight to the drought crisis in southern and southeastern parts of the country, and a sixth-consecutive poor rainy season forecast for March to May 2023, rising needs could rapidly outstrip resources. In 2023, WFP will support over 6.8 million Ethiopians and refugees with food assistance, cash transfers, malnutrition prevention and treatment, and resilience building. 
See also: Emergency page
South Sudan
About 6.6 million people – over half the population – are in acute hunger as multi-year flooding, conflict and economic shocks continue to wreak havoc on the population. The peak lean season from April to July 2023 could see up to 8 million without food on the table. WFP is providing food and nutrition assistance through cash transfers, food and specialized nutritious food products, while supporting resilience-building. Current plans aim to reach and assist 6.4 million people in 2023. See also: Emergency page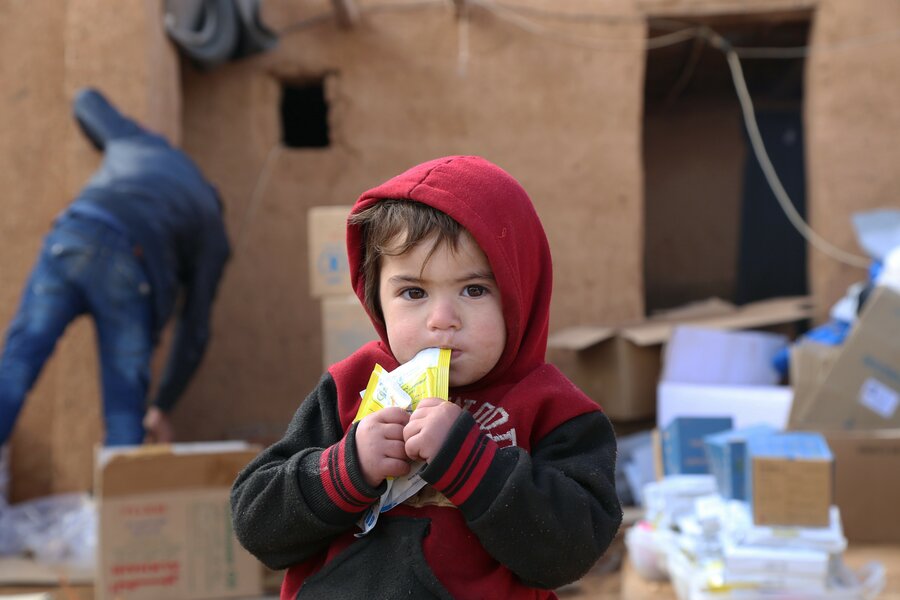 Syria
Food insecurity and poverty in Syria were already at alarming rates prior to the earthquakes that struck in February 2022, following 12 years of conflict and successive shocks. Over 12 million people across the country were already categorized as food insecure, including 2.5 million severely food insecure. A further 2.9 million were at risk of slipping into food insecurity. WFP was targeting 9.4 million beneficiaries through food and nutrition assistance in 2023, as well as through early-recovery support, before taking into account the fallout of the earthquakes.
Ukraine
The war in Ukraine continues to inflict untold suffering on people and and to disrupt supply chains and food production. One in three families (11 million people) are estimated to be food insecure – rising to one in two in worst-affected areas of the east and south. Each month WFP supports around 3 million people with food, cash or vouchers. We are prioritizing cash assistance wherever there is reliable access to banks and food. WFP is also leading the emergency telecommunications and logistics clusters on behalf of the UN.
See also: Emergency page
Yemen
Following eight years of conflict, economic decline, and external shocks, 17 million Yemenis – more than half the population – live in hunger. In 2023, we plan to reach 14.8 million people with food assistance and 4.1 million children and women with nutritional support. A severe shortage of funding forced WFP to cut food rations in 2022, and continues to restrict our activities. See also: Emergency page
Other emergencies: Colombia, Haiti, Iraq, Kenya, Lebanon, Madagascar, Mali, Mozambique, Myanmar, Nigeria, Niger, Pakistan, Somalia, Sudan, Uganda and Zimbabwe. 
Campaigns
#StopTheWaste
#StopTheWaste is a movement for change which highlights the global issue of food waste and simple solutions we can all take to prevent it. Globally, one-third of the food produced for human consumption is lost or wasted, amounting to about 1.3 billion metric tons per year. The financial costs of food wastage amount to about US$1 trillion each year. This is clearly a challenge we must solve as we work towards achieving zero hunger by 2030.
Funding in 2021
Total contributions: US$9.6 billion (a record). Total budgetary needs: US$14.8 billion
UNHAS
WFP Aviation manages the only UN-mandated air transport service, the United Nations Humanitarian Air Service (UNHAS). The service connects the entire humanitarian and development community to people in need, reaching the most remote and dangerous locations on earth. It also ensures an uninterrupted delivery of supplies when other transport is disrupted by insecurity or damaged roads or other infrastructure, and where almost no other commercial airline is flying.
UNHAS served 400 regular destinations in 23 countries facing crises and emergencies in 2020, operating more than 100 aircraft. The service supported the global response to COVID-19, including providing a Medical Evacuation Service and transporting medical cargo and staff.
---
Latest information and resources: A hunger catastrophe, WFP - saving lives, preventing famine; 12 things you didn't know about the World Food Programme, Overview, Hunger, Conflict, and Improving the Prospects for Peace, Emergency Response and Preparedness, Humanitarian Development (factsheets), wfp.org